Introduction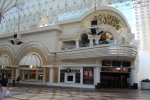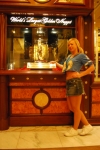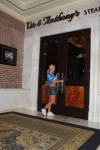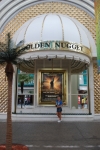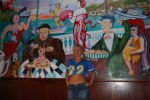 Owned and operated by Landry's Restaurants, Inc., the Golden Nugget is the largest and probably most desirable casino/hotel in downtown Las Vegas. Golden Nugget Casino was built in 1946. In the 1970's, a hotel tower was added, and over the years, it has gone through a couple of renovations and a few different owners.
Steve Wynn became the Nugget's majority shareholder in 1973, beginning his rise as a major player in the Vegas casino/resort industry. He created Golden Nugget Companies, which eventually became Mirage Resorts. In 2004, Wynn sold the Golden Nugget to Poster Financial Group. In 2005, the sale of the property to Landry's Restaurants, Inc., the current owners, was complete.
Located directly on The Fremont Street Experience, Golden Nugget is in the center of the downtown action. It's got a more classic, "Old Vegas" feel than the strip properties, but it is elegant and upscale rather than being tawdry and cheap. It's opulence stops just short of tackiness.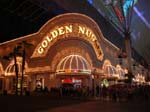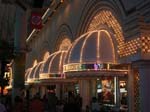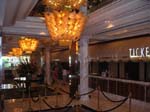 In December 2009, the Golden Nugget plans to open a new tower of hotel rooms as well as more gaming space and restaurants. During my visit in early July 2009, there was quite a bit of construction going on.
Gambling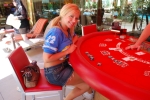 The property boasts 38,000 square feet of gaming space and has more than 1,200 slots and video poker machines. Table games at the Nugget include blackjack, craps, roulette, pai gow poker, Three-card Poker, Let it Ride, Super Fun 21 and Texas Hold'em. I noticed some non-smoking tables scattered throughout the casino.
Poker
Newly opened, the poker room at The Golden Nugget offers 10 non-smoking tables. They provide daily poker lessons at 10:00 am, and they have 5 daily poker tournaments with a $65 dollar buy in and one optional $40 re-buy.
Player's Club
24 Karat is Golden Nugget's player club. I had to wait in line about 15 minutes to apply for and get my card. When I checked in to the hotel, I was given a coupon book. One of the coupons was for a chance to "spin and win" some free play when I opened my new player club membership. I've never been lucky with those kind of things, so it didn't surprise me when my spin resulted in the lowest free play amount: $5.00. If I were luckier, I might have secured the $10, $20 or $100 amount.
To use the free play, I had to hunt down machines in the casino with a special sticker on them. I went around the gaming floor twice and found just 2 banks of slots with the stickers. I settled into a machine and promptly gave them back their $5. Later, I noticed the video poker machines on the bar tops accept the free play, too.
Hotel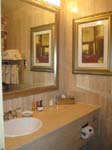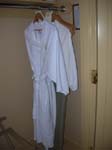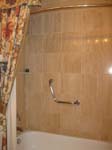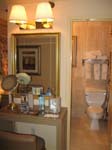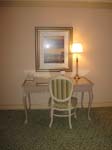 The Golden Nugget currently boasts 1,915 rooms and suites in three towers according to its Website. 14 years ago, when I was vacationing in Las Vegas, I stayed in the hotel's south tower. I recall the room being large and comfortable with a great view of the mountains. Since then, some of my friends and family have stayed at the Nugget, and their experiences were positive. When I reserved my north tower room for $74, I had high hopes. I decided to stay in the north tower since the property's Website said it was nicer. Apparently the north tower rooms were upgraded and remodeled fairly recently, and they offer a pillow-top mattress, which is not the case in the south tower. Additionally, the north tower rooms are reported to be larger.
I did find the room to be plenty large, as well as tastefully decorated, and the king-sized bed to be plenty comfortable. The upgraded pillow-top mattress was dressed with a down comforter and down pillows. The bed and pillows were very soft and wrapped around my tired body nicely. The sheets, which are advertised as Egyptian cotton, seemed a little on the scratchy side, though. And the pillowcases on a couple of the pillows were worn through in some places.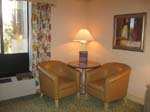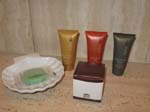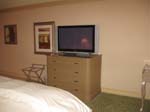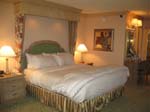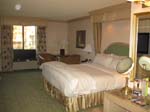 Directly in front of the bed, mounted on the wall over a large dresser, was a 42" plasma TV. One of the first things I noticed when I entered the room was how big the TV was. I think I even let out an audible "whoa!"
The rest of the room was furnished with a couple lounging chairs, 2 bedside tables, a tall table (tall enough for eating your room service breakfast at), a desk and chair, and a vanity and chair. There are plenty of chairs! The vanity, with a lighted vanity mirror, is located just outside of the very small bathroom. While it has what you need, sink, toilet and tub/shower combo, and it is nicely decorated with marble floor-to-ceiling tiles, its small size was a turn off. When the large bathroom door is open, your access to both the toilet and the shower is obstructed. The towels were, like the sheets, a little on the scratchy side. The bathroom was clean overall, but the tub needed some fresh caulk in some of its crevasses.
So I entered the room with high hopes, and it didn't quite live up to my expectations. It was nice enough, but it wasn't really all that special. And when I first entered the room, I was greeted by an unpleasant musty smell. As my visit went on, either I became immune to the odor or it dissipated. Either way, it only bothered me for the first few minutes I was in the room.
So, here are some other details about the room:
Küdo's Spa made the shampoo, conditioner, soap and lotion I found in the bathroom.
The closet contained a safe, an iron and ironing board, a hair dryer, a luggage rack (another rack is in the main part of the room) and 2 lovely robes with the Golden Nugget insignia.
A clock radio was on one of the bedside tables.
There was decent lighting, mostly via lamps spread about the room.
There wasn't a TV in the bathroom, but the way the mirror in the bathroom lined up with the mirror on the room's closet allowed me to clearly watch the TV in the bedroom while I spruced myself up.
The check-in line was long and moved slowly – it took me about 20 minutes to get through the process. I had to go back later, as the clerk who checked me in failed to give me the coupon book that came with my Internet special reservation. The coupon book was big and pretty impressive (worth going back for). Here are its contents:
Two offers for buy one get one free breakfast or lunch buffets (Monday through Friday only)
$5.00 off lunch or dinner at Grotto (Italian restaurant)
Up to $8.00 off at Carson Street Café
Complimentary desert with entrée purchase at Carson Street Café
$5.00 of a ticket to Gordie Brown Live
Five different drink coupons to the Nugget's various bars/clubs
$10.00 off any spa service at Spa and Salon at the Golden Nugget
$10.00 off any salon service at Spa and Salon at the Golden Nugget
The spin-and-win free play offer I mentioned earlier
$10 in free slot play once you earn 500 points in the 24 Karat Club
$10 match play
$60.00 in chips for a $50.00 buy-in in the poker room
10% off a retail purchase
$5.00 off one entrée at any Landry's Restaurant
15% off Budget car rental through the hotel
Restaurants
The dining selections at The Golden Nugget include:
Vic & Anthony's: Steakhouse
Grotto: Italian
Lillie's Noodle House: Chinese/pan-Asian
Red Sushi: Sushi
Carson Street Café: American
Buffet: Buffet
The Grille: Sandwiches, burgers, etc.
Starbucks: Coffee and pastries – there are two Starbucks located in the Golden Nugget
Buffet
The word on the street is the Buffet at Golden Nugget is good but expensive for downtown. I've heard the Main Street Station buffet is just as good, and it costs less.
I decided to have breakfast at the buffet, so I could take advantage of the buy one get one free coupon in my book (my husband and 2 year old son came down and joined me). The food was the usual buffet breakfast fare. The buffet is located on the second level, and you get to it by taking an escalator out of the casino. The dining room is set up well enough; it's pretty big, but even if you're seated in the back corner like we were, you don't have to walk very far to get to the food. The service was poor. Our waitress was slow when it came to clearing our used plates, and she seemed bothered by having to get us a second round of drinks. I was sorry I had tipped her on my way in, as she didn't deserve the generous amount I had pledged.
The food was fine – nothing extraordinary, but it was certainly tasty, and there was a good selection. I liked that they had two omelet stations, but I wish they'd had more fresh fruit. My husband and little boy were both very happy to find they had hard serve ice cream ready to scoop out at 9:00 am.
Buffet Prices
Monday – Friday, Breakfast (7:00 – 10:30 am): $9.99
Monday – Friday, Lunch (10:30 am – 3:30 pm): $10.99
Monday – Thursday, Dinner (3:30 – 10:00 pm): $17.99
Friday – Sunday, Seafood & More Dinner (3:30 – 10:00 pm): $20.99
Saturday – Sunday, Champagne Brunch (8:00 am – 3:30 pm): $17.99
Lillie's Noodle House
For dinner the night before, I went to Lillie's Noodle House. Tucked away from the casino, near the south tower elevators, Lillie's is a small and beautiful restaurant. I was thoroughly impressed by the contemporary Asian décor. In particular, I enjoyed gazing up at the exquisite red glass chandeliers and found myself mesmerized by some stunning, backlit artwork on the wall. The light would change from red to blue to green and back to red again, and with each change, the art would take on a different feel/mood.
The food at Lillie's was impressive, too. I had two very good pieces of ahi tuna nigiri sushi and loved that the dollop of wasabi on my plate was shaped like a leaf (it's the little things in life that thrill me). For my entrée, I savored a large plate of chicken chow mien. The noodles were soft, the sauce was mild, the veggies were tender crisp, and the chicken was to die for. I don't usually get all that excited about chicken, but this was probably the most tender and moist bird I've ever had. The entrée portion was more than I could finish, but I made sure I ate every last piece of the chicken.
I was satisfied with the service at Lillie's. My server was charming and very attentive. My dinner bill, before tax and tip, was $20.99, which seems good considering the quality of the food and the pleasantness of the surroundings. I'd eat there again.
Carson Street Café
I didn't get to the café during this visit, but when I stayed at the Golden Nugget way back when, I had several meals there. From what I recall, the portions were large, the food was good, and the prices were fair.
Pool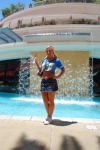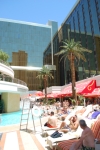 Referred to as The Tank, the pool at the Golden Nugget is probably one of the most interesting and fun in town. It's certainly the best pool downtown. What makes it so special? It's built around a shark tank and it has a super cool, three-story water slide that zips you through that tank and dumps you into the water. The pool itself is donut-shaped, with the shark tank in the middle. It's a large pool that can easily accommodate a ton of bathers. The deck around the pool, however, isn't so spacious. We arrived at the pool at 10:10 am on a Friday morning. It had opened at 10:00, but in just those 10 minutes, nearly every chaise lounge had filled. We had to search high and low (literally, since there are 3 levels to the pool) to find two together. When we left a little over an hour later, we hadn't even packed up our belongings before someone claimed our spot. I walked around a bit before I left, and I did find a handful of empty chaises on the third floor in the "adult only" sunbathing area, however.
While we were there, a good portion of the sundeck was in the shade. Since it was nearly 100 degrees, I don't think too many people were complaining. Since the pool is in a courtyard, surrounded by the casino and the hotel towers, I'd have to assume you can find a corner with some shade at just about any time of day.
If you don't want to have to fight for a chair, and if you want to be assured of some shade, you can rent a private cabana. The pool boasts 7, and they will cost you $175 Monday through Thursday or $250 Friday through Sunday. I recently spent a lazy Sunday afternoon in one of The Tank's cabanas (was there for a friend's 30th birthday party). I found the cabana to be nicely spacious and well appointed. There were plenty of chairs and chaises, a refrigerator, a flat screen TV and a ceiling fan. The cabanas are located on the 2nd and 3rd floors of the pool area. This location makes for fun people watching from above, but you have to take the stairs (or the waterslide) to get down to the pool.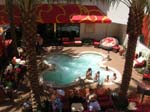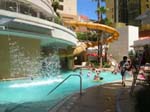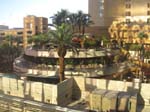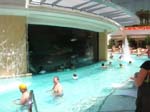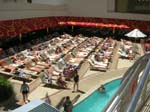 The hot tub and h30, the pool bar, are probably my favorite areas of The Tank. They're located on the 1st floor, near where the waterslide spills out. While the rest of the pool area closes down at 8:00 pm, the bar and hot tub stay open until 2:00 am. It's a nice place to hang out and relax into the evening, and there is a gorgeous fire pit to keep you both warm and entertained. Also open late at the pool are 4 blackjack tables, complete with beautiful, bathing suit clad female dealers. While you have to be a hotel guest to use the pool, they will let nonguests in to gamble and to patron the bar.
Entertainment
Gordie Brown Live: I saw Gordie Brown a couple years ago, when he was at The Venetian. I have to assume his show is pretty much the same, perhaps with the addition of some more current pop-culture icons and happenings. He's a singer/comedian/impressionist, and a very good one at that. I found his show entertaining, but his brand of act isn't really my first choice for an evening out – I'm more a Cirque du Soliel or Phantom of the Opera kind of gal. I would recommend him, though, especially since his tickets are so reasonably priced. According to The Golden Nugget's entertainment page, Gordie takes the stage at 7:30 pm Tuesday through Saturday. Tickets start at $39.95.
Clubs and Lounges: Gold Diggers is the property's nightclub. Its best feature is a 2nd story outside deck that offers fantastic views of Fremont Street Experience and the Viva Vision light show. I spent a little time at Rush, a lounge just off the casino. It's a contemporary, comfortable bar with a friendly staff. I was really wowed by the live entertainment – Frankie Moreno Band. During my short visit, the band belted out spot-on covers of classic tunes. I was particularly impressed with their cover of Johnny Cash. Also on property, in the casino, are Claude's Bar and the International Beer Bar.
Bowling: No
Cinema: No
Bingo: No
Shopping: There are two retail outlets: Style and Trend (mens' and womens' clothing) and Perfect Timing (watches) as well as a newsstand near the south tower elevators and a small pool shop at The Tank.
Golf: The golf concierge can set you up at a course, but there is not a golf course in close proximity to the resort.
Spa: Yes — The Spa and Salon at Golden Nugget is located in the Spa Tower.
Childcare: No
Wedding Chapel: Yes
Odds & Ends
Just off the Golden Nugget's main lobby, you'll find "The Hand of Faith," a 61-pound golden nugget, on display. It was discovered by an Australian dude wielding a metal detector around his hometown. It is the biggest golden nugget in existence and cost the Golden Nugget over $1 million to procure – that's one lucky Australian dude.
The Golden Nugget does not offer coin-operated laundry, but there is a laundry service you can use out of your room.
There are no mini-bars in the north tower rooms, but there was a $4.00 bottle of Fiji water on the vanity. Ice machines are on every floor. Vending machines are in the south tower only.
The Golden Nugget does not operate any free shuttles to the strip or anywhere else.
You are not charged a resort fee at the Nugget, so things like Internet and phone calls from your room are a la carte. The charge for 24 hours of Internet (wired or wireless) is $12.99. Local and toll free calls are billed at $1.00 for the first 30 minutes and $.15 for each additional minute.
My Conclusions
I checked into the Golden Nugget with lofty expectations, and though my visit didn't quite live up to those expectations, it was pleasant. I enjoyed my two meals, got a stiff complimentary rum and coke while I did a little gambling, and I slept comfortably in my big room with the soft bed. I would've liked a roomier bathroom and some softer towels and sheets, and I could've done without the musty smell that initially greeted me, however.
I think the pool is outstanding, but unfortunately so does everyone else. I try to avoid crowds, so I would probably be happier in a less busy, less exciting and less cool pool where I can easily find a chair.
One thing that did exceed my expectations was the Viva Vision light show on Fremont Street. I stepped out of the Golden Nugget twice to take it in. The first show, at 8:30 pm, was a somewhat corny effort to "take the audience back to the summer of '69." It was lively but lacked pizzazz, I thought. That's the impression I've always gotten from the Fremont Street's light shows. But the 10:30 pm show, a tribute to Queen, was awesome. I don't know if that particular musical genre was more appealing to me, or if I was just more excited by the spectacle after my rum and coke (whole lot of rum, little splash of coke), but I really got into it. I keyed in on the quality of the sound system and the intricacy of the overhead light screen. It really rocked!
Location
The Golden Nugget is located downtown on Fremont Street between 1st Street and Casino Center Drive. Across the street is Binions, and nearby are, among others, Fitzgerald's, Plaza, Golden Gate, Main Street Station and Four Queens Casinos. Right outside the casino doors is the famous Fremont Street Experience. Fremont boasts shopping (mostly of the souvenir and convenience store variety), restaurants and attractions. You're also close to many Las Vegas Chapels. The Deuce bus, which runs up and down Las Vegas Blvd. and will take you to the strip, can be boarded a few blocks to the northeast of the Golden Nugget.
Getting There
By car, take I-15 to I-515 S/US-93 S/US-95/S. Use Exit 75B to merge onto N. Casino Center Blvd. Take that south a few blocks, passed Fremont Street, and find the luggage drop and check in on your right. To get to the self-park garage, turn right on Bridger Street then Right on South 1st Street. The garage is on the left.
You should have little trouble finding a cab or an airport shuttle that can take you to the Golden Nugget from McCarran International Airport. Because it is further from the airport than the strip, however, it'll cost you a little more to take a cab or airport shuttle to/from Golden Nugget and other downtown hotels/casinos.
Links
Contact Information
Address: 129 East Fremont Street, Las Vegas, NV 89101
Phone: 702-385-7111
Web site: goldennugget.com/home.asp
Resort and Parking Fees
| | |
| --- | --- |
| Resort fee | $13.50 |
| Parking fee | Free |
Games at Golden Nugget
| Blackjack | Location | Decks | Min | Max | Soft 17 | DA | DAS | RSA | Surr | Tables | CSM | Party Pit | 6/5 BJ | Video | H. Edge |
| --- | --- | --- | --- | --- | --- | --- | --- | --- | --- | --- | --- | --- | --- | --- | --- |
| Blackjack | Downtown | 6 | 10 | 2500 | H | Yes | Yes | Yes | Yes | 9 | No | No | No | No | 0.48263 |
| Blackjack | Downtown | 2 | 10 | 2500 | H | Yes | No | No | No | 4 | No | No | No | No | 0.60225 |
| Blackjack | Downtown | 1 | 10 | 1000 | H | Yes | No | No | No | 1 | No | Yes | Yes | No | 1.69824 |
| Blackjack | Downtown | 1 | 10 | 1000 | H | Yes | No | No | No | 2 | No | No | Yes | No | 1.69824 |
| Blackjack | Downtown | 6 | 10 | 1000 | H | Yes | Yes | No | No | 3 | No | Yes | Yes | No | 1.99842 |
| Blackjack | Downtown | 2 | 25 | 5000 | H | Yes | Yes | No | No | 3 | No | No | No | No | 0.45688 |
| Blackjack | Downtown | 6 | 25 | 5000 | H | Yes | Yes | Yes | Yes | 3 | No | No | No | No | 0.48263 |
| Baccarat | # of Tables | Min Bet | Max Bet |
| --- | --- | --- | --- |
| Baccarat | 5 | 25 | 5000 |
| Craps | # of Tables | Min Bet | Max Bet | Odds | Field12 | Video |
| --- | --- | --- | --- | --- | --- | --- |
| Craps | 5 | 5 | 5000 | 3-4-5 x | Triple | No |
| Roulette | # of Tables | Min Bet | Max Bet | Rules | Video |
| --- | --- | --- | --- | --- | --- |
| Roulette | 8 | 10 | 200 | 00 | No |
| Video Keno | Rank | Avg Return | Grade |
| --- | --- | --- | --- |
| Video Keno | 21 | 91.76% | B |