Introduction
On Thursday, May 30th, 2019, the Golden State Warriors and the Toronto Raptors played game 1 of the 2019 NBA Finals from the Scotiabank Arena in Toronto, Ontario. These two basketball organizations have very different backgrounds.
The Warriors…
…made it to their fifth straight Finals appearance and won 3 of the last 4 championships (2015, 2017, 2018). They've also secured the title of world champion three additional times in years past (1947, 1956, 1975).
As for the Raptors…
…this is their first-ever NBA Finals in franchise history. Their Canadian basketball club was founded as recently as 1995 as an expansion team along with the Vancouver Grizzlies. The Grizzlies have since relocated to Memphis.
Toronto dominated game 1 with a final score of 118-109. Throughout this matchup, it seemed as if they out played the Golden State Warriors in every facet of the game. The defending champs appeared to suffer from playing without Kevin Durant, who is still recovering from a calf injury he sustained in the second round of the 2019 NBA playoffs. The team appeared to be a bit rusty from the long layover between the current series and the last against the Portland Trail Blazers.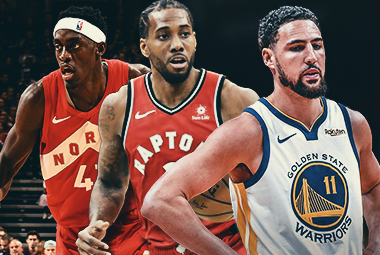 Key Players from Game 1
Pascal Siakam played the game of his life on Thursday night. He ended with 32 points by shooting 14-17 from the field. The young power forward finished with 8 boards, 5 assists, 2 blocks, and 1 steal leading his team to victory. His performance was extremely electric as he played fierce defense, hustled up and down the court, and overall seemed to expend more energy than anyone else in the building.
Kawhi Leonard didn't have his best game as Golden State did whatever they could defensively to slow him down, but he was still quite productive. The NBA All Star forward put up 23 points on 5-14 from the field. He pulled in 8 rebounds, dished out 5 assists, had 1 steal, went 10-12 from the charity stripe, shot 50% from downtown, and freed up Siakam to have a monster game. I expect Leonard to become more efficient as the series progresses.
From the Warriors, Steph Curry had a solid performance as he finished with a game high 34 points on 8-18 from the field and 4-9 from the 3-point line. The former MVP had 5 rebounds, 5 assists, and 1 steal as well. He did all he could to help his team win, but needs his other teammates step up and produce more.
Klay Thompson was the only other player on Golden State to have a decent game. The splash brother poured in 21 points by shooting 47.1% on his field goals and 50% from long distance. He secured 5 rebounds and 1 assist to complete his stat line. The team from the bay will need a better output from players such as Draymond Green and Andre Iguodala if they want to take the momentum back from the Raptors.
Media Statements from Players and Coaches
"I think obviously getting some easy buckets in transition, something that I haven't really been able to do all playoffs, and I think just being able to run and getting easy baskets at the rim," says Siakam. "And then, from there, just playing, just playing whatever defense gives me. That's why I always say, kind of play off of that and whatever is open, just taking it with confidence and believing in myself."
"I think he (Siakam) played an amazing game, obviously, but he got out in transition and our transition D was horrible, and I let him get in a rhythm in the first half, first quarter, really," says Draymond Green. "So I got to do a better job of taking his rhythm away, and I will, but he had a great game. But that's on me."
"The way they played him tonight, they were helping off of him and he was just able to get to his spots and get to his spaces cutting behind them, and made some 3s," Kyle Lowry explained to the media. "One thing about [Siakam] is he's going to keep playing and keep working no matter what. He's just going to keep working. He's had a couple games where he didn't play as well against Giannis [Antetokounmpo in the Eastern Conference finals], but tonight he played well."
"I thought his (Siakam's) composure was great," says NBA coach, Nick Nurse. "He'd get to a spot and he'd wait and get on balance, he'd up fake, he'd turn, get the angle and move it to where he needed to move it. He got some cuts, he made some 3s, he did a little bit of everything. When he's hitting the 3-ball, he really gets fired up. He banged in a couple early, got out a couple run-outs, couple put backs. That's how you get 30-whatever ... [doing] a little bit of everything."
"It definitely helps a lot," Siakam expressed in reference to how his coach allowed him to play. "When you get minutes and you have the trust of the coaches and guys just letting you play your game and be yourself, it definitely helps."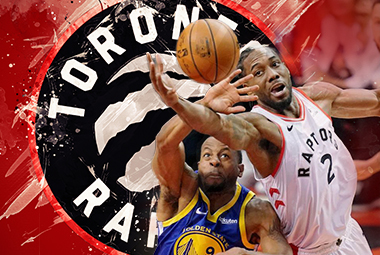 Upcoming Finals Schedule
Game 2- Sunday, June 2, 2019 at 7 pm CT in Toronto (ABC)
Game 3- Wednesday, June 5, 2019 at 8 pm CT in Golden State (ABC)
Game 4- Friday, June 7, 2019 at 8 pm CT in Golden State (ABC)
Game 5 (if necessary) - Monday, June 10, 2019 at 8 pm CT in Toronto (ABC)
Game 6 (if necessary) - Thursday, June 13, 2019 at 8pm CT in Golden State (ABC)
Game 7 (if necessary) - Sunday, June 16, 2019 at 7 pm CT in Toronto (ABC)
Sources:
"Siakam stars for Raptors with all-around effort", Tim Bontemps, espn.com, May 31, 2019.
"2019 Playoffs", nba.com, May 31, 2019.
Posted by
DavidGreen