Introduction
As big league pitchers and catchers prepare to join their organization's spring training facilities, the Toronto Blue Jays have been hard at work as they attempt to beef up their roster prior to the 2021 Major League Baseball season. Earlier this week the Toronto Blue Jays reached an agreement to sign superstar outfielder, George Springer, to a six year and $150 million contract.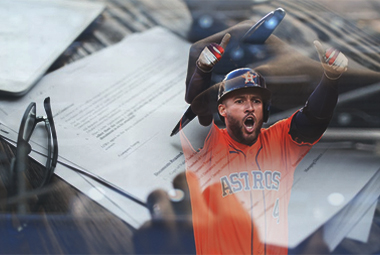 The Contract Details
This contractual agreement is straightforward. There is no signing bonus, no incentives, and there is not a no trade clause involved in this deal. The six year $150 million contract includes all $150 million guaranteed, and Springer will now average $25 million per season. George will now become an unrestricted free agent again in 2027.
Hopefully the veteran outfielder will play up to this huge deal that the Toronto Blue Jays signed him to on Tuesday, January 19th, 2021. This is currently the largest contract negotiated by the Toronto Blue Jays in their franchise history. The only other time the Blue Jays signed a player to an agreement that surpassed $100 million happened to be a $126 million contract extension provided to Vernon Wells back in 2006.
Baseball Background
Springer was born and raised in New Britain, Connecticut, and he played his freshman year of high school baseball at New Britain High School as well. George then transferred to Avon Old Farms School located in Avon, Connecticut for his sophomore through senior year of high school. Although he was drafted by the Minnesota Twins in the 48th round of the 2008 MLB draft, Springer decided that he wasn't ready for pro baseball and he enrolled at the University of Connecticut to play ball for the UConn Huskies.
While at UConn, Springer was selected to the 2009 Baseball America Freshman All America First Team. He was named to the Big East Conference rookie of the year as well. In 2009 and 2010, he played his college summer baseball with the Wareham Gatemen of the Cape Cod Baseball League. Then in 2011, Springer was named the Big East Player of the Year for his success on the diamond. George was named to the First Team All American by the Perfect Game USA, Louisville Slugger and the National Collegiate Baseball Writers Association, while being honored as a Second Team All American by Baseball America.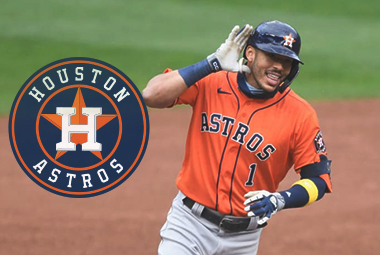 Professional Baseball Career
Springer was chosen with the 11th overall pick in the first round of the 2011 MLB draft by the Houston Astros which was the highest a player out of UConn was ever selected in a Major League Baseball draft. Following an impressive run in the minor leagues George made his MLB debut with the Houston Astros on April 16th, 2014. Throughout his 7 year career in the big leagues all with the Houston Astros Springer has batted for an average of .270, with 174 home runs, and 458 runs batted in.
According to ESPN, "Springer has been at his best during big moments, hitting 19 postseason home runs, which is tied for fourth all time; he also ranks sixth in slugging percentage (.546), seventh in extra-base hits (34) and is tied for 14th in runs scored (43)." In other words, Springer is an extremely clutch ball player. George also plays the outfield extremely well too. Even after the Houston Astros sign stealing scandal Springer was one of the best performing players on the field for the Astros. For these reasons he was one of the most coveted free agents during this MLB offseason, and hopefully he continues to impress with the Toronto Blue Jays now that he has earned this major contract.
Springer's Career MLB Achievements, Honors, and Awards
3 Time MLB All Star (2017, 2018, 2019)
World Series Champion (2017)
World Series MVP (2017)
2 Time Silver Slugger Award (2017, 2019)
Sources:
"George Springer", baseball-reference.com, January 21, 2021.
"Toronto Blue Jays Team History & Encyclopedia", baseball-reference.com, January 21, 2021.
"Houston Astros Team History & Encyclopedia", baseball-reference.com, January 21, 2021.
"George Springer, Toronto Blue Jays agree to 6-year, $150M deal, sources say", espn.com, January 19, 2021.
Posted by
DavidGreen