Introduction
On Friday, August 18th, 2023 the Baltimore Ravens announced that they have agreed upon terms to a new contract with former number-1 NFL draft pick in Jadeveon Clowney, providing much - needed experienced depth at the defensive end/outside linebacker position of the Baltimore Ravens defense.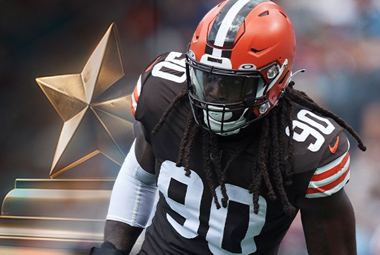 Contract Details
Clowney's new 1-year contract with the Baltimore Ravens is worth up to approximately $2.5 million, but it could rise up to $6 million with the incentives and bonuses added in. The new deal includes a signing bonus of $1,335,000, and Jadeveon will earn an annual salary of $2,500,000 which was fully guaranteed at the time of the signing. Clowney is now scheduled to become an unrestricted free agent once again in the year 2024.
"He is a tough, hard - nosed, throws - his - body - around kind of player," the Baltimore Ravens head coach, John Harbaugh, expressed. "We played against him so many times. We understand how he plays and we're excited to have him. I think he's a little underrated as a pass rusher."
The Baltimore Ravens search of a Pass Rusher
The Baltimore Ravens have demonstrated a major interest in available NFL free agent edge rushers over the course of the 2023 NFL offseason. The Baltimore Ravens had previously met with the defensive ends / outside linebackers Kyle Van Noy as well as Dawuane Smoot.
Clowney, who was originally taken with the 1st - overall NFL draft pick back in 2014, received a contract offer from the Baltimore Ravens during his visit back on August 8th, 2023, but Jadeveon left the visit without signing that deal. Clowney then visited the Jacksonville Jaguars on last Sunday, August 13th, 2023.
By joining the Baltimore Ravens, Jadeveon will reunite with Anthony Weaver, the Baltimore Ravens assistant head coach as well as their defensive line coach. Weaver previously worked with Clowney for 3 - years when he was the defensive line coach for the Houston Texans.
The 3 - time NFL Pro Bowl selection in Clowney has a total of 43 - career sacks, which is more than the current Baltimore Ravens outside linebackers / defensive ends have in a combined total of 28.5 - sacks.
"The guys just want to win," the Baltimore Ravens latest signing in Jadeveon Clowney said to the Baltimore Ravens' team website. "They call and say, 'We're just trying to win. We can do it here. With the pieces around us, you can come in and help.'" I think they got a great team and a great chance to win. I want to be a part of it."
The Baltimore Ravens are apparently expecting to rely upon their young edge pass rushers in both Odafe Oweh and David Ojabo throughout the upcoming 2023 - 2024 NFL season, but they presently lack the proven back - ups behind those young players. With Tyus Bowser (non - football injury list) taking longer than anticipated in order to recover from his knee injury, the Baltimore Ravens did not have an outside linebacker / defensive end in practice who was older than the age of 25 - years - old.
Justin Houston, who managed to lead the Baltimore Ravens with 9.5 - sacks last year, just so happened to sign a 1 - year contract valued at $7 million with the Carolina Panthers earlier this month of August. The Baltimore Ravens did not show very much interest in retaining Houston for the amount of money he was desiring.
Jadeveon Clowney
Jadeveon just turned 30 - years - old back in February of 2023, has played for the Cleveland Browns over the course of the last 2 - seasons of the National Football League, after he signed back - to - back 1 - year deals with the Cleveland Browns.
Clowney had a total of 9 - sacks in his 1st - year in Cleveland with the Browns back in 2021 starting opposite the NFL All - Pro defensive lineman in Myles Garrett, but Jadeveon had a somewhat disappointing 2022 - 2023 NFL season with the Cleveland Browns as he finished that season with just 2 - sacks.
Late in the season last year, Clowney told Cleveland.com that he likely would not be returning to the Cleveland Browns due to the fact that the organization was favoring Garrett, who finished tied for 2nd - place in the National Football League with a total of 16 - sacks, over Jadeveon.
"You're all trying to get [Garrett] into the Hall of Fame instead of winning games," Clowney told Cleveland.com. "I don't even think [Garrett] notices. I ain't trying to say it's him. I try to get along with everybody I play with. Me and him don't have a problem. It ain't his fault, and it's B.S., and I don't have time for it."
After those comments were publicly published, Jadeveon was sent packing home prior to their final NFL regular - season practice of the 2022 - 2023 NFL season, and he was ruled out of the Cleveland Browns last NFL regular season game against the Pittsburgh Steelers, which the Cleveland Browns lost with a final score of 28 to 14. Clowney later apologized to Myles in a publicly released statement.
Prior to that game vs. the Pittsburgh Steelers, the Cleveland Browns defensive ends coach, Chris Kiffin, also confirmed that Jadeveon had chosen to refuse to play on 1st or 2nd - down during a Week - 7 game versus the Baltimore Ravens because of the fact that he was upset with how the team had decided to use him in that match - up.
The Cleveland Browns also lost that game as well. Clowney did not play on the opening series of the next weekend on "Monday Night Football" vs. their divisional rivals in the Cincinnati Bengals, even though Jadeveon had entered that contest during the Cincinnati Bengals 2nd - possession of the game.
Clowney's Football Career Achievements, Honors, & Awards
Second - Team NFL All - Pro Selection (2016)
3 - Time NFL Pro Bowl Selection (2016, 2017, 2018)
Ted Hendricks Award Winner (2012)
SEC Defensive Player of the Year Award Winner (2012)
2 - Time First - Team All - American Selection (2012, 2013)
2 - Time First - Team All - SEC (2012, 2013)
Second - Team All - SEC Selection (2011)
The South Carolina Gamecocks Retired Jadeveon Clowney's Number - 7
Sources:
"Former No. 1 pick Jadeveon Clowney signs with Ravens", Jamison Hensley, espn.com, August 18, 2023.
"Jadeveon Clowney", spotrac.com, August 21, 2023.
"Jadeveon Clowney", pro-football-reference.com, August 21, 2023.
Posted by
DavidGreen