Introduction
On Tuesday, July 25th, 2023 the Los Angeles Chargers and their young superstar quarterback, Justin Herbert, managed to agree on terms for a 5 - year contract extension worth up to approximately $262.5 million.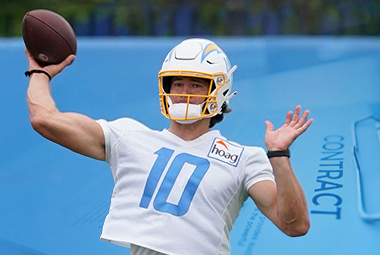 Contract Extension Details
The Los Angeles Chargers locked up their highly - talented starting QB in Herbert by signing him to a 5 - year contract extension valued at $262,500,000, and this new deal includes a nice $16,128,376 signing bonus, $193,738,376 in total guaranteed money, and Justin is now scheduled to earn an average annual salary of $52,500,000.
For the 2023 - 2024 NFL season, Herbert will earn a base salary of $1,010,000 as well as a signing bonus of $16,128,376, while carrying a salary cap hit of $8,458,176 and a dead salary cap value consisting of $137,960,876. The new contract includes options for 2028 as well as 2029 and if picked up Herbert will not become an unrestricted free agent until the year 2030.
Contract Extension Notes
$133.7 million Guaranteed at time of Signing (signing bonus + 2023 salary + 2024 salary + 2024 option bonus + 2025 salary + 2025 option bonus)
2024 Option Bonus of $50.6 million (guaranteed)
2025 Option Bonus: $45 million (guaranteed)
2028 Roster Bonus: $5 million
2029 Roster Bonus: $10 million
Full No - Trade Clause
Other Highly Paid NFL QBs Signed this Year
Herbert is presently the 3rd - quarterback this year to agree to a blockbuster contract extension following new deals between the Philadelphia Eagles and Jalen Hurts which was a 5 - year contract good for approximately $255 million, and the other being between the Baltimore Ravens and Lamar Jackson. Jackson's deal was another 5 - year agreement worth about $260 million.
All 3 of these quarterbacks are considered highly - elite players who their organizations could not afford to lose to free agency or other circumstances as talented NFL signal callers are hard to come by and very important especially in today's game.
Justin Herbert
Herbert's freshly inked agreement makes him the highest - paid quarterback in the history of the NFL in terms of average annual value now set at $52.5 million, and it also sets the table for the Cincinnati Bengals to sign their amazing young superstar quarterback, Joe Burrow, to a similar contract extension in the near future.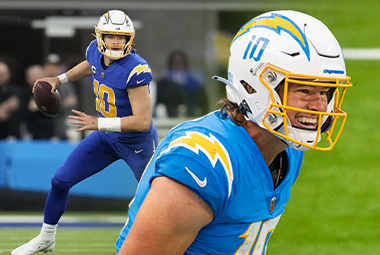 "I sleep better at night knowing we have a franchise quarterback," the Los Angeles Chargers general manager, Tom Telesco, stated publicly at the end of the past NFL season. "He's done so much already in his young career, yet we all know there's still a lot there because of his commitment to the game."
Herbert has surpassed multiple significant NFL statistical milestones ever since Justin was taken by the Los Angeles Chargers with the 6th - overall selection during the 2020 NFL Draft. Last year, Herbert led the Los Angeles Chargers to their very 1st - playoff appearance since back in the year of 2018 with a totally different team.
Over the course of his initial 3 - seasons playing in the National Football League, Justin has managed to compile an overall record of 25 and 24 in addition to his 1 - playoff defeat. Herbert has thrown for 14,089 - yards, passing Andrew Luck for the most yards through the air by a quarterback during their 1st 3 - NFL seasons. Justin has completed 1,316 - career throws, which also is the very most in NFL history throughout a player's 1st 3 - NFL seasons. Herbert's 64 - total QBR ranks 4th in the league even since his rookie year of 2020.
Herbert has also compiled 94 - career touchdowns, putting up 3 - straight seasons with a minimum of 25 - throwing touchdowns which puts Justin alongside one of the all - time great Hall of Fame quarterbacks in Peyton Manning as the only QB to do so at the start of their NFL career.
Even though Herbert previously had 2 - seasons left on his rookie NFL contract, the Los Angeles Chargers began negotiating with Justin and his agent on a long - term deal immediately following the 2022 - 2023 NFL season when he officially became eligible for an extension.
Earlier during the current 2023 NFL offseason at the league's annual meetings in Phoenix, Arizona the Los Angeles Chargers head coach in Brandon Staley expressed serious confidence that Justin would be with their organization for what he said, "a long time."
"We're so excited that he is leading our franchise," the Los Angele Chargers head coach, Brandon Staley, explained.
With the Los Angeles Chargers striking a new deal with Justin prior to the start of their training camp enables them to not only have their most valuable player under a long - term contract, but it also gives the team the ability to focus on making a repeat NFL playoff appearance this season which is something they have not been able to do since making it to 4 - straight NFL postseason appearances from the year 2006 to 2009.
This year, Justin will be under the influence of the Los Angeles Chargers newly appointed offensive coordinator, Kellen Moore, who joins the L. A. Chargers following his 4 - year stint in the same position with the Dallas Cowboys. While with the Dallas Cowboys Moore's offensive units ranked in the top 4 in points per game with 27.7, yards per game with 391, and 3rd - down conversion percentage of 44 %.
Justin will also have at his disposal a variety of solid playmakers on his club, including the veteran wide receivers in Keenan Allen as well as Mike Williams to go along with the Chargers 1st - round NFL draft pick Quentin Johnston and their superstar running back, Austin Ekeler. Last season, Ekeler led the National Football League with 18 - total touchdowns. Herbert was previously set to make $4.23 million in the 4th - year of his original rookie contract with the Los Angeles Chargers.
Herbert's Football Career Achievements, Honors, & Awards
NFL Offensive Rookie of the Year Award Winner (2020)
NFL Pro Bowl Selection (2021)
PFWA All - Rookie Team Selection (2020)
William V. Campbell Trophy Award Winner (2019)
NFL Records
Most Passing Touchdowns by a Rookie Quarterback with 31
Most Passing Yards per Game by a Rookie Quarterback with 289.1
Most Completions by a Rookie Quarterback with 396
Sources:
"Chargers, Justin Herbert agree to 5 - year, $262.5M deal", Lindsey Thiry, espn.com, July 25, 2023.
"Justin Herbert", spotrac.com, July 26, 2023.
"Justin Herbert", pro-football-reference.com, July 26, 2023.
Posted by
DavidGreen