Introduction
On Monday, October 16th, 2023 the Chicago Bears explosive, young, and inconsistent quarterback, Justin Fields, suffered a dislocated right thumb during the Chicago Bears' last Sunday afternoon's 19 to 13 loss to the Minnesota Vikings.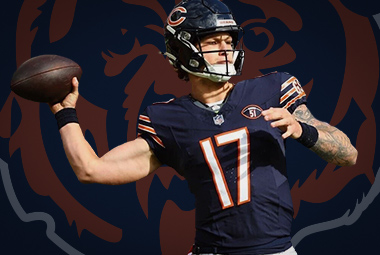 According to the Chicago Bears head coach, Matt Eberflus, Fields is presently listed as doubtful for the Chicago Bears' game this Sunday, October 22nd, 2023 at Soldier Field versus the Las Vegas Raiders in this NFL week - 7 regular - season match up.
This is some troublesome news for the already struggling 2023 - 2024 Chicago Bears and their very questionable starting quarterback in Fields. Not only does Justin give the Chicago Bears the best opportunity to win week in and week out, but Fields needs as much NFL game action as possible this season in order for the Chicago Bears to properly evaluate him and decide on whether or not to move forward with him at quarterback for the future of the franchise.
The Injury
Fields endured his right thumb injury during the 3rd - quarter of the Chicago Bears' 19 - 13 defeat to the Minnesota Vikings on Sunday, October 15th, 2023. The X-rays on his throwing hand thumb thankfully came out negative, but Justin had an MRI on Monday just in case.
"There's no timetable right now," the Chicago Bears head coach, Matt Eberflus, explained. "It's really going to come down to grip strength. There's natural swelling that occurs with this injury, so we should know more at the end of this week."
Eberflus stated that the Chicago Bears look forward to knowing whether or not Fields will need surgery on his right hand sometime later this week. The Chicago Bears head coach disclosed that he did not get any feedback on what the MRI revealed, and he continued to reiterate that Fields' ability to grip the ball will be a very important factor in determining Justin's next steps moving forward.
Fields has been working with the Chicago Bears' athletic trainers over at Halas Hall this week, and coach Eberflus has been saying that he just wants to "give it time" for the swelling to go down before making any sort of a decision on the status of Justin at the moment.
"It doesn't look like it's a negative thing," Eberflus responded after being asked if Justin Fields had any torn ligaments in his right hand, "but we'll see where it is."
Justin managed to injure his right thumb following him landing on top of his right arm as he was being sacked by the Minnesota Vikings defensive end, Danielle Hunter, on the Chicago Bears' initial drive of the 3rd - quarter of last Sunday's contest. As Fields was falling hard to the ground, he attempted to flip the football over in the direction of his running back, Darrynton Evans, to avoid taking that sack.
After a quick visit to the injury tent on the Chicago Bears' sideline, Justin had to walk back to their locker room with a towel placed over his right hand. At first, Fields was listed as questionable to return in last weekend's game, but he was eventually ruled out shortly afterward.
Tyson Bagent to Back-Up Justin Fields at Quarterback
The Chicago Bears' rookie undrafted quarterback in Tyson Bagent was forced to make his NFL debut replacing Fields last Sunday afternoon, and Bagent managed to complete 10 of his 14 pass attempts which was good for 83 - passing yards and 1 - interception, but Tyson did have a 1 - yard quarterback sneak in order to cap the Chicago Bears' only touchdown drive of the game.
"I thought he really worked through it," Eberflus mentioned regarding the Chicago Bears back - up quarterback in Tyson Bagent. "Obviously the first series or so wasn't ideal. I think that you give him credit. He's a backup quarterback, a young guy, I think he came in there and had poise.
"... He showed that during that touchdown drive. There were a lot of good things that come out from Tyson in that game."
Bagent was an undrafted free agent from the commonly unheard - of Shepherd University. He holds the NCAA record for all - time touchdown passes with 159, and Tyson is the Division II record - holder for all - time passing yards with 17,034 and total touchdowns with 171.
Bagent signed with the Chicago Bears back in May of 2023, and he beat out the current Cleveland Browns quarterback, P. J. Walker, who was with the Chicago Bears franchise during this past offseason, competing for a spot on the initial Chicago Bears' 53 - man NFL roster.
The veteran back-up quarterback in Nathan Peterman is the 3rd - string quarterback on the Chicago Bears' active roster, and he quickly became the Chicago Bears' emergency quarterback for last Sunday's game against the Minnesota Vikings.
Eberflus emphatically stated that he did not believe that the Chicago Bears would need to simplify or dumb - down their offensive playbook for Bagent if he does have to start at quarterback in place of Fields on Sunday, October 22nd when the Chicago Bears face off against the Las Vegas Raiders.
"We're always prepared for that, for sure," Eberflus goes on to say. "It's one play away. You're one play away from being in there, and Tyson's earned that spot with his opportunity that he's created himself. And we're certainly gonna do that going forward for sure."
The Chicago Bears head coach in Eberflus did also provide 2 - additional injury updates on Monday from Halas Hall. Coach Eberflus relayed information on the Chicago Bears' right guard, Nate Davis, who suffered a high - ankle sprain versus the Minnesota Vikings, and Matt said that he will be unavailable to play against the Las Vegas Raiders this weekend.
The Chicago Bears' cornerback, Terell Smith, who was downgraded to out last Friday, October 13th, 2023 due to an illness, will now need to be sidelined for approximately, "three to four weeks," with mononucleosis, Eberflus expressed.
Fields' Football Career Achievements, Honors, & Awards
Chicago Tribune Silver Football Award Winner (2020)
2 - Time Graham - George Offensive Player of the Year Award Winner (2019, 2020)
2 - Time Griese - Brees Quarterback of the Year Award Winner (2019, 2020)
Second - Team All - American Selection (2019)
2 - Time First - Team All - Big Ten Selection (2019, 2020)
NFL Records
Most Rushing Yards by a Quarterback in a Regular Season Game with 178
Sources:
"Bears' Justin Fields has dislocated thumb; doubtful vs. Raiders", Courtney Cronin, espn.com, October 16, 2023.
"Justin Fields", pro-football-reference.com, October 17, 2023.
Posted by
DavidGreen