Introduction
On Monday, March 8th, 2021 the Dallas Cowboys have agreed upon terms with their veteran superstar starting quarterback, Dak Prescott, to a four-year $160 million contract. This deal was definitely deserved for Prescott as the Dallas Cowboys had decided to use the franchise tag on him last year for 2020-2021 NFL season, and he ended up getting injured. Now Dak has some job security with this new agreement, and he can focus on winning football games as opposed to worrying about his financial future in the National Football League.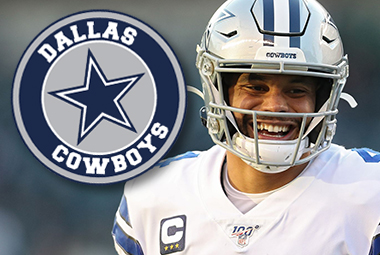 Contract Details
This new 4-year $160 million deal between Prescott and the Dallas Cowboys includes a $66 million signing bonus as well as a total of $126 million in guaranteed money. Dak will now average a $40 million salary annually. This contractual agreement carries the following stipulations:
$95 million fully guaranteed (signing bonus + 2021 salary + 2022 salary)
$31 million 2023 salary fully guarantees on the 5th league day of 2022 (injury guaranteed now)
2024 Roster Bonus: $5 million (5th league day of 2024)
No – Tag Clause
No – Trade Clause
2025 – 2026 are void years for cap purposes
2026 void year will allow the 2022 base salary to be restructured
Prescott's Career NFL Statistics
Over the course of his illustrious career in the National Football League Prescott has completed 1,514 passes out of his 2,293 pass attempts which is good for a completion percentage of 66.0 %. He has thrown for 17,634 yards, 106 touchdown receptions, while managing to throw only 40 interceptions. Look for Dak to have a bounce back season in 2021 as he should be 100 % fully healthy and 100 % fully paid.
Career Achievements, Honors, and Awards
NFL Offensive Rookie of the Year (2016)
2 Time NFL Pro Bowl Selection (2016, 2018)
PFWA All – Rookie Team (2016)
2 Time Conerly Trophy (2014, 2015)
2 Time First – Team All – SEC (2014, 2015)
Odds to Win Super Bowl LVI
According to Intertops sportsbook these are the odds to win Super Bowl LVI as of Tuesday, March 9th, 2021.
Team Odds
Kansas City Chiefs +450
Green Bay Packers +850
Tampa Bay Buccaneers +850
Buffalo Bills +1100
Los Angeles Rams +1200
San Francisco 49ers +1400
Baltimore Ravens +1600
New Orleans Saints +2000
Indianapolis Colts +2000
Cleveland Browns +2000
Seattle Seahawks +2000
Miami Dolphins +2500
Los Angeles Chargers +2800
Dallas Cowboys +2800
Tennessee Titans +2800
Pittsburgh Steelers +3300
Arizona Cardinals +3300
New England Patriots +4000
Minnesota Vikings +5000
Atlanta Falcons +5000
Carolina Panthers +5000
Denver Broncos +5000
Chicago Bears +6600
New York Giants +6600
Las Vegas Raiders +6600
Washington Football Team +6600
Philadelphia Eagles +8000
New York Jets +8000
Jacksonville Jaguars +10000
Cincinnati Bengals +10000
Houston Texans +15000
Detroit Lions +15000
Sources:
"QB Dak Prescott, Dallas Cowboys reach four-year, $160 million deal, source says", Todd Archer, espn.com, March 8, 2021.
"Dak Prescott", pro-football-reference.com, March 9, 2021.
"United States, NFL Futures, NFL 2021 / 22 Super Bowl LVI: To Win Outright", intertops.eu, March 9, 2021.
"Dak Prescott", spotrac.com, March 9, 2021.
Posted by
DavidGreen