Introduction
On Monday, March 1st, 2021 the veteran defensive end and pass rushing specialist, J. J. Watt, and the Arizona Cardinals have agreed upon terms on a 2 – year contract worth approximately $31 million. This news comes shortly after Watt had asked his former team in the Houston Texans to release him and they did.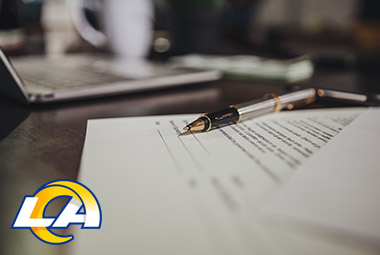 Contract Details
This new deal includes a signing bonus of $12 million, and it carries as much as $23 million in total guaranteed money. The agreement contains incentives in the form of bonuses and escalators for Watt's sacks numbers over the course of the next two years. It also consists of a no trade clause which will keep J. J. with the Arizona Cardinals through the 2022 – 2023 NFL season unless Watt decides to waive the no trade clause. J. J. is now scheduled to become an unrestricted free agent prior to the 2023 – 2024 NFL season.
Reunited Acquaintances
Watt will be reuniting with some very familiar faces in Arizona while playing with the Cardinals. DeAndre Hopkins is one of the best wide receivers in the National Football League, and he was playing with J. J. on the Houston Texans from 2013 to 2019. Hopkins was eventually traded to the Arizona Cardinals on March 20th, 2020 for running back David Johnson as well as a variety of future draft picks.
Watt will also be getting back together with Vance Joseph who was the former defensive backs coach for the Houston Texans for the first few years that Watt played in the National Football League. Joseph is currently the Arizona Cardinals defensive coordinator, and he will be working extensively with J. J. for at least the upcoming two NFL seasons.
Watt's Career Achievements, Honors, and Awards
3 Time NFL Defensive Player of the Year (2012, 2014, 2015)
5 Time First – Team All – Pro (2012, 2013, 2014, 2015, 2018)
5 Time NFL Pro Bowl Selection (2012, 2013, 2014, 2015, 2018)
2 Time NFL Sacks Leader (2012, 2015)
NFL's 100 Sacks Club
Unanimous NFL 2010's All – Decade Team
Sporting News 2010's All – Decade Team
Walter Payton NFL Man of the Year (2017)
Sports Illustrated Sportsman of the Year (2017)
Bert Bell Award (2014)
Lott Trophy (2010)
First – Team All – American (2010)
First – Team All – Big Ten (2010)
Odds to Win Super Bowl LVI
According to Intertops sportsbook these are the odds to win Super Bowl as of Wednesday, March 3rd, 2021. The odds for the Arizona Cardinals winning Super Bowl LVI immediately increased at sportsbooks all over the country following the news of Watt signing with Arizona Cardinals. J. J. should definitely help their chances of winning assuming that he can remain healthy throughout the upcoming 2021 – 2022 NFL season.
Team Odds
Kansas City Chiefs +450
Green Bay Packers +850
Tampa Bay Buccaneers +850
Buffalo Bills +1100
Los Angeles Rams +1200
San Francisco 49ers +1400
Baltimore Ravens +1600
New Orleans Saints +2000
Indianapolis Colts +2000
Cleveland Browns +2000
Seattle Seahawks +2000
Miami Dolphins +2500
Los Angeles Chargers +2800
Dallas Cowboys +2800
Tennessee Titans +2800
Pittsburgh Steelers +3300
Arizona Cardinals +3300
New England Patriots +4000
Minnesota Vikings +5000
Atlanta Falcons +5000
Carolina Panthers +5000
Denver Broncos +5000
Chicago Bears +6600
New York Giants +6600
Las Vegas Raiders +6600
Washington Football Team +6600
Philadelphia Eagles +8000
New York Jets +8000
Jacksonville Jaguars +10000
Cincinnati Bengals +10000
Houston Texans +15000
Detroit Lions +15000
Sources:
"J.J. Watt agrees to two-year contract with Arizona Cardinals", Josh Weinfuss, espn.com, March 1, 2021.
"United States, NFL Futures, NFL 2021 / 22 Super Bowl LVI: To Win Outright", intertops.eu, March 3, 2021.
"J. J. Watt" spotrac.com, March 3, 2021.
Posted by
DavidGreen