Introduction
The Los Angeles Rams agreed to trade their star wide receiver, Brandin Cooks, to the Houston Texans in exchange for multiple future draft picks. The Texans are sending the Rams their second-round pick which is the 57th overall selection in the upcoming 2020 NFL draft as well as a fourth-round pick in the 2022 NFL draft.
Previously the Los Angeles Rams had acquired Cooks and a fourth-round draft pick from the New England Patriots prior to the 2018 draft in exchange for a first-round draft pick belonging to the Rams. The Los Angeles Rams immediately signed Cooks to a 5-year contract worth up to $81 million.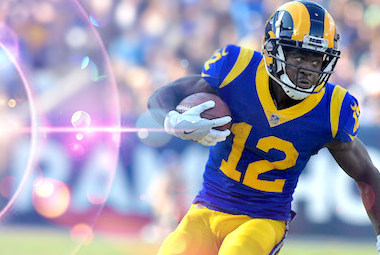 Houston Texans' other Offseason Moves
The Houston Texans were in need of a big-time wide receiver after trading away one of the game's best. The Texans traded DeAndre Hopkins to the Arizona Cardinals in exchange for star running back, David Johnson, early on in the league year last March. Although Cooks is not as productive on the football field as Hopkins was, this is still a solid move for Houston.
They need to surround their young and talented starting quarterback, Deshawn Watson, with as many decent offensive weapons as possible if they would like to continue to compete in the AFC. Along with Cooks, Will Fuller, and Kenny Stills at the wide receiver position for the Houston Texans they also just signed the veteran pass catcher, Randall Cobb, to run routes out of the slot position of their high powered offense as well.
Last Season
During the 2019 – 2020 regular season in the National Football League the Houston Texans produced a record of 10 and 6 which was good enough to win the weak AFC South division. The Texans hosted the Buffalo Bills in the Wild Card round of the NFL playoffs. This was a close and crazy postseason game. Houston ended up winning in overtime after a miraculous play by Deshawn Watson in order to keep a drive alive and setting up a field goal to win the contest 22 to 19 against the Buffalo Bills.
They then went on the road the following week to face the Kansas City Chiefs in the Divisional round of the 2019 – 2020 NFL playoffs. Although they had success early on in this match up as they enjoyed an early 24 – 0 lead, the Kansas City Chiefs put together another amazing comeback as they easily overcame the Houston Texans with a final score of 31 to 51. The Chiefs ended up winning Super Bowl LIV 31 to 20 against the San Francisco 49ers last February. The Houston Texans know they will have to improve if they plan on getting past teams like the Kansas City Chiefs, Tennessee Titans, Baltimore Ravens, and other power house AFC teams this upcoming 2020 – 2021 NFL season.
Sources:
"Sources: Rams trading Brandin Cooks to Texans", Lindsey Thiry, espn.com, April 10, 2020.
"Brandin Cooks", pro-football-reference.com, April 10, 2020.
Posted by
DavidGreen