Introduction
Just prior to the trade deadline of Thursday, March 25th, 2021 the Houston Rockets have traded their star veteran shooting guard, Victor Oladipo, to the Miami Heat in exchange for Avery Bradley, Kelly Olynyk, and 2022 first-round swap rights. The swap rights will include Brooklyn's pick according the three-team blockbuster trade back in January of 2021 that sent superstar guard and all-around scoring machine, James Harden, to the Brooklyn Nets.
According to the reliable sources over at ESPN, "With Oladipo in Miami, the Heat also are expected to emerge as a front-runner to sign LaMarcus Aldridge. The veteran big man completed a buyout with the San Antonio Spurs on Thursday. Aldridge plans to talk with several teams before finalizing a decision. Miami also landed Nemanja Bjelica from Sacramento for forwards Maurice Harkless and Chris Silva."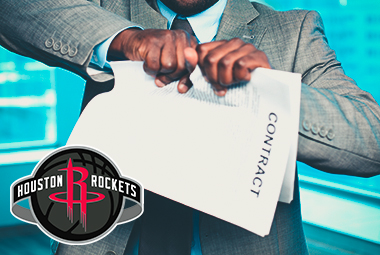 Rejected Contract Offer from the Houston Rockets
Back in February of 2021 the sharp shooting guard, Oladipo, recently turned down the 2-year contract extension worth up $45.2 million offered to him by the Houston Rockets. This rejected deal was the largest contract extension that the Houston Rockets could offer Oladipo prior to the summer free agency period that follows the conclusion of the 2020-2021 NBA season. Victor is looking to pursue a longer-term contract for a lot more money which the current Collective Bargaining Agreement of the National Basketball Association restricted the Houston Rockets from offering him during the 2021 NBA offseason.
It would probably be a better decision for Oladipo to accept a new deal from another NBA franchise in which he can compete for an NBA championship as the Houston Rockets seem to be in a downward spiral at the moment, and the Rockets franchise is clearly in a rebuilding phase after recently trading away players such as James Harden and Oladipo. It is a possibility that the Miami Heat will offer Victor a long-term deal sometime prior to the start of the 2022-2023 NBA season.
Current Contract
Oladipo is currently playing under the last year of his four-year $85 million contractual agreement which was most likely the reason for the Houston Rockets trading away the NBA All-Star shooting guard prior to the March 25th, 2021 trade deadline set by the National Basketball Association. The Houston Rockets initially acquired Victor through the mid-January of 2021 three team blockbuster trade that sent James Harden to the Brooklyn Nets.
Oladipo's NBA Statistics
Throughout the course of the 2020 – 2021 season in the National Basketball Association with the Houston Rockets (20 games) Victor averaged 21.2 points per game, 4.75 rebounds per contest, and 4.95 assists per match up. During his illustrious 9 – year career in the NBA Oladipo has played with the Orlando Magic, the Oklahoma City Thunder, the Indiana Pacers, the Houston Rockets, and now he will begin another chapter of his career in the National Basketball Association with the Miami Heat at least for the remainder of the 2021 – 2022 NBA season.
His NBA career statistics display the former guard for the Hoosiers of Indiana University putting up 17.6 points per game, 4.6 rebounds per game, and 4.0 assists per ball game. One way or another Oladipo should receive a solid contract this offseason for around 4 to 5 years and anywhere from $100 million to $200 million if all goes well for the 28 – year – old guard from Silver Spring, Maryland.
Career Achievements, Honors, and Awards
2 Time NBA All – Star (2018, 2019)
All – NBA Third Team (2018)
NBA All – Defensive First Team (2018)
NBA Most Improved Player (2018)
NBA Steals Leader (2018)
NBA All – Rookie First Team (2014)
Sporting News Player of the Year (2013)
Adolph Rupp Trophy (2013)
Consensus First – Team All – American (2013)
Co – ABC Defensive Player of the Year (2013)
Big Ten Defensive Player of the Year (2013)
First – Team All – Big Ten (2013)
2 Time Big Ten All – Defensive team (2012, 2013)
Odds to Win the 2020-2021 NBA Championship
According to Intertops sportsbook these are the odds as of Tuesday, March 23rd, 2021 to win the 2020 – 2021 NBA championship outright.
Team Odds
Los Angeles Lakers +275
Brooklyn Nets +275
Los Angeles Clippers +500
Milwaukee Bucks +700
Utah Jazz +800
Philadelphia 76ers +1200
Denver Nuggets +2500
Phoenix Suns +2800
Miami Heat +3300
Boston Celtics +3500
Dallas Mavericks +4000
Toronto Raptors +5000
Portland Trail Blazers +6000
Golden State Warriors +6600
Indiana Pacers +6600
New Orleans Pelicans +10000
Atlanta Hawks + 10000
San Antonio Spurs +10000
Memphis Grizzlies +15000
Washington Wizards +15000
New York Knicks +15000
Charlotte Hornets +20000
Oklahoma City Thunder +25000
Chicago Bulls +25000
Orlando Magic +30000
Sacramento Kings +30000
Cleveland Cavaliers +30000
Houston Rockets +50000
Minnesota Timberwolves +100000
Detroit Pistons +100000
Sources:
"Miami Heat acquire Victor Oladipo in trade with Houston Rockets, expected to be front-runner for LaMarcus Aldridge", espn.com, March 25, 2021.
"Victor Oladipo", basketball-reference.com, March 25, 2021.
"United States, NBA Futures – NBA 2020 / 21 Championship: To Win Outright", intertops.eu, March 23, 2021.
Posted by
DavidGreen