Can it Be Beaten?
We have a new featured affiliate casino on the Wizard of Vegas Forums to go along with the new rollout and that is the Miami Club Casino!!! This featured advertiser is marketing to potential players very aggressively and, as with all of our featured advertisers, is a Wizard of Odds APPROVED casino.
For those who may not know, Wizard of Odds APPROVAL means that.
Any player that signs up for this casino via a Wizard of Odds or Wizard of Vegas link will have Wizard of Odds protection. This entails the Wizard of Odds backing you up, personally, in the event that you have a dispute with the casino and the casino and yourself cannot reach an amicable resolution. With Miami Casino's courteous and prompt customer service, this is a highly unlikely event, but it's good to know that it is there.
In the event of such a dispute, of course, we only ask that you attempt to achieve resolution with the casino before coming to us.
If you would like to know more about this casino before signing up, I suggest that you take a look at the Wizard of Odds Review, which can be found here.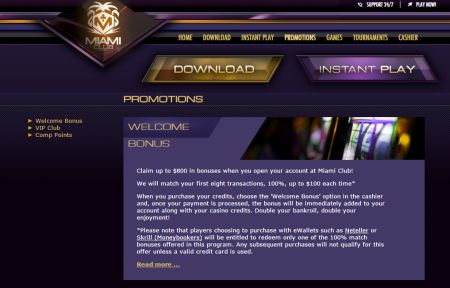 Miami Club Casino's current promotion is an $800 Match Bonus which consists of eight separate bonuses of up to $100 each of your first eight deposits. Effectively, this plays as a separate $100 100% Match Promotion, so I'm going to analyze it on that basis.
The wagering requirement for this promotion is 20x on slots with 10% on Blackjack, Craps and Baccarat and 5% on Video Poker games. Effectively, you must wager $4,000 coin-in on slots, $40,000 on Blackjack, Craps and Baccarat and $80,000 on Video Poker.
The first thing that we want to look at is expected loss, and since the Perfect Pairs Blackjack has a lower house edge than any Video Poker game (the best of which is 9/6 Jacks or Better at 99.54% RTP) we're going to take that 0.36% Perfect Pairs House Edge and see that we are expected to lose $144 on $40,000 coin-in.
Naturally, we're not going to play it that way, so let's get into some Terms & Conditions:
The first thing worthy of note is that you want to deposit with a credit card, because any of the E-Wallet methods of deposit will enable the player to only collect one $100 100% Match Bonus.
And...this is why we read the Terms & Conditions, because it gets really ugly, now.
"Roulette, Craps and Baccarat play with bonus funds is forbidden. Players who use bonus funds for wagers on any of these games will not be eligible for any future bonus considerations, Additionally, any winnings from bonus wagers placed on these games will be confiscated.
The maximum permitted value of any single wager placed, on any game, using bonus funds is $10.00."
It appears that, sometime since the Wizard reviewed the casino, Craps and Baccarat are no longer allowed to be played with the Bonus, and you will forfeit the Bonus, and the right to try any other Bonus, immediately upon playing.
Ouch.
Also, the Maximum permissible wager is $10.00 on any Bonus Games, so you're going to end up playing no fewer than 4000 hands of Blackjack to get through the playthrough.
At this time, I cannot determine what the specific paytables are for Keno (only the percentages are on the Review and there is no play-for-fun mode) and I am not going to sign up for the casino at this time because I want to wait and see if they change their minds and decide to allow Craps AND increase the maximum permissible wager.
With that being said, however, my advice is to play one of the Keno games for $10/card and stop at whatever amount would enable you to lose $144 in Expected Loss on the Blackjack and still have in excess of $100 in the account. Remember that this Bonus is a non-cashable, "Phantom," Bonus, so as a result, you will also want to subtract that $100 from your total balance. Thus, you would want to have at least $344 in your account in order to be finished playing the Keno game.
At a guess, then, I would say that the goal on the Keno game would probably be to play a Three-Spot and try to hit 3/3, at least, if the Three-Spot pays are consistent with others I have seen and not heavy on 2/3.
Actually, Wizard says that the paytables for Keno are the same as Microgaming, which can be found here.
In other words, extremely bottom-heavy paytables. These are paytables that are really good for playing Keno for a long-time, especially if you are on a limited bankroll...but for beating promotions, not so much.
As with any other Article of this nature, I don't offer any advice on slot machines or pull tabs because I do not know the returns, or how the pays/probabilities are distributed.
As this Promotion stands today, my final word on it is going to be that it is an excellent Promotion for a player who likes to play Slots/Keno, anyway. The player essentially has the deposit doubled and that gives them some money to play with in order to try to hit a high pay. In fact, for such a player, this is quite possibly one of the best promotions out there for, "Taking a shot."
The flip side of that coin is that I consider this promotion patently awful in terms of Advantage Play. The weighting of the Keno paytable is so bottom-heavy that it would be really difficult to have a hit such that the expected loss on the Blackjack playthrough is covered. In terms of Table Games, it's no good because of the $10 wager limit and the fact that this is a Phantom Bonus. If you play this Promotion on Blackjack, straight-up, for instance, you are expected to lose. I don't even need to break out the calculator to know that one.
Ultimately, would I play this? No. Either the Keno paytable or the betting limit of $10/Max would need to change. Even if Keno did somehow present an advantage, I really don't think the hourly would be any good at all given that the player must then play 4000 hands of Blackjack.
Simply put, the sheer $$$ amount of the promotion and ability to do it eight separate times is aggressive, but the Terms & Conditions are anything but. I'm not saying that doesn't make them smart...but, Advantage Players don't want them to be smart!
Posted by
Mission146