Can it Be Beaten?
Here comes another Article highlighting one of the excellent promotions offered through our main site, WizardofOdds.com
This promotion is brought to you from Intertops Classic Casino, and a Review can be found on our Odds site, here.
Intertops Classic Casino has a long history of treating players fairly while paying promptly and having strong customer support. If that's not enough for you, it is important to note that Intertops Casino is Wizard of Odds APPROVED.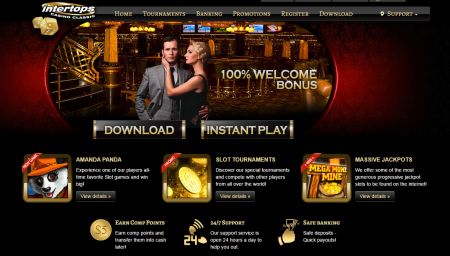 What that means for you, the player, is that if you sign up through our exclusive WizardofOdds Link and use it to open an account using promotion code, "SIGNUP100," the Wizard will personally back you up if you have any dispute with the casino. Obviously, we ask that you try to arrive at an amicable agreement with the casino first in the unfortunate event that there are any problems, however, we would strongly encourage you to use our APPROVED guarantee as a last resort.
The SIGNUP100 promotion offered by Intertops Casino Classic, which is a United States friendly casino, is a relatively conservative promotion of a 100% Match of any first deposit between $20-$100. This promotion is even more conservative due to the fact that it is a, "Phantom Bonus," pursuant to Bonus Promotions Rule 2 from their site, which reads:
2.2 All bonuses awarded to customers shall be considered as betting credits only. Intertops reserves the right to audit all requests for withdrawals, to reclaim any bonuses or winnings that have been accorded prior to a failed audit and to alter or discontinue a promotion at any time for any reason whatsoever, without notice. Bonuses can be used only for wagering purposes and can never be redeemed for cash.
Therefore, unfortunately, we are not going to be able to play anything straight up due to the fact that all games have some kind of House Edge.
However, this Rule is somewhat mitigated by the fact that the wagering requirements are a reasonable 30x, which would require $6,000 in wagering on slot machines.
Okay, we can't use Roulette for any playthrough because the Rules specifically say that we can't. Fortunately, the playthrough Rules are actually pretty reasonable for all other games. Baccarat or Craps would count for 35% of the normal wagering requirement while Blackjack and Video Poker would be 10%.
As a result, we have to wager $60,000 on Blackjack or Video Poker and would have to wager $17,142.86 on Baccarat or Craps.
The best Blackjack (Perfect Pairs) has a House Edge of 0.36%, which is better than the best Video Poker, which is 9/6 Jacks or Better. The Expected Loss from $60,000 in bets from Blackjack is $216.
The best bet on Tables is the Banker bet on Baccarat with a House Edge of 1.06%, the Expected Loss on $17,142.86 in bets is $181.71.
Thus, we know we are going to play it off on Baccarat, it will be much faster, too. Lower Expected ($$$) Loss, No Decisions to Make, Just Bet Banker...awesome!!!
I don't really like the House Edge on the Tie Bet at Baccarat, and it only pays 8:1, so I am going to go with an initial bet of ANY CRAPS 7:1 bet on Craps for all $200 which gives me a 1 in 9 chance of winning with an 11.11% House Edge:
If I win, my bankroll will improve to $1600 which is actually $1500 because the bonus will be removed when I try to withdraw. Again, my expected loss playing this off on Baccarat is only going to be $181.71, so I should do fairly well on this, let's find out. My expected profit would therefore be $1,218.29.
(1218.29 * .1111111111) - (100 * .8888888889) = 46.476666652
As we can see, given this extremely liberal playthrough requirement, the Expected Profit on this play is a very solid $46.476666652. Since the initial deposit is $100, this represents a Player Advantage of 46.476666652%.
Lots of Banker bets, though, keep it as slow and small as you can stand. Don't try to get cute with any off-setting bets on Craps or Baccarat, (Pass/Don't Pass, Player/Banker) many casinos will use that as a reason to cancel the promotion for your account, and then you'll only have your $100 when you'd already won the hard part!!!
There are probably other ways to do it, of course, but that's the way that I like. Some players may prefer to go ahead with that Baccarat tie bet, so the 8:1 pay would result in a bankroll of $1800 which is effectively $1700 because the Bonus disappears. The ultimate result would be an expected profit of $1418.29, but at a lower probability of winning the initial bet.
(0.095156 * 1418.29) - ((1-0.095156)*100) = 44.47440324
As we can see by way of our Expected Profit, the advantage for the player is just over 2% less as the Expected Win is just over $2.00 less. Of course, you would make an extra $200 when you are successful, but for me, I like the combination of Variance and House Edge offered by the ANY CRAPS bet for this promotion.
Besides, that 1 in 9 chance to win an expected amount of well over $1,000 for an initial outlay of only $100 sure is attractive, at least, in my opinion.
If you try this promotion and win, let me know how you do, especially if you're willing to be identified. I received a message from someone claiming to have tried one of the promotions about which I have written at a different casino and stating he won. He also said that I could state such in an article, at some point, as long as I did not personally identify him.
Anyway, I would LOVE to hear from you if you try this or any other promotions that I write about. Simply log into WizardofVegas.com if you have an account, and if not, setting one up is an absolute breeze, and shoot a PM my way to, "Mission146."
Call me egotistical, but it's always nice to hear when your ideas are making people money! Good luck and have fun!
Posted by
Mission146