Can This Be Beaten?
One of the newest casinos to grace the, "Recommended Casinos," section on these Forums is Ignition Casino. Because it is a recommended casino, it is subject to the WizardofOdds advertising guarantee.
The Wizard guarantee states that if you sign up through one of our links and have a dispute with the casino, then we will back you up and act as a neutral arbiter in trying to handle the dispute. As always, every player should abide by the Terms & Conditions of the casino in question because, if you violate those terms, then there really isn't anything the Wizard or anyone else can do for you. Finally, we also ask that you use this guarantee as a last resort and try to resolve the matter with the casino yourself prior to invoking the advertising guarantee.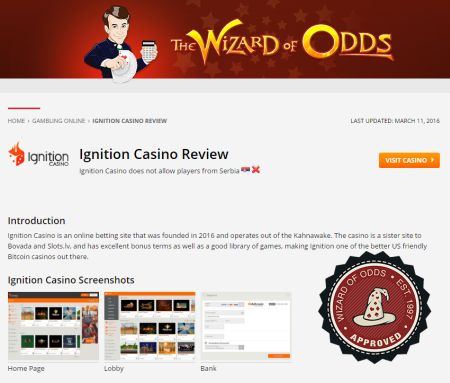 The Ignition Casino Bonus is refreshingly straightforward, if you are a new player, then you can make a deposit of up to $1,000 and the Ignition Casino will match that deposit 100%.
Unfortunately, many of my games of choice for such a promotion are excluded:
"Specified games contribute to playthrough requirements and certain games may have a greater contribution than others. Any play in Single Deck Blackjack, Double Deck Blackjack, Baccarat, Sic Bo, Craps, Roulette are excluded"
This Bonus has a 25x playthrough requirement as relates to the deposit and the Bonus, so if you deposit $1,000 and get a Bonus of $1,000, the playthrough required would be $50,000 on slots, Video Keno, Specialty Games and Pull Tabs. The casino also makes it very clear that you have six months to complete this playthrough requirement or the Bonus and any associated winnings will be considered forfeited.
Even though it is not specifically mentioned on the Ignition Casino site, the Wizard's Review of Ignition Casino does state that Video Poker is not an allowed game for using this Bonus.
If a player chooses to play other Table Games, then the Bonus rollover contribution is 60% of what it would be for the other types of games, as a result, what would be a $50,000 playthrough becomes an $83,334 playthrough.
Because this is a cashable Bonus, the goal of this promotion is to finish with something more than $1,000 since that is the amount being deposited. In order to play something straight up with $83,334 coin-in, we can see that the House Edge would have to be no more than roughly 1.2%:
83334 * .012 = 1,000.008
Unfortunately, for a player just looking at the straight up House Edge, there is not going to be a way to beat this promotion given that the House Edge results in too big a loss. However, when one looks at the Element of Risk, then there are going to be some games in which the total amount bet by the player will result in an Expected Loss of less than 1.2% of said total amount bet.
That being the case, this Promotion can be beaten straight up, and you don't even have to get cute...you can do it with flat betting! Unfortunately, given the backlash I have received for openly publishing the ways to beat online games, I'm going to leave you to do your own homework on this one.
Furthermore, there is also a provision at this casino against people playing, "Professionally," that also gives the casino sole jurisdiction over deciding what does or does not constitute, "Professional Play." It is true that I would be playing this Promotion on a recreational level if I play it myself, but my concern is that if I publish a way to go about beating the Promotion and everyone starts doing it exactly that way, then the casino could make an argument that everyone is playing professionally, myself included. I would certainly not want anyone to get burned in such an event, and furthermore, I probably will play with this promotion myself (at some point) so I'm going to leave it to you guys to figure out where any advantage may be.
With respect to slots players, I would simply say that any Bonus is better than no Bonus, and for a 100% Match Bonus, 25x the Deposit + Bonus is a perfectly reasonable playthrough amount. Unfortunately, the Keno is stomach-turning bad, so I cannot recommend that anyone play any of the Keno games. As far as the actual slot machines go, I am not aware of the House Edge of any of them, but I am almost positive that said House Edge would exceed 2%, and therefore, you would not be playing at an advantage as your Expected Loss exceeds $1,000, or 100% of your deposit.
Finally, this site is a sister site to Bovada and Slots.lv, so given that I have a ton of respect and trust for those two sites, (the former had been our exclusive recommended casino for many years) I would personally have no reservations about playing at Ignition Casino whatsoever. To wit, these sites still have a tremendous and mutually beneficial relationship with Bovada and all of the casinos in that family.
Good luck to all, and happy playing!
Posted by
Mission146