Can This Promotion be Beaten?
It's time once again to highlight another excellent bonus from one of our terrific advertisers, today we're going to take a look at Beating the New Player promotion at Manhattan Slots!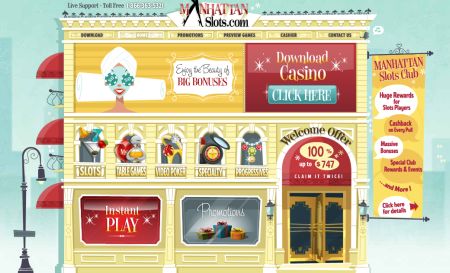 This promotion is a 100% Match Bonus up to $150, while that may seem like standard online casino fare, the best part of this promotion is that it can be used twice! The player may redeem this Bonus on each of his/her first two deposits.
The first thing that we should say about Manhattan Slots is that this is a Wizard of Odds APPROVED casino that is also U.S. friendly. The Wizard of Odds Seal of Approval means that any player that has issues with the casino, and also signed up through one of our links, such as on this page.
Can then come to the Wizard directly and ask him to arbitrate between the player and the casino. Naturally, we ask that the player first try to resolve the issue with the casino directly and only use this Wizard of Odds APPROVED guarantee as a last resort.
The full terms of the guarantee are below:
http://wizardofodds.com/advertising/policy/
The first aspect of this promotion that I should highlight is that this is a $150 100% Match, "Phantom," Bonus. What that means is that the $150 in bonus money is going to be subtracted from the player's account when the player attempts to cash out.
The bonus, "Playthrough," is 30x, which would be a playthrough of $9,000, except games other than slots and Keno contribute less to the playthrough percentage.
The Rules of the Promotion state that Baccarat, Craps, Roulette and Sic Bo are all games that are excluded from this promotion. I decided to use the Chat function to determine whether they could not be played at all, or whether they just did not contribute to the playthrough, and here was the result:
Jayne: Hello, how are you today?
*****: I'm well, Jayne, how are you?
Jayne: Hi *****, I 'm doing great thanks for asking! Glad you are too :-)
Jayne: Have you created an with ous yet?
Jayne: *us
*****: I have a question about the 100% Match Bonus for new players: It says that Baccarat, Craps, Roulette and Sic Bo are excluded games. Does that mean that they simply don't count towards the wagering requirements, or does it mean you would forfeit the bonus if you played them AT ALL?
Jayne: You will not be able to play the games while you are using the bonus - It simply wont allow you to access them
*****: Very well, thank you. That's all I needed right now. Have a good night!
This is a very unfortunate development because it takes away my favorite way of attacking these promotions, which is usually to bet it all on a Side Bet with a big House Edge, but excellent profit potential, because half of the money being bet is not money that the player is actually risking.
I would also like to point out that the Bonus can be played on Slots and/or Keno, but since I don't know the returns for any of the slot machines, and since I also know Keno would be expected to lose, I would recommend sticking to the tables.
The first thing that I want to do is determine our playthrough game. Since Video Poker contributes 20% to the playthrough amount and, "Other," Table Games are 25% while Blackjack is 10%, I already know that Aces & Eights on Video Poker is going to be the way to go with our playthrough.
Aces and Eights has a RTP of 99.78%, thus, the House Edge is 0.22%, therefore, if we have to playthrough $45000, our expected loss on the playthrough is going to be $99.
That's actually a positive development, with such a low Expected Loss on the playthrough, we are at least going to have the flexibility of selecting a game with an Even Money result, if necessary.
With Blackjack, you have the possibility of Splits, Doubles, or both. There are also Surrenders to consider, which really prevent us from betting the full $300 all at once. The other Table Games that we can play either involve raise bets, or taking bets back, or something else that prevents us from getting all the money out there at once.
My personal recommendation is to play Pai-Gow Poker, and as I said in an earlier article: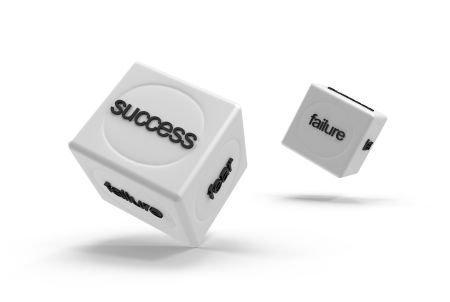 The first thing we have to do is convert the probability of winning into one that ignores ties, fortunately, here comes a cheap parlor trick:
Add the probabilities of losing and winning:
.302984 + .292486 = 0.59547
Divide the probability of winning by the combined probability:
.292486/0.59547 = 0.49118511427
Do the same for the probability of losing:
.302984/.59547 = 0.50881488572
There you go.
In this case, then, we are going to be betting $300 on one hand of Pai-Gow Poker. We will be charged a 5% Commission on a win, so as a result, we would get paid $285 and have a new balance of $585. The good news is, after we subtract our original $150 and the Bonus $150 (which comes off) we are $285 in the good, at this point.
Our Expected Loss on that $285, at this point, is actually a little under the $99 figure mentioned earlier. The reason why is that, of the $300 bet on Pai-Gow Poker, our $$$ play-through will be reduced to $8925. In Video Poker terms, then, our playthrough will actually be $44,625 for an expected loss of $98.18.
We see that is a difference of $0.82, but I actually received a message from someone who read a few of my Articles and asked, "How come you never count the playthrough that comes off from the original game played?"
My response to the query was, "Because it is an extra step to determine an amount that is going to be negligible. I'd be surprised if it results in a $1-2 difference in terms of the expected loss, besides, a player can use the chat function to ask how much playthrough he has left at any time."
Anyway, this time I did it. Will I do it again? Probably not. It is technically more accurate to do it this way, but I'd rather not include the playthrough from the original game because:
A.) The original game does not always even COUNT towards the playthrough, such as the Baccarat for the Bovada promotion...I believe it was.
AND
B.) I'd rather under-sell the Expected Value of the games a little bit, that way, people can see how good these offers are without having to cut every little thing down to the penny.
However, we did it this time, so let's go with $98.18. We have an Expected win, at this point, of $186.82 after we complete the playthrough requirements on Aces & Eights, so let's look at our overall expectation:
(186.82 * 0.49118511427) - (150 * 0.50881488572) = 15.4409701899
Therefore, the Expected Win on this promotion is about $15.44 on an initial outlay of $150 which results in a player advantage of about 10.294%.
Once again, you can actually use this offer twice, it has to be on your first two deposits, so you have an overall expectation to win about $30.88 against an actual cash outlay of $300.
Overall, in terms of both expected win, percentage advantage, and time invested (because, at 800 hands per hour, that's 44.625 hours of Video Poker at a $1.25 bet per hand) this is far from the juiciest promotion that I have looked over. I'm not saying that it's not good, it is, anything that has a winning expectation is good, but this wouldn't be the first promotion I would try if I were new to online gambling.
My advice with this promotion is, if you've burned out a good many of the stronger offers that are out there, and the casinos you have given play aren't giving you anything with a great expectation, then maybe go ahead and knock this one out if you enjoy gambling, anyway. I see no reason that you should make a deposit somewhere you have already played that has no offers for you when you can at least play something that gives you a bit of an edge.
Posted by
Mission146