Can it Be Beaten?
For our next look at Promotions currently being offered by our Wizard of Odds APPROVED casinos, we're going to take a look at $lotastic Online Casino.
The first thing that we should say about the US-Friendly Slotastic Online Casino is that it is known for tremendous Customer Service as well as being very timely with payouts. You can check out the Wizard of Odds review, here.
Most importantly, $lotastic Online Casino is a Wizard of Odds APPROVED casino, which means that any player who signs up through any links from the Wizard of Odds site and has a problem with the casino that themselves and the casino cannot resolve can come to the Wizard and he will act as an impartial mediator in the dispute.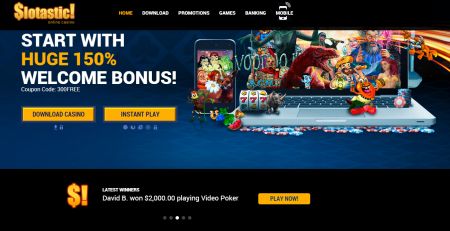 Of course, we ask that you attempt to resolve the issue with the casino on your own before invoking the Wizard of Odds APPROVED guarantee. It is also important to be objective with your requests, for instance, if the online casino has clearly posted Terms & Conditions, that are not ambiguous, and that you objectively violated (ex., "They won't pay me because I had multiple accounts!") well, we really can't help with stuff like that.
Here's the link to the guarantee:
$lotastic is currently offering a two-part Promotion for New Players at the casino. It is in the form of a 150% Deposit Match Bonus followed by a 100% Match Bonus on a player's second deposit. Both bonuses would be on a maximum deposit of $200, so as a result, the Bonus on the first deposit would be $300, giving the player $500 to play with and $200 on the second deposit, giving the player $400 to play with.
You have to click on the Terms & Conditions at the bottom to learn anything more about the promotion, unfortunately, the main Promotions page does not even state the playthrough.
The Wagering Requirements, pursuant to Rule 8 in their Terms & Conditions, are 30x the total for each bonus. In other words, that would be $15,000 in total wagers for the 150% Match and $12,000 for the 100% Match Bonus.
The permissible games for this Bonus are listed in their Terms & Conditions, as well:
9. The following games count towards fulfilling the wagering requirements for all bonuses (deposit and no-deposit): All Slots, Keno and Scratch Cards games, unless otherwise stated.
Further, Rule 10 indicates that any wagers made on excluded games (which are, apparently, everything that is not Slots, Keno and Scratch Cards) will result in any winnings and the bonus itself being voided.
The good news is that, if anyone had any question about my objectivity with respect to these Articles before, you can put any doubts you had to rest. While all of the other Promotions I've looked at, to date, have been fantastic, I would say that I would absolutely not play this Promotions.
The first problem that I have with this Promotion is that it seems to be limited entirely to Slots, Keno and Scratch Card games. I will say that, normally that wouldn't necessarily preclude me from investigating a promotion further, especially since the Keno returns can be known and Expected Profit determined, but there are still a number of problems I have with it besides that.
The second problem with this Promotion is, nowhere on the Promotions Page does it tell me what kind of Bonus this is. Is this a, "Phantom," Bonus where the Bonus amount disappears if I try to make a withdrawal? Is this a, "Sticky," Bonus where I can make withdrawals and still win off of the Bonus multiple times (and thereby increase my withdrawals)? Is this just a straight up Bonus where the Bonus amount simply acts as my cash balance and I can cash everything when I get through the playthrough?
I don't know, and the reason I don't know is because the Promotions Page as well as the Terms & Conditions page doesn't tell me.
Obviously, I'm not going to recommend to anyone to do something that I wouldn't do myself, and what I would not do myself is contact support (Phone or E-Mail) for a question as simple as what kind of bonus something is that should, at least, be in the Terms & Conditions.
The third problem I have with this Promotion is that the Max Bet on this Promotion is restricted to $10. Is it not bad enough that I would have to play Keno, Slots or Scratch Cards with a huge expectation of not overcoming the House Edge and showing a profit? On top of that, they want to stick everyone (including slot players) with a low(ish) Max Bet that prohibits them from taking a shot at something.
Once again, the only possible advantage here comes from the bonus amount the player is getting and the ability and expectation to use that and take a shot at a decent-sized payout, grind through the playthrough requirements, and escape with a profit. Unfortunately, that's not even something I can start to do until I know what kind of Bonus I'm working with.
I want to stress, however, that I'm not saying $lotastic is a bad casino, it is a Wizard of Odds APPROVED casino, which means that it is an excellent casino that also has a solid reputation. If I wanted to play Slots or Keno at a negative expectation, I'm sure that this would be one of the best places to do it as they use high-quality Realtime Gaming software.
I also can't say for sure that their Promotions will not improve at some point, and if they do, I'll revisit that and write a new article about the new $lotastic promotion. For the time being, however, I certainly hope they at least put what kind of bonus this is somewhere on their page.
Generally speaking, though, 150% is a reasonably generous promotion, so if slots are your thing, go for it! If anyone cares to sign up for the $lotastic promotion and determines what kind of Bonus this actually is, let me know, and I'll see if I can find you an advantage on Keno.
Posted by
Mission146