Introduction
Approximately 2 and a ½ years after the San Francisco 49ers drafted Trey Lance to be their starting franchise quarterback, the time for Lance playing in San Francisco for the 49ers has unfortunately come to an end, and in my opinion could not have happened sooner as Trey was not a suitable QB for the National Football League. The San Francisco Forty - Niners agreed to trade Lance to the Dallas Cowboys in exchange for a fourth - round draft choice on Friday night.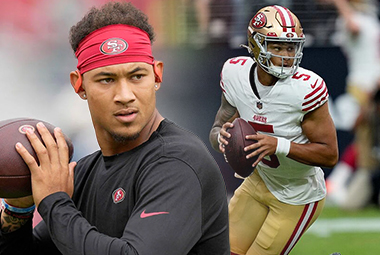 The San Francisco 49ers Quarterback Depth
The deal marks the era off a whirlwind 48 - hours in which Trey was formally informed that Sam Darnold had beat him out by a wide margin for the number - 2 quarterback position behind the San Francisco 49ers starting quarterback, Brock Purdy, who did not participate in last Wednesday's practice.
Then he eventually returned to their franchises' team facility early Thursday morning. Lance was slated to play in the San Francisco 49ers last preseason exhibition game versus against the Los Angeles Chargers on the night of Friday, August 25th, 2023, but instead he will head to Dallas to join his new team in the Cowboys.
While speaking to KNBR radio on Thursday morning, the San Francisco Forty - Niners general manager, John Lynch, stated that he believes in the, "most likely," result involving what would have been would be Lance staying in San Francisco. But he also noted that if a deal could be worked out elsewhere, the Niners would accommodate a trade for Lance.
"If we can find a landing spot for Trey that is a really good one for him and works for our organization, that's not something that we'd turn a blind eye to," the San Francisco Forty - Niners general manager in Lynch explained.
Lance is scheduled to make $940,000 in 2023 and has a $5.3 million salary in 2024, all of which is guaranteed. Upon trading him, the San Francisco Forty - Niners will incur dead money hits of $8,361,434 this year and $5,540,956 in 2024.
Following the conclusion of the upcoming 2023 - 2024 NFL season, the Dallas Cowboys will make a decision on Trey's 5th - year option for 2025.
Trade talks have swirled around Lance for the majority of the 2023 NFL offseason following Trey suffering a broken right ankle during week - 2 of the last NFL season, and Purdy made a strong impact the past year in order to claim to the starting quarterback job with an amazing finish to the 2022 - 2023 NFL season down the stretch.
When the 49ers signed Darnold back in March of 2023, the San Francisco 49ers head coach, Kyle Shanahan, indicated Lance and Darnold would be ultimately competing for the number - 2 QB job behind Purdy as their starting quarterback. Lynch also recognized that he did in fact receive some trade interest in Trey prior to the 2023 NFL draft last April, but he was stating that it would take something quite substantial in order to part with Lance.
That trade value plummeted after Lance was dropped down to the San Francisco 49ers number - 3 quarterback on their depth chart last Wednesday, as the San Francisco Forty - Niners started to take calls from other interested NFL franchises, and on Friday, August 25th, 2023 a deal was struck with the Dallas Cowboys.
The Dallas Cowboys Quarterback Situation
The addition of Trey certainly does not diminish the Dallas Cowboys' strong belief in Dak Prescott at the quarterback position, but it definitely provides the Dallas Cowboys with some relief cover for the future at the bare minimum.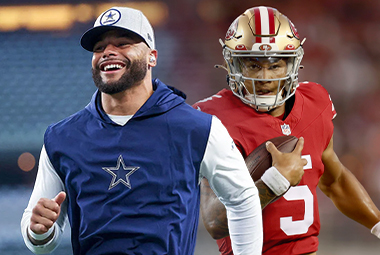 Dak is signed with the Dallas Cowboys through 2024, and he is scheduled to account for $59 million against the Dallas Cowboys' salary cap next year. The owner and general manager of the Dallas Cowboys, Jerry Jones, has spoke to wanting to provide Prescott with a contract extension, but there has not been much negotiating or dialogue circling around a new deal for Dak at this time.
The Dallas Cowboys went through a large variety of quarterbacks following Troy Aikman's retirement and prior to Tony Romo going from an undrafted NFL player to an NFL Pro Bowler back in 2006.
Prescott's Health over Recent Years
The Dallas Cowboys originally took Prescott during the 4th - round of the 2016 NFL Draft without expecting him to become a starting quarterback, but Romo suffered a traumatic back injury that same preseason and Dak has been the Dallas Cowboys starting quarterback ever since.
Prescott who just recently turned 30 - years - old last month has unfortunately had to miss NFL regular - season games each of the past 3 - NFL seasons was tied for the National Football League lead in interceptions last season with 15 - picks over the course of 12 - games. Dak was sidelined for 5 - starts at the quarterback position following him suffering from a broken right thumb in the season opener last year.
On Thursday, August 24th, 2023 Prescott disclosed that this is as healthy as he has been feeling in years, as he is now 3 - years removed from a seriously dislocated and fractured right ankle. In 2021, he also sat out 1 - game with a calf injury.
"I'm blessed. I'm thankful. I'm healthy," the Dallas Cowboys starting quarterback Dak Prescott expressed. "It's one of those things you don't want to harp on too much, but yeah, I am much different than I am the last few years and will continue to try to stay that way and take care of my body."
Dak has yet been able to lead the Dallas Cowboys past the divisional round of the NFL playoffs over the course of his 4 - NFL postseason appearances. The Dallas Cowboys' last Super Bowl victory came way back in 1995, and Prescott absolutely understands the urgency and pressure of winning with the Dallas Cowboys.
"At the end of the day the pressure is what you put on yourselves," Prescott goes on to say. "So, I think at the end of the day we've got to understand that our standard is wins, simple as that. We hold ourselves to a high standard and high expectations. Nobody wants to end this drought more than the guys in the locker room, I can promise you that. For us, it's about making sure we know in our identity, we believe in our identity as a team, we go out there and play complementary football at all three levels. I think if we do that, just from what we've built during the offseason to training camp to now, it's promising."
The addition of Trey Lance means the Dallas Cowboys will now have to keep a total of 3 - quarterbacks on their 53 - man roster throughout the 2023 - 2024 NFL regular season.
Back in March of 2023, the Dallas Cowboys signed the very serviceable backup quarterback, Cooper Rush, to a 2 - year contract that is worth up to approximately $5 million, and it included a $1.25 million signing bonus. Rush is 5 and 1 as a starting quarterback over the last 2 - NFL seasons when Prescott has had to miss games because of multiple different injuries.
Will Grier was competing to be the Dallas Cowboys number - 3 quarterback, and Grier is expected to take the bulk of the action in the Dallas Cowboys Saturday preseason finale versus the Las Vegas Raiders.
Trey Lance
The San Francisco Forty - Niners originally selected Lance with the 3rd - overall pick during the 2021 NFL Draft following the San Francisco 49ers trading a total of 3 - 1st - round NFL draft picks as well as a 3rd - round NFL draft pick to the Miami Dolphins in order for them to acquire the selection in which they drafted Trey.
The San Francisco Forty - Niners anticipated that Lance would play in some limited packages, behind their then - starter quarterback in Jimmy Garoppolo, as a rookie but a broken right index finger suffered in the preseason shattered any long - term plans for him that season. Trey had another injury setback with the ankle injury that he suffered last season.
Overall, Lance started just 4 - games at quarterback for the San Francisco 49ers, and he had appeared in only 8 - contests over the course of his 2 - NFL seasons with the San Francisco 49ers franchise. Trey completed 56 of his 102 - pass attempts which was good for a total of 797 - passing yards, 5 - touchdowns, and 3 - interceptions during his short tenure with the San Francisco 49ers.
Lance's 8 - games with the San Francisco Forty - Niners are the fewest played by a top - 5 NFL draft pick for the ultimate NFL franchise that the player debuted with during the Common Draft Era (since 1967 and excluding the 2023 NFL Draft class).
Sources:
"QB Trey Lance dealt from 49ers to Cowboys for 4th - rounder", Nick Wagoner and Todd Archer, espn.com, August 25, 2023.
"Trey Lance", pro-football-reference.com, August 25, 2023.
Posted by
DavidGreen