Introduction
On Thursday, September 21st, 2023 the Dallas Cowboys young superstar cornerback, Trevon Diggs, endured a serious season - ending torn ACL in his left knee during a team practice. Diggs suffered the surgery requiring injury while participating in a one - on - one drill during practice last Thursday, and he was briefly witnessed inside the Dallas Cowboys' team facility on crutches prior to undergoing an MRI, which unfortunately revealed the torn ACL.
This injury is an extremely devastating loss for a Dallas Cowboys defense that is presently ranked number - 1 in the National Football League in both yards allowed as well as points per game throughout the first 2 - weeks of the 2023 - 2024 NFL season. Since entering the NFL back in 2020, Trevon has compiled an astonishing 18 - interceptions which makes him tied for the most in the National Football League with the Los Angeles Chargers cornerback in J. C. Jackson.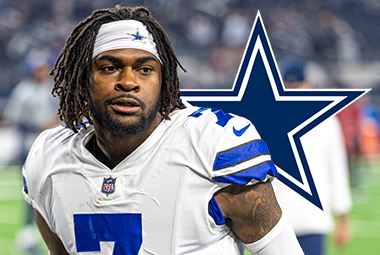 Tough Thursday Practice for the Dallas Cowboys
In other news, the Dallas Cowboys Pro Bowl center, Tyler Biadasz, pulled a hamstring during Thursday's practice too, and now Biadasz will also undergoing an MRI in order to determine the extent of his injury. A source close to the Dallas Cowboys said that, "Tyler will be OK."
The Dallas Cowboys superstar linebacker and pass rushing specialist, Micah Parsons, responded to the disappointing Diggs injury news by taking to social media by posting on X: "I am my brother's keeper! I got you 7! No more need to be said!"
The Defensive Dominance of Trevon Diggs
According to National Football League Next Gen Stats data, Diggs has permitted only 3 - catches for a total of 31 - yards over the course of 8 - targets as the closest defender in coverage so far this year. Quarterbacks have a combined 9.9 - passer rating on pass attempts with Trevon as the closest defender. Diggs has caused a forced fumble, intercepted a pass attempt, and has also recorded 3 - pass break - ups while being accredited with a total of 6 - tackles throughout the first 2 - games of the 2023 - 2024 NFL regular season.
Diggs just so happened to have inked a 5 - year contract extension worth up to approximately with the Dallas Cowboys during training camp this past 2023 NFL offseason. Trevon's new deal included a $21.25 million signing bonus as well as $42.3 million in total guaranteed money. Following Diggs missing 4 - games with a foot injury back in 2020, he has only missed just 1 - game in each of the last 2 - NFL seasons.
Replacing Trevon Diggs at Cornerback
With Trevon now out for the entire 2023 - 2024 NFL season, the Dallas Cowboys can move DaRon Bland to the outside cornerback on the opposite side of the field from Stephon Gilmore, who was acquired by the Dallas Cowboys through an offseason trade with the Indianapolis Colts. Jourdan Lewis can return to his role in defending the slot. Last week, Lewis played in his first contest ever since suffering a serious foot injury back in October of 2022, and he saw just 10 - snaps of game action.
Bland, who led the Dallas Cowboys with 5 - interceptions last year, found himself returning an interception for a touchdown in the Dallas Cowboys season - opening victory versus the New York Giants.
The Dallas Cowboys also have Noah Igbinoghene, who was a 2020 first - round NFL draft pick of the Miami Dolphins that the Dallas Cowboys picked up at the start of the month via a trade, and their young rookie Eric Scott at cornerback as well. Nahshon Wright is currently on the NFL's injured reserve list with an ankle injury so he can't return to game action until week - 5 of the 2023 - 2024 NFL regular season.
Trevon Diggs' Football Career Achievements, Honors, & Awards
First - Team NFL All - Pro Selection (2021)
2 - Time NFL Pro Bowl Selection (2021, 2022)
NFL Interceptions Leader (2021)
College Football Playoff National Champion (2018)
Third - Team All - American Selection (2019)
First - Team All - SEC Selection (2019)
Sources:
"Cowboys star CB Trevon Diggs suffers torn ACL", Todd Archer, espn.com, September 21, 2023.
"Trevon Diggs", pro-football-reference.com, September 21, 2023.
Posted by
DavidGreen