Introduction
On Monday, September 6th, 2021 the Baltimore Ravens announced that they are extending the rookie contract of the young and explosive tight end, Mark Andrews, an additional 4 – years. He is currently in the final season of his rookie deal, and this new 4 – year contract extension is worth up to approximately $56 million which now makes him the 3rd highest paid tight end in the entire National Football League.
Details of the Contract Extension
Andrews just inked a 4 – year contract extension with the Baltimore Ravens that is valued at exactly $56 million, and it includes $37,600,000 in total guaranteed money (63 % of the total contract). Due to the fact that Mark had one final year remaining on his rookie deal he will make $3,384,000 for this upcoming 2021 – 2022 NFL season. There does not seem to be a signing bonus associated with this new agreement, but Andrews will now earn an average annual salary of $14 million. He is now scheduled to become a free agent once again approximately 5 – years from now prior to the 2026 – 2027 season of the National Football League.
By March of 2022, the newly wealthy tight end will be getting paid out $26,600,000 by the Baltimore Ravens. The timing of this contract extension could not have come at a better time as Mark just turned 26 – years – old on Monday, September 6th, 2021 (his birthday) which just so happened to be the very same day Andrews signed this new deal with the Baltimore Ravens.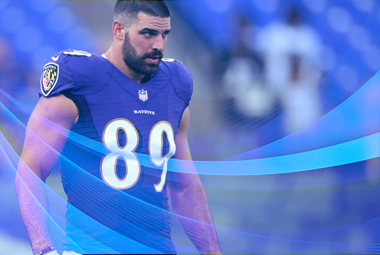 The Highly – Contested AFC North Division of the National Football League
Hopefully for Mark as well as the Baltimore Ravens he continues to play like an All – Pro veteran tight end throughout the lifetime of this exciting new agreement. The AFC North division of the National Football League has become increasingly more competitive lately now that the Cleveland Browns have progressed and there is the possibility of Joe Burrow turning around the Cincinnati Bengals NFL franchise as well. The days of the Pittsburgh Steelers and the Baltimore Ravens easily running away with the AFC North division of the NFL may be over at the moment.
The 2021 – 2022 Baltimore Ravens' Offense
For this upcoming 2021 / 2022 NFL season the Baltimore Ravens offense will be run by the extremely fast and hard to defend former NFL MVP (2019) in their quarterback, Lamar Jackson. Jackson will be backed – up at the QB position by Tyler Huntley who is a 23 – year – old player out of the University of Utah. To begin the season the number 1 running back for the Baltimore Ravens will be Gus Edwards, followed by Ty'Son Williams. Their third and fourth rushing options in Justice Hill (out) as well as J. K. Dobbins (injured reserve) will start the 2021 – 2022 NFL season sidelined.
For a 3 wide receiver and 1 tight end formation, the Baltimore Ravens will feature Marquise Brown, Sammy Watkins, and Devin Duvernay as their starting wide outs (receivers). James Proche II, Tylan Wallace, and Rashod Bateman (injured reserve) will back those 3 guys up at the WR position. The only third string wide receiver listed at the moment is Miles Boykin who is currently on the injured reserve list for the Baltimore Ravens.
The Baltimore Ravens 3 wide receiver and 1 tight end formation will be compiled of Mark Andrews as the starting tight end, followed by Nick Boyle (doubtful), then Eric Tomlinson, and finally Josh Oliver at the fourth - string tight end spot. Boyle is only doubtful for week 1 of the 2021 - 2022 NFL regular season as of now. Patrick Ricard is the only player listed at the fullback position at the moment for the Baltimore Ravens offensive unit.
Their starting offensive line will feature Ronnie Stanley (left tackle / questionable), Tyre Phillips (left guard), Bradley Bozeman (center / questionable), Kevin Zeitler (right guard), and Alejandro Villanueva (right tackle). The Baltimore Ravens back – up offensive lineman includes players such as Patrick Mekari, Ben Powers, Trystan Colon, Tyre Phillips, Ben Cleveland, and Ja'Wuan James.
Top Ten List of the 2021 Highest Paid NFL Tight Ends (By Average Salary)
1 - George Kittle of the San Francisco 49ers - $15,000,000
2 - Travis Kelce of the Kansas City Chiefs - $14,312,500
3 - Mark Andrews of the Baltimore Ravens - $14,000,000
4 - Hunter Henry of the New England Patriots - $12,500,000
Jonnu Smith of the New England Patriots - $12,500,000
6 - Austin Hooper of the Cleveland Browns - $10,500,000
7 - Zach Ertz of the Philadelphia Eagles - $8,500,000
8 - Kyle Pitts of the Atlanta Falcons - $8,227,624
9 - Logan Thomas of the Washington Football Team - $8,021,667
10 - Rob Gronkowski of the Tampa Bay Buccaneers - $8,000,000
Jimmy Graham of the Chicago Bears - $8,000,000
Media Statements
"Mark is exactly the type of player we wish to keep as a Raven long term," the Baltimore Ravens' general manager, Eric DeCosta, expressed to the sports media world earlier this week following the announcement of tight end Mark Andrews' new 4 – year contract extension. "He's competitive, passionate, talented and a leader. We are so excited to have him in Baltimore for the next five years. Congratulations to Mark and his family -- and happy birthday."
The Football Background of Tight End Mark Andrews
Andrews was born and raised in Scottsdale, Arizona. He attended Desert Mountain
High School (DMHS) located in Scottsdale, AZ where he excelled at the wide receiver position for his high school football squad. Although Mark was diagnosed with Type 1 Diabetes when he was only 9 – years – old, he has never been deterred from dominating on the gridiron at any level.
Following his high school graduation Andrews decided to enroll at the University of Oklahoma in order to play his NCAA college football career for the Oklahoma Sooners powerhouse football program. Mark tore up the Big - 12 conference from 2015 to 2017 where he compiled a total of 112 receptions good for a total of 1,765 receiving yards as well as 22 total touchdowns as he played both tight end and wide receiver for the Oklahoma Sooners football team.
With the 86th overall pick in the 3rd round of the 2018 NFL Draft the Baltimore Ravens selected Mark Andrews. He has played his entire professional football career with the Ravens in Baltimore from 2018 to the present day, and apparently, he will be there for several more years to come barring any major setbacks to his career in the National Football League.
Throughout Andrews' 3 – years and 45 games of playing football at the highest – level with the big boys in the NFL, Mark has recorded a total of 156 receptions for 2,105 total receiving yards, and 20 touchdowns. He averages 13.5 yards per catch entering the 2021 – 2022 NFL season which will be his fourth year of playing time in the league. Last season with the Baltimore Ravens Andrews pulled in 58 catches good for 701 receiving yards and 7 glorious touchdowns. Last year he averaged 12.1 yards per reception which is slightly under his NFL career average, but look for him to have a huge year following this new contract extension that he just signed this week.
Mark Andrews' Football Career Achievements, Honors, and Awards
His lifetime football achievements, honors, and awards include being selected to the NFL Pro Bowl in 2019, winning the John Mackey Award in 2017, named a unanimous All - American in 2017, won the Ozzie Newsome Award in 2017, named to the First - Team All - Big 12 two times in 2016 and 2017, and Andrews was selected to the Second - Team All - Big 12 back in 2015 when Mark was just a rookie in the NCAA college football landscape.
Sources:
"Source: Mark Andrews' 4 - year extension with Baltimore Ravens worth $56 million", Jamison Hensley, espn.com, September 6, 2021.
"Mark Andrews", pro-football-reference.com, September 8, 2021.
"Mark Andrews", spotrac.com, September 8, 2021.
"Baltimore Ravens Depth Chart", espn.com, September 8, 2021.
"2021 Tight End Average Rankings", spotrac.com, September 8, 2021.
Posted by
DavidGreen