Introduction
On Wednesday April 24th, 2019, the Pittsburgh Steelers finalized a 2-year contract extension with their future hall of fame quarterback, Ben Roethlisberger. The two-year agreement is worth $68 million, includes a $37.5 million signing bonus and also incorporates a $30 million injury guarantee.
There was one year and $12 million left on his last contract meaning that Big Ben will earn a total of $80 million over the next three years. Roethlisberger will now remain with the Pittsburgh Steelers through the 2021 – 2022 season most likely ending his career with the same franchise that drafted him in 2004.
Previous Contracts
Ben Roethlisberger's last contract extension was in 2015 and secured the star players with 4-year deal worth $87.6 million. He is playing under the last year of this agreement over the upcoming NFL season. In 2008, Ben signed a 6-year extension worth just under $88 million. Roethlisberger's rookie contract was also a 6-year deal valued at $25.2 million. Over his 15-year career he has been paid out $186,724,382. His high level of success and leadership has made him a hot commodity and worthy of all that money.
Media Statement
"I am grateful to the Rooneys and the Steelers organization for continuing to believe in me," Roethlisberger said in a statement. "It has always been a goal to play my entire career in Pittsburgh. This is home for me and my family, and we love this city. I am as excited to be a Steeler in year 16 as I was when they drafted me. They will get my absolute best."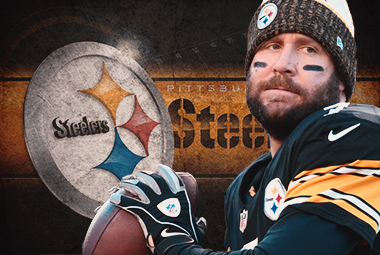 Career Highlights and Awards
Ben Roethlisberger is a 2-time Super Bowl champion as he led the Pittsburgh Steelers to wins in Super Bowl XL and XLIII. He was selected to 6 Pro Bowls over his lengthy career (2007, 2011, 2014, 2015, 2016, 2017), led the NFL in total passing yards twice (2014, 2018) and was named the NFL Offensive Rookie of the Year in 2004 as well.
Career Statistics (Regular Season)
216 Games Played
Record of 144–69–1
4,616 Completions on 7,168 Attempts
64.4% Completion Percentage
56,194 Passing Yards
363 Touchdown Passes
190 Interceptions
Passer Rating of 94.2
1,350 Rushing Yards
19 Rushing Touchdowns
Career Statistics (Postseason)
21 Games Played
Record of 13 - 8
422 Completions on 676 Attempts
62.4% Completion Percentage
5,256 Passing Yards
30 Touchdown Passes
24 Interceptions
Passer Rating of 86.5
246 Rushing Yards
3 Rushing Touchdowns
NFL records
Most regular season wins in a season, rookie QB – 13 (2004)
Longest regular season win streak to start a career for an NFL QB – 15 games (won all 13 starts in the 2004 season, won first 2 games of the 2005 season)
Most wins as a starting quarterback in first five NFL seasons (reg. season only) – 51 (from 2004 to 2008)
Highest completion percentage, rookie season – 66.4% (2004) (Since broken by Dak Prescott)
Highest single-game completion percentage, rookie season (min. 20 attempts) – 84.0% (completed 21/25 at Dallas October 17, 2004) (Since broken by Dak Prescott)
Most games with a completion percentage of 70.0% or higher, rookie season (min. 10 attempts) – 6 (2004)
Most games with a completion percentage of 80.0% or higher, single season (min. 10 attempts) – 4 (2007)
First QB to start two Conference Championship games in first two seasons in the NFL (2004 & 2005)
Youngest starting QB ever to win the Super Bowl (2005; second-youngest QB to play in the Super Bowl, behind Dan Marino)
Second quarterback in NFL history, along with Peyton Manning, to register three perfect passing games during the regular season, and the only quarterback to ever register two perfect passing games in one regular season.
Lowest passer rating for a Super Bowl winning QB – 22.6 (Completed 9 of 21 passes for zero touchdowns with two interceptions)
Most yards passing in relief (379 yards on November 15, 2015 against the Cleveland Browns)
Most consecutive 6+ touchdown pass games (2)
Most TD passes in consecutive games (12)
Most career 500+ yard passing games (3)
Source:
"Ben Roethlisberger agrees to two-year extension", Kevin Patra, nfl.com, April 24, 2019
Posted by
DavidGreen