Introduction
Following a 1 – 3 start to the 2020 – 2021 NFL season the Washington Football Team's head coach, Ron Rivera, and their offensive coordinator, Scott Turner, have decided to bench their quarterback Dwayne Haskins in order to start Kyle Allen at the quarterback position. Rivera and Turner believe that Allen playing quarterback gives their football team the best opportunity to win games moving forward.
Not only was Haskins demoted from the starting quarterback position for the Washington Football Team, but he was moved down to the organizations third string quarterback. Alex Smith will be the back up quarterback to their new starting signal caller of the offense in Allen. Smith is coming off of years of surgeries and rehab work on a leg that he almost lost to amputation not too long ago after breaking that leg during a football game and suffering a major infection to that lower body injury.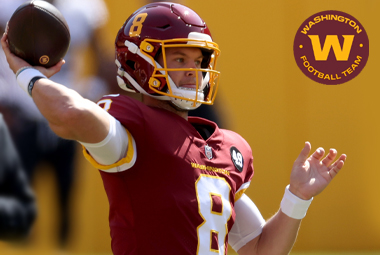 Struggles in the NFL
As the starting quarterback of the Washington Football Team throughout the first four weeks of the 2020 – 2021 NFL season, Haskins has placed last in the league in quarterback rating with a QBR of 30.6. He ranks 27th in completion percentage with an average of 61 percent, and he ranks 26th in yards per pass attempt with a number of 6.43 yards per pass attempt.
Dwayne also has the second worst completion percentage over expectation this year at minus – 6.6%, and is only ahead of only the Denver Broncos' Jeff Driskel (minus – 8.9%). Driskel is only playing for the Denver Broncos due to an early season injury to their original starting quarterback in Drew Lock.
Rivera's Relationship with Kyle Allen
Rivera has had previous experience coaching Allen last season with the Carolina Panthers. Allen started 12 games for the Carolina Panthers during the 2019 – 2020 NFL season, and he showed signs of being very good at times while being very bad at times as well. Kyle won his first four starts with the Carolina Panthers last year, but he followed that excellent start up with a record of 1 – 7 to finish the season. Although Allen has similar numbers at quarterback to Haskins Rivera believes that Allen has a better chance of leading the Washington Football Team to wins for the remainder of this football season.
The Weak NFC East Division
The Washington Football Team currently plays in the weakest division in the National Football League. The Philadelphia Eagles lead the division at the moment with a record of 1 – 2 – 1. The Dallas Cowboys and Washington Football Team are both 1 – 3, and the New York Giants are 0 – 4. The terrible NFC East is a division that is clearly up for grabs by any of these bad football teams, and the winner of this division may very well finish the 2020 – 2021 NFL season with a losing record.
Media Statements
"We're in a situation where if we're still trying to teach one guy and the other 52 aren't given an opportunity to see if we can win, then that's not fair," says the Washington Football Team's head coach Ron Rivera. "If someone [in the division] was 4-0 or 3-1, OK. But there's a chance to win the division. You have to look at it that way."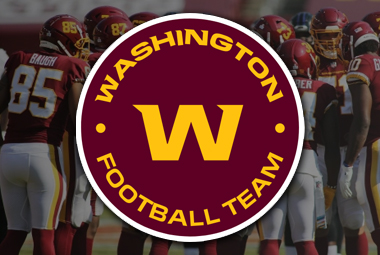 "The kid has an NFL arm," Rivera explained. "But right now there's a chance. Some may not agree with me. That's fine. But for me and this team, I'm taking my shot. I'm here to win, and now we have an opportunity to find out if we can win.
"I could be wrong; I could be right. We'll see what happens."
"There were mistakes that showed up that were repeat mistakes," the Washington Football Team's offensive coordinator Scott Turner proclaimed. "It goes back to his development. Sometimes it's good to take a step back and assess what you're doing and not to just get lost in the shuffle of the week-in, week-out grind. That can be detrimental to a guy's long-term growth.
"You want to make sure you're not forming bad habits. It wasn't all bad. ... This doesn't mean [this] is the end of the road. It's letting Dwayne see it from another vantage point."
"I've been on different sides of this coin many times," says the Washington Football Team's new starting quarterback Kyle Allen. "It's part of the job. Very few get to be anointed in high school, college and pro and have no bumps. There's a lot of adversity that hits. I feel what he's feeling. I felt it last year and in college and high school. It's a tough feeling."
"The situation calls for us to do something different, and I'm going to do something different," Rivera expressed. "Hopefully he understands. I hope he gets it. This is all part of the learning process. How he comes out on the other end, that's up to him. He can come out stronger or not."
"One thing a lot of people don't see is the frustration on the sidelines of the other players," Rivera explained. "I look at that. I see that. I feel that. The guys want to win, and right now where his development is, I think our best shot to win now is with guys that have been in the system."
"The same thing for Kyle," Rivera reinforced. "He has the same guys out there. He'll have the same unfair shake, and we'll see how it goes. ... The players we have are the players we have. But the thing you have to understand is that there's one primary position to touch the ball every play."
"As the season went on, Kyle struggled," Turner recalls. "He just tried to do too much. That forced him into turnovers. He has to do a better job this time around with interceptions, but also ball security when he's sacked or hit. He tried to force the ball into some tight windows; that's what got us into trouble. This time away from playing has given him a chance to learn about himself, and that will help him going forward."
"Last year was good for me to be thrown into the fire and have a lot of good happen and bad too," Allen remembers. "It's always easier to see it and say what you would have done on the sidelines instead of being in the game. For me to see and digest it and see how the offense runs and who does what well and situational football things too."
Rivera said: "He's had some success. Not great success, but he's had some. He can manage and control [the offense]. Hopefully things go well."
"I'm ready," says Allen. "I feel great."
Sources:
"Washington Football Team benching Dwayne Haskins for Kyle Allen at quarterback", John Keim, espn.com, October 7, 2020.
"Washington Redskins Franchise Encyclopedia", pro-football-reference.com, October 8, 2020.
"Kyle Allen", pro-football-reference.com, October 8, 2020.
"Dwayne Haskins", pro-football-reference.com, October 8, 2020.
"Ron Rivera", pro-football-reference.com, October 8, 2020.
Posted by
DavidGreen