Introduction
Bobby Mitchell was the first African American player to sign with the Washington Redskins. He played in the National Football League for the Cleveland Browns from 1958 to 1961 and the Washington Redskins from 1962 to 1968. Mitchell was also an executive for the Washington Redskins from 1969 to 2002. He was inducted into the Pro Football Hall of Fame in 1983.
Unfortunately, he passed away at the age of 84 on Sunday, April 5th, 2020. The manner and cause of his death was not disclosed at the moment. Please stand by for future updates on the legendary halfback and flanker, Mitchell, as more reports are released to the public.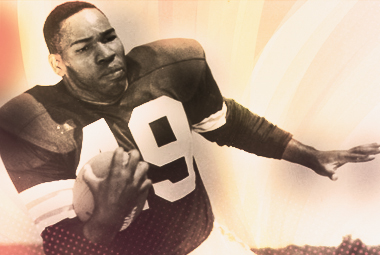 Bobby Mitchell's Football Background
Mitchell was born on June 6th, 1935 in Hot Springs, Arkansas. He attended Langston High School in Hot Springs where he played football, baseball, and was on the track team. He was good enough at baseball to be offered a contract by the St. Louis Cardinals. He ultimately decided to attend the University of Illinois at Urbana – Champaign to play football for the Fighting Illini. This is where his talents were immediately recognized as being absolutely amazing and he became a coveted sports athlete.
Mitchell was drafted in the 1958 NFL draft with the 84th overall selection in the 7th round by the Cleveland Browns. Early on in his outstanding career in the National Football League he was provided the opportunity to play alongside one of the greatest NFL players of all time in the fullback, Jim Brown. The Brown's backfield was fully loaded with halfback Mitchell as well as fullback Brown leading to the Cleveland offense being one of the strongest offensive threats in the NFL at that time.
Mitchell was traded to the Washington Redskins prior to the 1962 – 1963 NFL season. He played for the Skins for 7 incredible seasons. He played both the halfback as well as the flanker position in Washington, and he was considered one of the best offensive weapons in the National Football League during his playing career. He stunned fans with his miraculous runs and pass completions. Mitchell retired from playing football professionally following the 1968 – 1969 NFL season.
Once his playing career came to an end, Mitchell immediately joined the front office of the Washington Redskins. He worked his way up through the years to become the assistant general manager of the franchise. He had a dream to become the first black general manager of an NFL football organization. He eventually retired from his job with the Redskins in 2003 after being passed up by the Washington Redskins for their open general manager job. The Redskins gave the position to Charley Casserly which "deeply hurt" the great Bobby Mitchell.
Mitchell's Career Achievements, Honors, and Awards
The superstar running back and wide receiver was selected to 4 NFL Pro Bowls (1960, 1962, 1963, 1964). He was named to the NFL's First Team All Pro on 3 separate occasions (1962, 1963, 1964) as well as the NFL's Second Team All Pro twice (1959, 1960).
In 1962 Mitchell led the National Football League in receptions, and in 1964 he led the NFL in touchdown receptions. He also led the NFL in receiving yards two times (1962, 1963). He was inducted in both the Washington Redskins and the Cleveland Browns Ring of Honor, and eventually the Pro Football Hall of Fame in 1983. He will be missed and remembered as one of greatest football players as well as biggest barrier breakers for African Americans in the National Football League.
Comments on His Passing
"I was extremely saddened to hear the news about the passing of the great Bobby Mitchell. Bobby was a Hall of Fame player and executive and represented the Washington Redskins organization with integrity for over 50 years," Washington Redskins owner Daniel Snyder stated. "His passion for the game of football was unmatched by anyone I have ever met. Not only was he one of the most influential individuals in franchise history, but he was also one of the greatest men I have ever known. He was a true class act and will be sorely missed. Our thoughts and prayers are with his wife Gwen and the entire Mitchell family during this time."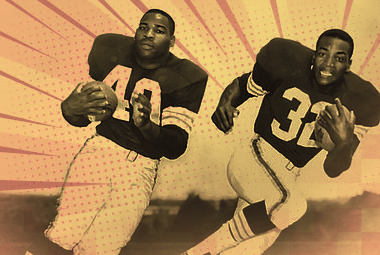 "The entire Pro Football Hall of Fame family mourns the passing of Bobby Mitchell. The Game lost a true legend today," the Hall of Fame's president and CEO, David Bakers says. "Bobby was an incredible player, a talented executive and a real gentleman to everyone with whom he worked or competed against. His wife Gwen and their entire family remain in our thoughts and prayers. The Hall of Fame will forever keep his legacy alive to serve as inspiration to future generations."
"In contrast to other NFL owners, Marshall did not pretend there were no blacks good enough to make his team," Andy Piascik wrote in his publication, "Gridiron Gauntlet: The Story of the Men Who Integrated Pro Football in Their Own Words." "Unlike the others, he was honest enough to admit that he simply didn't want them around."
"You're performing for a group of people, and you're not sure if they want you, so I had a lot of mixed emotions that game," Bobby Mitchell explained. "I still don't believe I performed as well as I did, knowing how I felt all week long getting ready."
"He was a go-to guy receiver," says former Washington Redskins quarterback Sonny Jurgensen. "He was exceptional because you just had to get the ball in his hands, and he was capable of going all the way. ... He and Charley Taylor gave me two good wideouts, and even if [defenses] tried to take one of them away from you, they weren't going to keep the other one down."
"The whole tenor changed," Mitchell expressed. "As we got more black guys on the team and we began to split out around communities, treatments began to change."
Retired NFL running back Brian Mitchell said, "Tough times don't remain, tough people do, and you don't let what you go through change who you are, unless it's for the better."
"I'm sure there was people saying stuff to him and doing things that [ticked] him off, but he wasn't bitter," Brian Mitchell goes on to say. "When you look at him when he was working for the Redskins early on, many people felt Bobby should've been the general manager of the Washington Redskins. He didn't get bitter. He kept doing the things he can do."
"Bobby was an individual that was thrown into the arena of being a victim for no reason," the former NFL player Jim Brown proclaimed. "He had to suffer for being black more than any person I know that played football at the time I played. With that kind of ability, if he were white, everybody on this earth would know who he was."
"You look at Bobby, his career was a Hall of Fame career, but I know for African American people, he was a social activist, as well," Brian Mitchell stated. "Not only was he a great football player and a guy who would go out there and fight for the rights of his people, but he was also a guy who was a philanthropist, a guy doing everything that you're supposed to do."
Sources:
"Hall of Famer Bobby Mitchell, who helped integrate Redskins, dies at 84", espn.com, April 6, 2020.
"Bobby Mitchell", pro-football-reference.com, April 7, 2020.
Posted by
DavidGreen