Introduction
On Thursday, March 18th, 2021 the Buffalo Bills have reached an agreement with the former Chicago Bears' starting quarterback, Mitchell Trubisky, on a 1-year contract worth up to approximately $2.5 million. Trubisky's new role with the Buffalo Bills will be for him to serve as the back – up quarterback to the Bills starting quarterback, Josh Allen.
The Buffalo Bills' general manager, Brandon Beane, explained to the media that this is a "reset" for Mitchell, and that he does not expect Trubisky to be a long – term solution backing up their starter in Allen. Beane stated, "I don't know what went on in Chicago, but he started 50 games. I think the label has been put on Mitchell from afar that maybe he doesn't deserve it. This is a reset for him. We don't expect him to be here long term."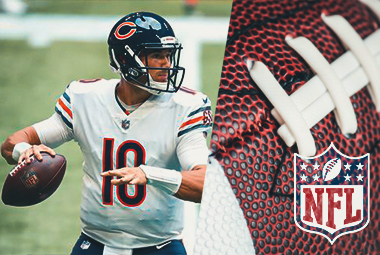 The 2020-2021 NFL Season for Mitchell Trubisky
Last year was an up down season for Trubisky. He began the 2020 -2021 season of the National Football League as the starting quarterback for the Chicago Bears only to be benched in favor of Nick Foles to take over as the Bears starting QB by just week 3 last year. After a hot start to Foles' run as the Chicago Bears signal caller, his game play soon fizzled out allowing for Mitchell to take back his job as the starting quarterback by week 12 of the NFL. Trubisky played decently down the stretch for the Chicago Bears as they finished out the 2020-2021 NFL regular season well and they even made the playoffs.
Although the Bears snuck their way in to the 2020-2021 NFL postseason, they were smashed easily in the first round by the New Orleans Saints. Mitchell finished the 2020-2021 NFL season with 2,055 yards, a completion percentage of 67 %, while throwing 16 touchdowns, and 8 interceptions. The Chicago Bears recently declined to pick up Trubisky's 5th year option which enabled him to become an unrestricted free agent, and now has landed him in Buffalo as the Bills' back – up quarterback on a one – year deal.
During his time playing in Chicago…
…Trubisky recorded an overall record of 29 wins and 21 loses as the starting quarterback for the Bears. He threw for 10,609 yards, but only completed 64 % of his pass attempts. He threw 64 touchdown passes and 37 interceptions while running the offense for the Chicago Bears. Mitchell rushed for 1,057 yards as well as 8 touchdowns. He was selected to the NFL Pro Bowl in 2018 following his best season with the Chicago Bears back when he was still showing signs of becoming a solid and reliable quarterback in the National Football League. Now the 26-year-old back-up quarterback for the Buffalo Bills can only hope he is ever offered an opportunity to have the chance of reviving his career as a quarterback in the NFL that doesn't just wear a headset and hold a clipboard.
Trubisky's Career Achievements, Honors, and Awards
NFL Pro Bowl Selection (2018)
Third – Team All – ACC (2016)
Mr. Football Award (Ohio) (2012)
Odds to Win Super Bowl LVI
According to Intertops sportsbook these are the odds to win Super Bowl LVI as of Thursday, March 18th, 2021. Currently the Buffalo Bills have the 4th best odds out of all the teams in the National Football League of winning Super Bowl LVI outright.
Team Odds
Kansas City Chiefs +450
Tampa Bay Buccaneers +750
Green Bay Packers +1000
Buffalo Bills +1100
Los Angeles Rams +1200
San Francisco 49ers +1400
Baltimore Ravens +1800
Indianapolis Colts +2000
New Orleans Saints +2200
Cleveland Browns +2200
Seattle Seahawks +2500
Miami Dolphins +2500
New England Patriots +2800
Los Angeles Chargers +2800
Dallas Cowboys +2800
Tennessee Titans +2800
Pittsburgh Steelers +3300
Arizona Cardinals +3300
Chicago Bears +4000
Minnesota Vikings +5000
Carolina Panthers +5000
Atlanta Falcons +6600
New York Giants +6600
Denver Broncos +6600
Las Vegas Raiders +6600
Washington Football Team +6600
Philadelphia Eagles +8000
New York Jets +8000
Jacksonville Jaguars +10000
Cincinnati Bengals +10000
Houston Texans +15000
Detroit Lions +15000
Sources:
"Buffalo Bills, Mitchell Trubisky agree to 1-year deal", espn.com, March 18, 2021.
"Mitchell Trubisky", pro-football-reference.com, March 18, 2021.
"Mitchell Trubisky", spotrac.com, March 18, 2021.
"United States, NFL Futures, NFL 2021 / 22 Super Bowl LVI: To Win Outright" https://sports.intertops.eu/en/Bets/American-Football/NFL-Futures/NFL-2021-22-Super-Bowl-LVI-To-Win-Outright/1818938, intertops.eu, March 18, 2021.
Posted by
DavidGreen