Introduction
Buffalo Bill's is one of three casinos located in Primm. The other two are Primm Valley Resorts and Whiskey Pete's. It is the first exit when entering Nevada from California on Interstate 15. The area was once known as State Line, NV. There is a Stateline in the northern part of Nevada near Tahoe. Primm became the new town's name to avoid confusion.
There are three casinos located in Primm. All are owned by Affinity Gaming. A tram connects the three properties. It only runs on Friday, Saturday, and Sunday. The resort town is virtually deserted the other days of the week.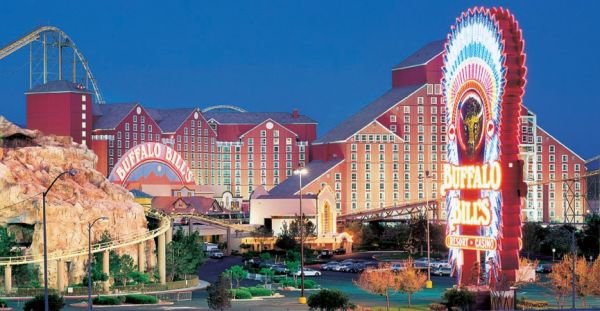 Besides the casino, the only other attractions in town are a huge outlet mall, a small amusement park, and the busiest California lottery store. That is because Nevada does not have a state lottery. When lotto jackpots get large, the lines outside the Primm Valley Lotto Store run for blocks.
Buffalo Bill's Gambling
One would think that gambling in a remote town would be great to help draw players. That is not the case. The games spread in Primm are at best in line with the Las Vegas Strip. In many cases, it is worse.
Buffalo Bill's spreads 17 blackjack tables. Only two pay 3-2 on a blackjack. These require a $25 minimum bet. Those tables are only open on Friday, Saturday, and Sunday. The 6-5 tables have a $5 minimum bet and are open 24 hours a day.
There are two craps tables at Buffalo Bill's. They accept $5-$500 action and offer 3-4-5x odds. The Field bet only pays double on 12. Other table games include Let it Ride and Three Card Poker that offer a $5 minimum bet. There are three $4 roulette tables, $10 Pai Gow Poker, and $1 Big Wheel table.
Buffalo Bill's offers a full service William Hill sports book. It has traditional seating and a variety of televisions to watch the games. Mobile betting deposits and withdrawals are processed at the Buffalo Bill's sports book. Unfortunately, due to the close proximity to California, the mobile app does not work on the property.
VPFree2 shows that the video poker at Buffalo Bill's is unplayable for those wanting to bet less than $25 per hand. That best game at the $5 denomination is 8/5 Bonus Poker. Players at $1 coins will find 8/5 Jacks or Better to be the best game. The players club pays $1 for every $400 wagered, for a .25% return before mailers and comps.
Restaurants
Denny's is the 24-hour dining option at Buffalo Bill's. It specializes in breakfast, but also offers lunch and dinner items. La Salsa Mexican Grill is open daily from 11am to 8pm. The Dog House is open on Friday, Saturday, and Sunday at 11am. Guillermo's Cocina and Cantina is open from 5pm to 11pm on weekends. Miss Ashley's Buffet is open from 8am to 10pm daily.
Quick serve options include pizza by the slice, Panda Express, and The Ice Cream Shop. These are available in the food court and are open daily.
Hotel
Buffalo Bill's offers 335-square foot rooms. Guests may request one king or two queens. Rates start at $38 on weeknights and $80 on weekends.
Entertainment
Primm Valley offers regular concerts at the Star of the Desert Arena. It has a capacity of 6,500 seats. Buffalo Bill's offers a small amusement park. It includes the Desperado roller coaster, Sling Shot, Log Flume, and Frog Hopper. There is also a video arcade.
Primm offers a massive outlet mall for shoppers. The Primm Valley Lotto Store is another popular attraction.
A tram connects all three Primm resorts. There is also a stop at the outlet stores. It only runs on weekends.
My Conclusion
Primm is not a great destination for gamblers. Visitors looking to gamble will want to walk over to Primm Valley Resort for the best gambling available on the resort town. Primm is a place to stop on the trip to Las Vegas, but is not a place for serious gamblers.