Introduction
On Sunday, September 19th, 2021 the Miami Dolphins publicly announced that their young and highly – relevant starting quarterback in Tua Tagovailoa has suffered a severe injury to his ribs while being plunged to the turf last weekend in week 2 of the 2021 – 2022 regular season. The play knocked Tua out of the unfortunate 35 to 0 home loss for the Miami Dolphins against their divisional rivals in the Buffalo Bills. Both the Buffalo Bills as well as the Miami Dolphins are currently 1 and 1 at the moment.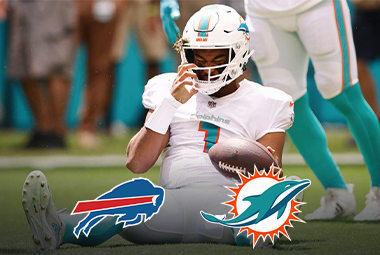 The Injury occurred…
…when the Buffalo Bills defensive end A. J. Epenesa chased Tagovailoa during the Miami Dolphins' second drive of the ball game. Epenesa hit Tua hard taking him not only to the ground, but he took him out of the game completely.
As Tua was eventually carted off of the football field last Sunday, the Miami Dolphins' back – up quarterback, Jacoby Brissett, had to take over for Tagovailoa for the remainder of the football contest against the Buffalo Bills. Brissett tossed for 169 passing yards as well as an interception in his take - over of the Miami Dolphins' offensive unit.
Rib injuries although are very painful are often able to be played through by tough quarterbacks as long as they know how to handle that degree of raw pain through the player's mid – section area. Tagovailoa experienced a similar injury during his illustrious NCAA college football career at the University of Alabama when he used to play for the Alabama Crimson Tide and their legendary head coach and master recruiter in the historic, Nick Saban.
The Miami Dolphins 2021 – 2022 NFL Season Depth Chart at Quarterback
As of now the Miami Dolphins only feature two quarterbacks on their active 53 – man team roster. Those being the 2 QB's that have already been seen calling and running plays for the 1 and 1 Miami Dolphins of this 2021 – 2022 NFL regular season. They are obviously Tua Tagovailoa as well as Jacoby Brissett who is formerly the starting QB of the Indianapolis Colts in past years of the NFL.
Media Statements
"Tua is very tough. It's not a question with him," the head coach of the Miami Dolphins Brian Flores stated. "He's a tough kid, for sure ... If Tua can go, he's gonna go. That's just the type of kid he is."
Flores explained that Tagovailoa is still in a, "Good deal of pain," last Monday the 20th of September when he was asked about Tua's condition and the further testing he was undergoing. Follow - up X - rays on Tua's ribs were negative according to another source close to the Miami Dolphins.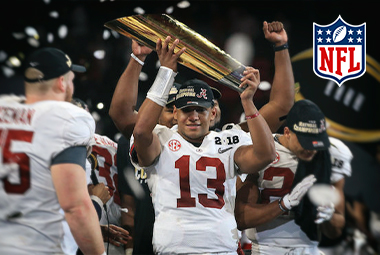 Tagovailoa's Football Career Achievements, Honors, and Awards
The former University of Alabama quarterback and now the Miami Dolphins QB has accomplished so much over his young and exciting football career. He has achieved, been honored, or awarded the following: College Football Playoffs National Champion in 2017, he was awarded the College Football Playoff's National Championship Offensive MVP also in 2017, the Orange Bowl MVP in 2018, the Sporting News College Football Player of the Year in 2018, he was awarded the Maxwell Award in 2018, the Walter Camp Award in 2018, and Tua was named the SEC Offensive Player of the Year also back in 2018.
He was honored as a Consensus All - American in 2018, named to the First - Team All - SEC in 2018, and Tagovailoa was named to the Second - Team All - SEC back in 2019 as well.
Statistics
Throughout Tagovailoa's short 2 – year career in the National Football League in which he has started 12 games at quarterback, Tua has recorded a completion percentage of 63.2 %, 2029 passing yards, 12 passing touchdowns, 6 interceptions, and an overall record of 7 – 4 – 0 in the NFL. Last year Tua completed 186 passes for a total of 1814 passing yards. He tossed 11 touchdown passes to his eligible receivers, 5 interceptions unfortunately to his opponents, as well as recording a completion percentage of 64.1 % during his rookie 2020 – 2021 season of the National Football League.
Look for this soldier of a Pacific – Islander mother fucking quarterback of the Miami Dolphins to return to NFL game action soon event though he will be favoring his bruised – up rib cage. I am excited to see how far the second – year quarterback out of the University of Alabama Crimson Tide ("Roll Tide!") responds to his second major rib injury of his amazing football career.
Sources:
"Brian Flores: Miami Dolphins QB Tua Tagovailoa day-to-day with rib injury; WR Will Fuller back with team", Marcel Louis – Jacques, espn.com, September 20, 2021.
"Tua Tagovailoa", pro-football-reference.com, September 21, 2021.
"Bills vs. Dolphins – Box Score – September 19, 2021", espn.com, September 21, 2021.
"The Miami Dolphins 2021 – 2022 NFL Regular Season Depth Chart – Offense", miamidolphins.com, September 21, 2021.
Posted by
DavidGreen