Introduction
On Saturday, November 16th, 2019 the Alabama Crimson Tide was playing the Mississippi State Bulldogs at Davis Wade Stadium in Starkville, Mississippi. Alabama was winning the game 35 to 7 just prior to halftime of this SEC match up.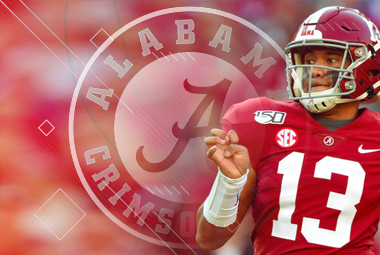 The Crimson Tide head coach, Nick Saban, was deciding with other coaches whether or not to let their starting quarterback Tua Tagovailoa to continue to play as they had a large lead at this point in the game. They decided to allow Tua to play one more series to give him more work running the two minute drill, and then rest the superstar quarterback for the remainder of the contest to avoid injury.
The Injury
Tua Tagovailoa was trying to evade Mississippi State Bulldog tacklers when he was finally dragged down by two Bulldog defenders late in the second half of this game. It was quite apparent that Tagovailoa suffered a serious lower body injury, but the details were not known at this time. The quarterback was carted off the field, and he was flown via a helicopter to St. Vincent's Medical Center located in Birmingham, Alabama.
In just a matter of hours after the incident the University of Alabama announced that Tua Tagovailoa had dislocated his right hip during the play in which he was injured. Team doctors decided that surgery to repair the injured right hip would be the best course of action for the junior QB.
The Surgery and Other Injuries
Tagovailoa underwent surgery on his injured hip on Monday, November 18th, 2019 in Houston, Texas. The surgery went well according to doctors and he is expected to make a full recovery, but Tagovailoa will definitely miss the remainder of the college football. His career at the University of Alabama may be over as well as he is expected to be selected in the 2020 NFL draft.
It has been reported that Tagovailoa had sustained other injuries during the game against Mississippi State all of which most likely occurred all on the same play where he dislocated his right hip. He also endured a posterior wall fracture which was repaired during his surgical procedures. Tua suffered a broken nose and a concussion as well for which was treated during his time in medical facilities over the last several days.
The Recovery
The Alabama Crimson Tide's orthopedic surgeon Dr. Lyle Cain explained that Tagovailoa will be working on a partial weight bearing recovery plan for approximately six weeks or so. He will also be rehabbing on a daily basis in Tuscaloosa, Alabama. After he recovers and rehabs his injury, he will be able to begin some athletic activity again which should be around three months from now. By the spring time Tua should hopefully be able to start throwing a football again.
NFL Draft Status
Prior to this injury Tua Tagovailoa was predicted to be one of the first players selected in the 2020 NFL draft. He may drop down further than that as a result of this serious season ending injury that required a major surgery. He also has had previous injuries most notably a high ankle sprain on his right leg that required surgery earlier this season. The star QB missed a game and a half due to that operation approximately four or five weeks ago. Hopefully Tagovailoa will still get drafted very early on this spring, and can make an impact in the NFL at some point in the near future.
Reaction from Head Coach
The head coach of the Alabama Crimson Tide, Nick Saban, feels awful about the injury that Tagovailoa suffered as it was very close to being avoided. The coaching staff of the Crimson Tide decided to play him just prior to halftime of the game by enabling him to play one more series to get some work in on the two minute drill.
Although, we all know how this decision ended up for Tagovailoa, Saban claims he is standing by his decision, and that he would have coached it the same if he could have done it over again. Obviously, he had no clue that the healthy quarterback was going to be seriously injured in that situation, but his team was really big and it was unnecessary to have played him in that situation. Alabama is currently fighting to make it into the NCAA College Football Playoffs, and it will be interesting to see how they respond after this major setback.
Media Statements
"He is undergoing further testing to determine the best course of treatment," says Alabama's team orthopedic surgeon Lyle Cain. "He is expected to make a full recovery but will miss the remainder of the season."
"We can second guess ourselves all we want," Alabama's head coach, Saban stated. "We told Mac (Jones) to warm up and we were going to go 2-minute before the half. Tua wanted to play in the game and so I don't really make a lot of decisions worrying if a guy is going to get hurt."
"Thank you all for the prayers and well wishes," Tagovailoa tweeted. "God always has a plan."
"I'm just hurt about our quarterback, what happened to our quarterback. He means a lot to our team," teammate, Najee Harris, explained. "It's our guy. I came here at the same time he did. Been friends with him since my freshman season. For him to go down like that really hurts."
"We knew against a team of Alabama's caliber that we needed things to go our way," Mississippi State's head coach Joe Moorhead exclaimed. "But spotting them a 14-0 lead three minutes into the game didn't help. We didn't execute enough and we didn't coach well enough to win today."
"He was good, at least as good as he was a week ago in terms of his ability to move," says Saban. "I don't think anything he did affected his performance in the first half. So the guy played, and I thought he played really well. And we hate it that he got injured. We hate it for him. We hate it for his family. I hate it when any player on our team gets injured. So Godspeed to him and his entire family, and our thoughts and prayers are with them and hope this is not so serious it has any long-term effect on his future as a player."
"That was going to be his last series," Saban explained. "We were going to do two-minute before the half was over just for practice. First, we've got to block them better so he doesn't get sacked. It's too bad."
"We can second-guess ourselves all we want," says Saban. "We told Mac to warm up. We were going to go two-minute before the half, and Tua wanted to go in the game. So I don't really make a lot of decisions about guys getting hurt. ... We had total confidence in Mac, and Mac did a good job when he went in."
"The way I look at this whole thing is: Tua's our No. 1 quarterback, and if he's physically able to play, we want to play him in the game," Saban said. "That's what he wanted to do, and that's what our team wanted to do. If I would have known -- knowing that anything bad was going to happen, certainly I wouldn't have put him in that situation. But we're a team. We're a team that's trying to get better ... to see if we can finish the season the way we want."
"If these reports prove to be true, our thoughts and prayers go out to Tua and his family," says CFP executive director Bill Hancock. "As for football, three weeks remain in the season, and the selection committee doesn't project ahead."
"For the past 24 hours our medical team has consulted with multiple orthopedic experts across the country, who specialize in hip injuries and surgeries. Based on that research, Tua is being flown to Houston tonight to be evaluated and is scheduled to have hip surgery Monday," Cain stated.
"As previously stated, we anticipate a full recovery. The main focus has been, and will remain, on Tua, his family, and making sure we are providing them the best medical care possible."
"Tua's prognosis is excellent, and we expect him to make a full recovery," says Cain. "He will return to Tuscaloosa in the next several days to begin his rehab."
"All the indications from the surgery have been really positive from a medical standpoint," Saban expressed.
"We would like to thank all of the Alabama family and everyone across the world for the prayers and outpouring of love and support for our son and our family," the Tagovailoa family exclaimed. "We felt the unceasing prayer, and words can't express how overwhelming and uplifting that has been for us. We have total faith in God's plan for Tua, and we know his plan is never wrong. God's grace, mercy, love and faithfulness in our lives has never been more evident, despite this setback.
"The care and support Tua and our family has received is nothing short of amazing, and we can't express our appreciation enough for Dr. Cain, Jeff Allen, Coach Saban, Tua's teammates, the Alabama Athletics department, our pastors and all of the doctors and nurses that have done such an outstanding job of taking care of Tua. God Bless and Roll Tide!"
"Not all all," says Saban. "The guy was healthy. He didn't have a problem with his ankle, and it certainly didn't look like he had a problem with his ankle, which would have been the only reason not to play him in the game. It's an SEC game. Typically, you play the best players on your team at every position. So why wouldn't you play him? If I knew he was going to get hurt, I wouldn't have played him."
"I'm not second-guessing the fact I played him," Saban stated. "What if we wouldn't have played him and not won the game? How can you assume that you would win a game by not playing the best players? I never, ever have done that and don't intend to do that in the future. That's the only way you can be fair to players, and that's the only way that you can be fair to the team.
"Tua absolutely wanted to play in the game, and he did everything he could to play in the game and get ready to play in the game, and he's our No. 1 quarterback," Saban said. "If [Green Bay Packers quarterback] Aaron Rodgers was able to play in the game, would they not play him in the game? I don't know how else to do it."
"I feel bad, I'm hurting," Saban expressed. "I called him Saturday night to cheer him up, and he cheers me up. I called him Sunday night to cheer him up, and he cheers me up. This is a guy that has great spirit. ... I don't think there's any way that any of us can say that we won't miss that spirit that he has."
"He's always been a great guy to overcome adversity, and he has a great attitude about it," Saban explained.
"You want to be fair and honest with all players, and you'd like to say that you treat them all the same, but that's probably not the case," says Saban. "I can think back to four or five players that I actually truly could say that I really love those guys as people, [and for] the way they did things, their contributions and how they affected other people. Tua would be one of those four or five guys."
Sources:
"Tagovailoa injured in Alabama's 38-7 win at MSU", espn.com, November 16, 2019.
"Alabama quarterback Tua Tagovailoa's season done with dislocated hip", espn.com, November 16, 2019.
"Alabama QB Tua Tagovailoa set to have hip surgery on Monday", espn.com, November 17, 2019.
"Tua Tagovailoa resting after successful surgery on hip", Mark Schlabach, espn.com, November 18, 2019.
Posted by
DavidGreen