Introduction
The Miami Dolphins have signed their rookie quarterback, Tua Tagovailoa, to a four year $30,275,438.00 contract. The deal also contains a signing bonus of approximately $19.6 million, and the young star of the gridiron is scheduled to average $7,568,860.00 per season. This rookie contract includes a fifth year option as these agreements usually do. Tagovailoa will become an unrestricted free agent in 2024 or 2025 depending on whether or not the Miami Dolphins decide to pick up his fifth year option.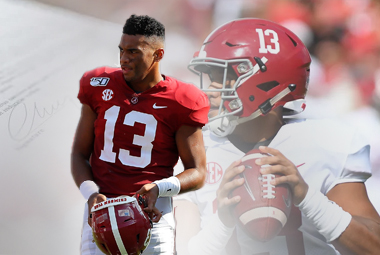 Tua Tagovailoa's Early Football Background
The youthful Samoan superstar quarterback was born in Ewa Beach, Hawaii. He played his high school football at Saint Louis School in Honolulu, Hawaii. As a standout play maker on the islands of Hawaii, Tagovailoa, chose to attend the University of Alabama under the tutelage of the famous and highly successful Crimson Tide head coach Nick Saban.
College Freshman Year
When healthy at Alabama Tua absolutely demonstrated incredible skill and leadership at the quarterback position. In 2017 as a true freshman he backed up the starting quarterback for the Crimson Tide, Jalen Hurts. He got to see the field often during blowouts, and he did not disappoint when he was on the field.
Early on in the 2018 College Football Playoff National Championship game against the Georgia Bulldogs Jalen Hurts was proving to be quite ineffective and playing poorly at the quarterback position. Coach Saban decided to plug Tagovailoa in for the second half of the championship game, and this was a very wise decision. Tua led Alabama to an explosive as well as extremely impressive second half offensively. He ended up throwing the game winning 41 yard touchdown pass, and won the offensive MVP of the contest. In that title match up Tagovailoa went 14 of 24 for 166 passing yards, 3 touchdown passes, 1 interception, and 27 rushing yards on his 12 run attempts.
Sophomore Year at Alabama
In 2018 Tua earned the starting quarterback job at Alabama over Hurts which effectively caused Jalen to transfer to the University of Oklahoma prior to the 2019 college football season. Tagovailoa had an absolutely unbelievable year with the Crimson Tide in 2018 although they lost the 2019 College Football Playoff National Championship game to the Clemson Tigers. He was the second place finisher in the Heisman Trophy race behind Kyler Murray, but he won the Walter Camp Award as well as the Maxwell Award. Tua was selected as the SEC Offensive Player of the Year, First Team All SEC, Sporting News College Football Player of the Year, and he earned All American honors in 2018.
Junior Year with the Crimson Tide
In 2019 Tua showed his true character and ability to lead Alabama even through a whole lot of adversity. While healthy he was spectacular early on this season as the Tide rolled through their competition with Tua at the helm. Then he suffered a high ankle sprain in the sixth game against the Tennessee Volunteers which resulted in surgery, but he only missed one game due to this injury.
In his first game back from the ankle surgery he had to face LSU and one of the best college football quarterbacks of all time in Joe Burrow. This was an unbelievable offensive showdown between the two gunslingers. Despite a poor first half of this game Tagovailoa bounced back extremely hard in the second half even while hobbling on his sore ankle. He went 21 of 40 for 413 passing yards, 4 touchdowns, and 1 interception in Alabama's heart breaking 46 to 41 loss to the LSU Tigers.
Then in a game against Mississippi State Tua took a season ending sack in which he dislocated his hip fracturing the posterior wall as well as breaking his nose and suffering a concussion. This was the last snap of his college football career. He underwent surgery to repair his hip, and has now been cleared by doctors for football action. Every indication as of now indicates that Tua is 100% healthy and ready to compete once again at footballs highest level.
Tua and the National Football League
With the fifth overall selection in the first round of the 2020 NFL draft the Miami Dolphins picked Tua Tagovailoa out of the University of Alabama. He is ready and awaiting football action, but it is still unclear if he will start his rookie season with the Miami Dolphins. He has decided to play with the jersey number of 1 as the number 13 that he played under in college is retired by the all time great quarterback of the Miami Dolphins, Dan Marino.
Since the 2020 NFL draft at the end of last April Tua currently has the two highest NFL jersey sales. The number one selling jersey is the men's aqua Miami Dolphins jersey followed by the men's white Miami Dolphins jersey. The 2 pieces of above mentioned NFL merchandise has outsold Tom Brady's new Tampa Bay Buccaneers jerseys as well as Rob Gronkowski's. Joe Burrow has the second highest jersey sales out of all NFL rookies. Hopefully Tagovailoa can remain healthy while playing in the National Football League as he is incredibly talented and so much fun to watch perform on the football field. It will be interesting to see how he plays with the Miami Dolphins https://wizardofodds.com/online-gambling/sports-betting/former-head-coach-of-the-miami-dolphins-don-shula-died-at-90 once football activities resume in the near future.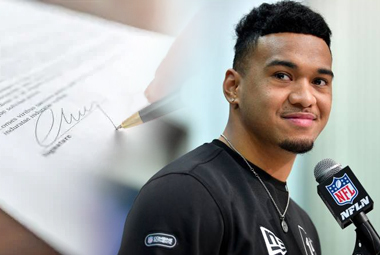 From the Press
"Blessed beyond belief," Tua stated on Insta Gram. "Thank you to the Miami Dolphins for making this dream come true for me and my family."
Tua goes on to say, "It's in my heart to give back to the communities that have raised me. Plans are underway to start charitable outreach efforts in Hawaii, Alabama and Miami."
"Stay tuned, stay safe," says Tagovailoa.
"Thank you to @MiamiDolphins for making this dream come true for me and my family. It's in my heart to give back to the communities that have raised me. Plans are underway to start charitable outreach efforts in Hawaii, Alabama and Miami. Stay tuned, stay safe. Go fins! Blessed!" Tagovailoa exclaimed on Twitter.
"It's interesting that when he suffered this injury, a lot of people going into the draft thought, 'Well, he's going to have a redshirt year anyways. Even if we draft him, we're going to sit him for a year,'" the former quarterback of the National Football League, Kurt Warner, proclaimed. "I think when people saw that workout, they said to themselves, 'Well, maybe not.' He looks really good, he looks explosive. Those are things he was built on in college. The quickness of his feet, the ability to redirect his feet, to buy time in the pocket, I think we all loved what we saw in that video."
"He fit a lot of the criteria that we talk about at the quarterback position. Good player, good person, leadership qualities," says the Miami Dolphins head coach, Brian Flores. "We're very happy with this pick. We felt very comfortable that he would be a good fit here."
"Chris and I were on the same page the entire time as far as process, meetings, medicals and conversations about moving up and down," Flores explains.
"We gave them a call to see if they were interested," the Miami Dolphins general manager Chris Grier remembers. "So yes, we reached out."
"It was a dream come true," Tagovailoa expressed. "The biggest thing is whoever decided to take a chance on us, whoever decided to pick us, that's where we belong."
"I'm just trying to prove that this was the right decision for the organization," Tagovailoa stated as he thanked Grier, Flores, Ross and the entire Miami Dolphins organization.
"Football is a violent game," says Grier. "Guys are going to get hurt. For us, we did a lot of work on him, like we do on every player."
Tagovailoa expressed he hasn't spoken with the Miami Dolphins whether he is going to start in his first year, but Tua is confident that he is able to play in 2020 by saying, "If need be," according to what the doctors have told him Flores says, "Way too early to speculate on this year," as they have yet to work with Tagovailoa as of now.
Sources:
"Tua Tagovailoa", sports-reference.com, May 14, 2020.
"Tua Tagovailoa: I'm Giving Back To Hawaii, Bama, Miami... With Rookie Contract", tmz.com, May 12, 2020.
"Tua Tagovailoa Talks Plans to Donate to Charity After Signing Dolphins Contract", Rob Goldberg, bleacherreport.com, May 12, 2020.
"Tua Tagovailoa contract details emerge", Riley Gates, 247sports.com, April 23, 2020.
"Dolphins executives 'comfortable' taking Tua Tagovailoa at No. 5 in NFL draft", Cameron Wolfe, espn.com, April 23, 2020.
"Tua Tagovailoa", spotrac.com, May 14, 2020.
Posted by
DavidGreen