Introduction
On Tuesday, November 15th, 2022 the Philadelphia Eagles announced that their veteran 5th - year NFL tight end, Dallas Goedert, is now anticipated to miss some extended time following him sustaining a somewhat severe shoulder injury during the Monday Night Football game against the Washington Commanders on Monday, November 14th, 2022.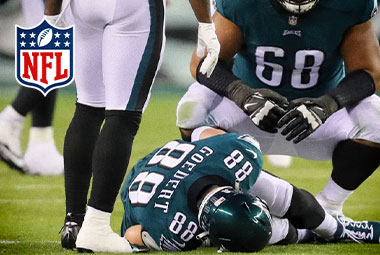 Injured Reserve List for Dallas Goedert?
As of now a decision has yet to be made regarding whether or not the Philadelphia Eagles will place Dallas on injured reserve list which automatically will keep Goedert sidelined for a minimum of the next 4 - upcoming games if the Philadelphia Eagles decide to put him on the IR this week.
The next four games for the Philadelphia Eagles are:
As evaluations and diagnosis are still ongoing at the moment it is unclear right now which direction the Philadelphia Eagles will go with Dallas after the team physicians will determine approximately how long he will be sidelined for with this current shoulder injury.
The Shoulder Injury & Momentum Swing in the Game
The Philadelphia Eagles 5th - year tight end in Goedert was initially injured early on during the 4th - quarter of last Monday Night's game versus the Washington Commanders on a play that consisted of a truly controversial non - call by the NFL officials that helped turn the momentum of the football game in the favor of Washington as well as decided the fate of Dallas at least for the time being.
That play in which Goedert suffered his shoulder injury occurred on third - and - 1 play in the final quarter of the contest with the Philadelphia Eagles down by only 2 - points when the Eagles' quarterback, Jalen Hurts, completed a pass downfield to Goedert for what would have been a 1st - down.
The Washington Commanders linebacker, Jamin Davis, obviously grabbed and pulled down on Goedert's facemask as the strong backer attempted to tackle Dallas to the ground while the fighting tight end was simultaneously also hit by the Commanders defensive tackle, John Ridgeway, who managed to knock the football loose for a fumble.
Ridgeway's full body weight was completely on top of Goedert while he was driven to the turf resulting in his left shoulder absorbing the majority of the impact on this illegal but not called penalty. Goedert was immediately sidelined and evaluated for the injury near the Philadelphia Eagles' bench prior to Dallas eventually returning to the Monday Night Football game.
The Washington Commanders ultimately recovered that fumble lost by Goedert, and then Washington was able to tack on a 55 - yard field goal off of the shoe of the Washington Commanders' place kicker, Joey Slye, pushing their lead up to 6 - points late in the 4th - quarter of game action.
Media Statements
When asked why there was not a face - mask penalty called on the play where Goedert fumbled, the NFL referee, Alex Kemp, replied by saying, "We didn't see a face - mask on the field."
The Philadelphia Eagles head coach, Nick Sirianni, said the calls, missed or otherwise, were not what cost his football team the game as he stated, "I think whether the calls were bad or good, or whatever it was, when you play the way we did tonight on all three phases ... it does seem like everything's going against you. And we played like crap. We didn't do a good enough job ... We made our own luck today, and it was bad."
Jalen Hurts Loves Passing to Dallas Goedert this Season
Throughout the 2022 - 2023 NFL regular season Goedert has absolutely been one of Hurts' primary targets in the Philadelphia Eagles impressive passing game this year. Dallas is 2nd on the Philadelphia Eagles in receiving yards with 544 yards, and he is tied for 2nd on the team in receiving touchdowns as well with 3 touchdown receptions.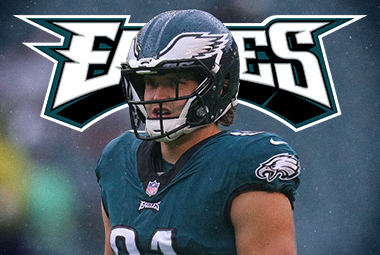 Temporarily Replacing Dallas Goedert
The Philadelphia Eagles rookie tight end, Grant Calcaterra, will likely be expected to fill in and take in an increased role in the absence of Goedert's along with their other tight end, Jack Stoll.
The Philadelphia Eagles could also be getting their other tight end in Tyree Jackson back sometime soon as well. The Eagles opened a 21 - day practice window for him back in late October of 2022 as Jackson slowly but steadily works his way back from a torn ACL injury.
The 2022 NFL Statistics for Dallas Goedert
Goedert was well on his way to setting his NFL career - best statistics during the 2022 - 2023 regular season of the National Football League as seen below:
9 - Games
43 - Receptions
830 - Receiving Yards
12.7 Yards / Reception
3 - Touchdowns
81.1 % - Catch Percentage
Dallas Goedert's Football Career Achievements, Honors, & Awards
First - Team FCS All - America Selection (2016, 2017)
3 - Time First - Team All - MVFC Selection (2015, 2016, 2017)
Sources:
"Eagles TE Dallas Goedert (shoulder) to miss extended time", Tim McManus, ,espn.com, Tuesday, November 15, 2022.
"Dallas Goedert", pro-football-reference.com, Tuesday, November 15, 2022.
"Philadelphia Eagles - Schedule", espn.com, Tuesday, November 15, 2022.
Posted by
DavidGreen