Introduction
On Monday, April 5th, 2021 the San Diego Padres' premier player in their highly paid young star shortstop, Fernando Tatis Jr., injured his left shoulder on a hard swing at the plate against the San Francisco Giants. The San Diego Padres ended up losing that game against the San Francisco Giants with a final score of 3 to 2. Although Tatis Jr. hurt his troublesome left shoulder during this game, he still maintained a full range of motion in this left shoulder, and Fernando displayed his highly competitive edge by requesting to be in the San Diego Padres' starting line-up during their game on Tuesday, April 6th, 2021.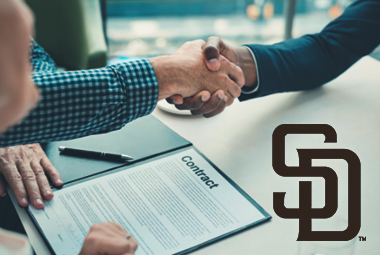 After thorough examinations were administered on Tuesday, April 6th, 2021 it was determined by medical professionals that the high octave as well as youthful shortstop suffered a slight labrum tear in his left shoulder along with a shoulder subluxation, which means he partially dislocated his shoulder joint, but luckily for the San Diego Padres as well as Tatis Jr. this injury will not require shoulder surgery. The youngster was recently placed on the 10-day injured list, and hopefully Fernando will be able to return to full game action in approximately 10 to 20 days if all goes to plan for him and his ball club.
Temporary Replacement Shortstops
While Tatis Jr. spends a little time on the injured list in order to heal up there are multiple candidates to take his place both at the plate and in the infield of the baseball diamond. The first potential replacement option is the rookie shortstop Ha-Seong Kim who just so happened to take Fernando's place on Monday after Fernando left the ball game against the San Francisco Giants. Other possible replacement options include Jake Cronenworth, Jorge Mateo, and Tucupita Marcano who are able and qualified to temporarily take over for Tatis Jr. at shortstop for the San Diego Padres baseball team.
Tatis Jr.'s Recent Contract Extension with the San Diego Padres
It is unfortunate that the young, flashy, as well as highly talented ball player, Fernando, got injured so quickly after agreeing to such a huge franchise altering deal. On Wednesday, February 17th, 2021 the San Diego Padres made a major commitment to one of their most promising young players they have ever had the privilege of possessing. The San Diego Padres have signed their 22-year-old superstar shortstop, Tatis Jr., to a 14-year contract extension valued at approximately $340 million.
As the ink has barely settled on this fourteen-year megadeal between the San Diego Padres and Tatis Jr. let's take a look at the details of this $340 million extension. All of the $340 million are fully guaranteed, but this contract does not include a signing bonus or any incentives that have been disclosed to the public as of now. Fernando will now average $24,285,714 per year from 2021 to 2034, and he will once again become an unrestricted free agent prior to the 2035 Major League Baseball season.
Other Extremely Large MLB Contracts
The San Diego Padres signing of Tatis Jr. is the third largest deal in the history of Major League Baseball. The Los Angeles Angels had previously signed the Mike Trout to a 12-year $426.5 million contract extension, and he is considered the best player in professional baseball these days. The second highest paid MLB player was Mookie Betts who the Los Angeles Dodgers reached a 12-year $365 million agreement with around a year ago. Last season Betts helped the Los Angeles Dodgers win their first MLB World Series championship since 1988.
MLB Career
So far in the early stages of the 2021 MLB season Fernando has batted .167 over 21 plate appearances in the 5 games that he has participated in already for the San Diego Padres. He has scored 4 runs, came through on 3 hits, 1 home run as well as 2 singles, has contributed only 1 RBI, walked 3 times, and has struck out a frustrating 7 times. He currently holds an on base percentage of .286, with a slugging percentage of .333, a on base plus slugging percentage of .619, and an OPS + of 78 at the moment.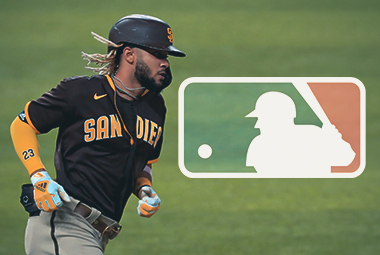 So far this season he has attempted to steal one base in which he was unsuccessful as he was caught stealing. To add to his early season struggles the often sure-handed shortstop has already committed 5 errors. One highlight for Tatis Jr. early on during this 2021 MLB regular season occurred on Sunday, April 4th, 2021 when the slugger hit a 465-foot home run against the Arizona Diamondbacks. Even though the second place in the National League West division San Diego Padres with a 4 and 2 record also lost that game.
During the 2020 MLB shortened season Tatis Jr. batted .277 with 45 RBI's as well as 17 home runs. He won a Silver Slugger award for his performance last year, and he finished in 4th place in voting for the National League MVP award. Fernando was named to the All MLB First Team for his work throughout the 2020 Major League Baseball season. In 2019 during his MLB rookie season Tatis Jr. hit .317/.379/.590 while driving in 53 runs (RBI's) and 22 home runs.
Odds to Win the MLB 2021 World Series
According to Intertops sportsbook below are the odds to win the MLB 2021 World Series as of Wednesday, April 7th, 2021. Currently the San Diego Padres have the third highest odds to win it all for this exciting 162 game regular season of Major League Baseball in addition to the 2021 MLB playoffs.
Team Odds
Los Angeles Dodgers +350
New York Yankees +550
San Diego Padres +800
New York Mets +1000
Chicago White Sox +1000
Atlanta Braves +1100
Minnesota Twins +1400
Toronto Blue Jays +1800
Houston Astros +1800
Tampa Bay Rays +1800
Philadelphia Phillies +2200
St Louis Cardinals +2500
Cincinnati Reds +2800
Oakland Athletics +3000
Los Angeles Angels +3000
Cleveland Indians +3300
Washington Nationals +3300
Chicago Cubs +3300
Milwaukee Brewers +3300
Boston Red Sox +5000
Kansas City Royals +7000
Miami Marlins +8000
Seattle Mariners +8000
Detroit Tigers +10000
Arizona Diamondbacks +10000
San Francisco Giants +10000
Texas Rangers +12500
Colorado Rockies +12500
Baltimore Orioles +12500
Pittsburgh Pirates +20000
Sources:
"San Diego Padres star Fernando Tatis Jr. won't need surgery for shoulder injury", espn.com, April 6, 2021.
"Fernando Tatis Jr.", baseball-reference.com, April 7, 2021.
"Fernando Tatis Jr.", spotrac.com, April 7, 2021.
"Fernando Tatis Jr.", wikipedia.org, April 7, 2021.
"United States, MLB Futures, MLB 2021 World Series: To Win Outright", intertops.eu, April 7, 2021.
Posted by
DavidGreen