Introduction
On Monday, November 28th, 2022 closely following the San Francisco 49ers last Sunday afternoon's victory versus the New Orleans Saints, the Niners were heartbroken to announce that their star running back, Elijah Mitchell, sprained his left knee, but the San Francisco 49ers remain quite hopeful that this injury is not serious enough to keep Mitchell out for a lengthy period of time.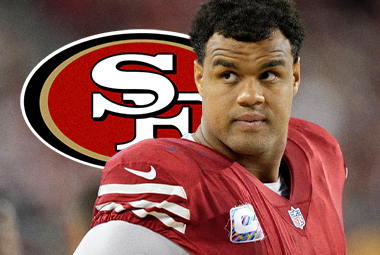 The Diagnosis and Timetable of Mitchell's Injury
On last Monday the San Francisco 49ers performed a wide panel of testing and scanning on Mitchell's left knee injury which revealed to them that Elijah had suffered a sprained MCL in his left knee or in other words he endured a sprained knee which is extremely comparable to the injury that Mitchell sustained in his other knee (right knee) during week - 1 of the 2022 - 2023 NFL regular - season vs. the Chicago Bears.
With all of that said it is pretty safe to assume Mitchell will once again have to sit out approximately 6 - 8 weeks, and unfortunately this latest injury to Elijah will most likely place him on the NFL's injured reserve list again this season.
"It wasn't the news we were looking for," the head coach of the San Francisco 49ers, Kyle Shanahan, stated. "He's pretty disappointed. Everyone knows how good Elijah has been, how hard he worked to get back from his last one, how good he's been playing since he came back, and to kind of be right back there, I know he was real down on it. It's unfortunate for him. He's just had some real bad luck."
Mitchell eventually returned during the San Francisco 49ers' 2022 - 2023 NFL week - 10 match - up versus the Los Angeles Chargers following Elijah becoming reactivated off of the injured reserve list. Under the rules of the National Football League, players who have been on the NFL's injured reserve list and were brought back to play again are able to go through the similar process again during the same NFL season.
The San Francisco 49ers are now determined to extend their current 2022 - 2023 NFL season long enough in order for Elijah to return once again, but this time it would most likely be during the San Francisco 49ers 2023 NFL playoff run (if that ends up happening). At the moment the Niners seem to be well on their way to clinching an NFL postseason berth following their last month or two of the exception football that they have been playing on a weekly basis.
"He knows what's ahead of him," Shanahan explained. "He's just going to have about six weeks of frustration, but hopefully we can do our job here so when he comes back, we're still playing."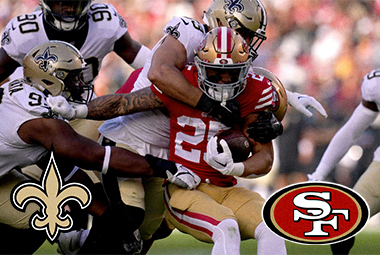 The left knee injury occurred when…
…Mitchell was rolled up on early during the 3rd - quarter of the game last Sunday afternoon against the New Orleans Saints. Elijah tried to make an attempt to continue playing in that contest, but shortly after the injury happened it was necessary for Mitchell to exit the game and his return back to game play was quickly ruled out of question. Elijah was forced to leave the match - up with a total of 7 - carries that was good for 35 - rushing yards as well as 2 - receptions for a total of 8 - receiving yards.
It just so happens that Mitchell is not the only San Francisco 49ers running back that is presently dealing with a knee injury following last Sunday's football game. The Niners starting superstar veteran RB, Christian McCaffrey, is dealing with what Shanahan is now describing as "irritation" in his left knee. McCaffrey will have to be carefully managed during this week of practice and training prior to the San Francisco 49ers game this upcoming Sunday against the Miami Dolphins.
Between those 2 - knee injuries, it leaves the San Francisco 49ers rookie running backs, Jordan Mason as well as Tyrion Davis - Price, as their only 100 % completely healthy running backs on the San Francisco 49ers active team player roster. Mason managed to close out the game last Sunday with 5 - rushes which were good for 25 - yards on the ground.
"It was really impressive," Shanahan goes on to say. "I think you could feel him like you did in the preseason when he got those carries. I know we could from the sidelines ... That was real encouraging, and it's going to open up some opportunities for him and also for Ty to get a chance to get back out there."
Other Significant 49er Injuries from last Sunday Afternoon's Game
The San Francisco 49ers' right guard, Spencer Burford, just so happened to sprain his right ankle last Sunday vs. the New Orleans Saints, but coach Shanahan mentioned that Burford could be possibly able to return to practice as soon as later on this week.
Also, the San Francisco 49ers dodged a major problem at the quarterback position with their starting veteran QB, Jimmy Garoppolo, who was in pain following last weekend's football game after Garoppolo absorbed a hard hit that he took to his lower left leg and knee, but it seems likely that Jimmy will be alright to play this upcoming Sunday versus the Miami Dolphins. That should be a fantastic NFL week - 13 regular - season match - up too.
"It was a relief that no serious injuries came up," Shanahan exclaimed. "I know he's pretty sore today and stuff. So, hopefully he'll work that out by Wednesday but nothing serious."
Roster Moves for the San Francisco 49ers
The San Francisco 49ers might be welcoming back a core defensive player for this week's game as their defensive lineman, Arik Armstead, who has been out since week - 4 of the NFL's 2022 - 2023 regular - season with a foot / ankle injury, is anticipated to practice starting Wednesday, November 30th, 2022 following Armstead being able to rejoin his team the past Friday.
The Niners also made a notable roster move on Monday, November 28th, 2022 when they signed the veteran cornerback, Janoris Jenkins, to the San Francisco 49ers practice squad. Throughout 10 - total NFL seasons, Jenkins has appeared in 142 - games, and he has compiled 575 - tackles, 124 - passes defended, as well as 27 - interceptions. Jenkins and Armstead will be 2 - great and impactful roster additions on the defensive side of the ball for the San Francisco 49ers moving forward this year.
"To have a veteran who can play and get him on our practice squad, we love that," Shanahan revealed. "We felt Janoris fell right into that line. If he would have done it earlier, we would have done it (a while) ago."
Football Career Achievements, Honors, & Awards
First - Team All - Sun Belt Selection (2020)
2 - Time Second - Team All - Sun Belt Selection (2018, 2019)
First Responder Bowl MVP Award Winner (2020)
Sources:
"'Disappointed' Elijah Mitchell out for 49ers with sprained MCL", Nick Wagoner, espn.com, Monday, November 28, 2022.
"Elijah Mitchell", pro-football-reference.com, Tuesday, November 29, 2022.
Posted by
DavidGreen