Introduction
During practice on Wednesday, August 7th, 2019 the San Francisco Forty Niners rookie defensive end, Nick Bosa, suffered a serious ankle sprain. The injury has not been classified as the debilitating high ankle sprain although reports have indicated that it does share some of the characteristics of one.
The San Francisco 49ers have determined that the number 2 overall pick of the 2019 NFL draft will be held out from participating in all of their upcoming preseason games. The Niners currently believe that Bosa should be ready for the regular season opener of the 2019 – 2020 NFL season against the Tampa Bay Buccaneers on Sunday, September 8th, 2019. If for any reason he is not one hundred percent ready to play by week one, the 49ers are not going to push him to play or rush him back in any way.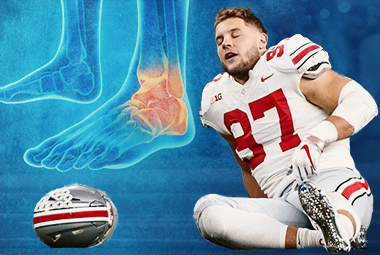 How did the Injury Occur?
The injury transpired last Wednesday at practice on a running play to the right side of the line when an individual fell on Nick Bosa's leg while he was tangled up with another player. When he was not able to get up immediately after the play, the team's medical staff and trainers rushed over to evaluate his lower right leg as well as his right ankle.
Bosa was able to stand and slowly walk off the field without assistance as two of the doctors followed him off the turf at Levi's Stadium. He was examined right away, and they determined the injury to be a significant ankle sprain. This type of injury is quite common in professional football.
Previous Injuries Suffered
The star defensive end plays fast with a high level of aggression resulting in him having an extensive list of injuries over his days of playing football prior to the NFL. While at Ohio State, Bosa was sidelined the majority of last season due to a core muscle injury that he endured during the 3rd game of the year. More recently a hamstring strain kept him off the field during the San Francisco 49ers offseason program.
As a senior in high school the fierce pass rusher endured a torn ACL too. Hopefully he can stay healthy for the Niners as they look to improve especially on the defensive side of the ball. Bosa is an exciting and fun player to watch so I look forward to seeing him back in action soon as we quickly approach the start of the 2019 – 2020 NFL regular season.
Media Statements
"It's a significant ankle sprain, and there's that dreaded high ankle sprain -- he doesn't have a full-blown one -- but it has some components of that," says 49ers general manager, John Lynch. "As for timing, I think what we're comfortable saying -- and a lot is going to happen here with kind of the follow-up today, they've got the scans -- it's safe to say we won't see him in the preseason and then we're going to be very prudent."
We want him right," he added. "We're gonna do what's in the best interest and trust the medical staff on that. And trust Nick. We'll see where that goes."
We don't feel he is injury prone… Yesterday, he had a big human being fall on his legs while he was engaged with someone else. So, some of those things, that's football, you can't prevent that. We're thrilled with what we have in Nick Bosa. We're gonna get him right and he'll be a great player for a long time in this league."
"The great thing I can tell you about Nick Bosa is he's been dominating practice out here on a daily basis. He's a game-changing type player -- everything we hoped and expected -- and we have to get him right for this season."
"Dee is fine," says Lynch regarding defensive end, Dee Ford's, knee tendinitis. "He's kind of done his week down, and now it's back to ramping him back up. He should be ready, I believe, that Kansas City Week 3 of preseason. Whether we'll put him out there or not, I'm not sure, but he'll be back practicing then."
Sources:
"Lynch: Bosa injury 'significant,' to miss preseason", Nick Wagoner, espn.com, August 8, 2019.
Posted by
DavidGreen