Introduction
On Wednesday, April 20th, 2022 the Milwaukee Bucks star starting small forward, Khris Middleton, sprained his medial collateral ligament (MCL) in his left knee during game 2 of the Milwaukee Bucks 1st – round series of the 2022 NBA playoffs against the Chicago Bulls.
After the first two games of this postseason series the Chicago Bulls and the Milwaukee Bucks are tied up at 1 – game apiece. Game 3 of this 1st – round best of 7 NBA playoff series will be played on Friday, April 22nd, 2022 at the United Center located in Chicago, Illinois.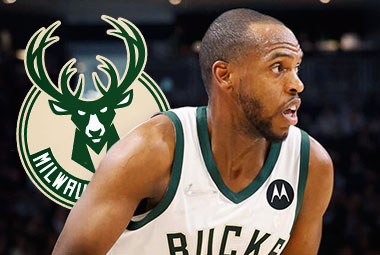 The Injury
Middleton managed to slip on a drive to the bucket approximately half – way through the 4th - quarter of Game 2 during this 1st - round series of then 2022 NBA playoffs, as Khris found a way to complete a nice pass to his big - man Brook Lopez while he was falling to the floor.
Middleton quickly began to favor his left leg following that play as he was forced to leave the game. Khris attempted to stretch out and flex his leg on the sidelines of the Fiserv Forum located in Milwaukee, Wisconsin prior to him having to head to the locker room in order to have his left knee more closely evaluated.
Khris Middleton to miss rest of the 1st – Round Series
Middleton finished Game 2 early with a total of 18 - points, 8 - assists, and 5 - rebounds over the course of 33 - minutes for the defending NBA champion Milwaukee Bucks. Following an MRI that was conducted on Thursday, April 21st, 2022 Middleton and the Milwaukee Bucks received the news that his injury is not a long – term issue, but Middleton will have to miss at least the remainder of their 1st – round series of the 2022 NBA playoffs versus the Chicago Bulls.
Media Statements
"You expect him to get up and walk it off and get back to the game, but you see that he was limping and limping and limping and you're thinking like, 'Oh, I hope it's not bad, I hope it's not bad,'" the Milwaukee Bucks superstar Giannis Antetokounmpo explained following Khris Middleton's injury last Wednesday night. "We need this guy. When he asks for a sub, you know that it's bothering him because he doesn't leave the game. We have a job to do here. Obviously, Khris is one of the best players on the team, if he's not able to be with us, it's going to be a tremendous loss for us."
"We anticipate he should be fine with some time and that he should be good. We don't expect him in the short term. We'll see how he progresses over the next I'd say handful of days or more," The Milwaukee Bucks' head coach Mike Budenholzer expressed.
Middleton's Basketball Career Achievements, Honors, & Awards
NBA Champion (2021)
3 - Time NBA All - Star Selection (2019, 2020, 2022)
Second - Team All - Big 12 (2011)
Sources:
"Khris Middleton suffers MCL sprain as Milwaukee Bucks lose Game 2 to Chicago Bulls", Jamal Collier, espn.com, April 20, 2022.
"Milwaukee Bucks' Khris Middleton to miss remainder of series vs. Chicago Bulls", Adrian Wojnarowski, espn.com, April 21, 2022.
"Khris Middleton", basketball-reference.com, April 22, 2022.
Posted by
DavidGreen