Introduction
On Thursday, March 23rd, 2023 the Philadelphia Phillies star first - baseman / outfielder, Rhys Hoskins, suffered a torn ACL during the Philadelphia Phillies last spring training game against the Detroit Tigers from sunny Clearwater, Florida.
This is devastating news for the Philadelphia Phillies as the quickly approaching 2023 Major League Baseball season is about to commence on Thursday, March 30th, 2023. Hoskins is now expected to miss some significant time away from the Philadelphia Phillies ball club as he recovers from this injury which will most likely result in a surgical procedure in order to repair his knee.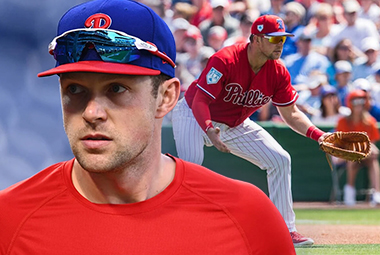 The Injury
The Philadelphia Phillies big bat, first - baseman / outfielder for the Philadelphia Phillies in Hoskins had to be carted off of the playing field last Thursday after a non - contact injury that he endured to his left knee.
The injury on Hoskins occurred the injury while trying to field a ground ball that made it to the shallow part of right - field during the 2nd - inning of the Philadelphia Phillies' spring training game versus the Detroit Tigers last Thursday afternoon. Hoskins was evaluated by the Philadelphia Phillies' medical staff, and prior to Rhys leaving the ball field on a cart, the emergency medical trainers had a good feeling that this injury was serious.
Media Statements
The Philadelphia Phillies manager, Rob Thomson, explained to the NBC Sports Philadelphia media outlet during a recent broadcast that the injury involving Hoskins was, "concerning," but Thomson explained that he had been told that Rhys was walking around the clubhouse under his own power which is a good indication.
"He's had some knee issues in the past," the Philadelphia Phillies manager, Rob Thomson, proclaimed. "Maybe it was more fear than pain. They said he was walking around in the clubhouse afterwards."
Rhys Hoskins
The now 30 - year - old Hoskins, as he hit for an average of .246 to go along with his 30 - home runs as well as 79 - RBIs during last year's 2022 Major League Baseball season. Rhys also managed to knock 6 - 2022 MLB postseason home runs during Philadelphia Philadelphia's improbable run to the 2022 MLB World Series last season that also included 4 - home runs throughout the National League Championship Series during last year's MLB playoffs.
Rhys is scheduled to become an MLB unrestricted free agent at the conclusion of the 2023 big - league season. The Philadelphia Phillies unfortunately eventually lost to the Houston Astros in the 2023 World Series last year, and Hoskins was a major reason that the Philadelphia Phillies even made it to the World Series last fall.
Recent Injuries for the Philadelphia Phillies
This current injury for Hoskins was another blow for the Philadelphia Phillies, who will have to adjust playing without their great and young top pitching prospect in Andrew Painter for another several weeks due to a sprained ligament in his right elbow. Also, the superstar slugger Bryce Harper is not expected to return to the Philadelphia Phillies big - league roster until approximately sometime around the Major League Baseball All - Star break following him having to undergo Tommy John surgery last November of 2022.
Sources:
"Rhys Hoskins carted off field in Phillies game with knee injury", espn.com, March 23, 2023.
"Rhys Hoskins suffers torn ACL in Phillies' spring game", espn.com, March 23, 2023.
"Rhys Hoskins", baseball-reference.com, March 23, 2023.
Posted by
DavidGreen