Introduction
On Monday, June 3rd, 2019, the Philadelphia Phillies' all star center fielder, Andrew McCutchen, injured his left knee during a rundown in the first inning of the ball game against the San Diego Padres. An MRI the following day revealed that the 32-year-old tore his ACL and will require season ending surgery to repair his knee.
On December 12th, 2018, McCutchen signed a three-year $50 million contract with the Philadelphia Phillies. Prior to the injury, he carried a batting average of .256, 10 home runs, and 29 runs batted in on 219 official at bats. He was leading the National League with 43 walks as well. His ball club will miss his productivity out of the lead off spot in the line up, his presence in center field, and his leadership in the locker room.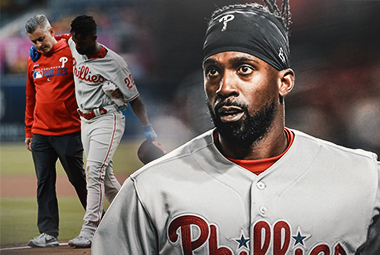 Superstar Caliber Player
Throughout his time playing professional baseball, McCutchen has a nice list of career accomplishments and awards for his outstanding MLB production. He is a five-time Major League Baseball all star (2011, 2012, 2013, 2014, 2015). In 2013, the center fielder won the National League Most Valuable Player (MVP) award.
He is a four-time Silver Slugger Award winner (2012, 2013, 2014, 2015) and won the Gold Glove Award in 2012 as well as the Roberto Clemente Award in 2015. Although most of these awards came several years ago, he was having a good year with the Philadelphia Phillies this season, and will be missed.
Player and Coach Reactions
"It's not the news I wanted to hear," said McCutchen last Tuesday.
"I just need to take the steps I need to take to get myself back and ready for next year," he added.
"It's really disappointing. Andrew has not just been a catalyst at the top of the lineup but also in our clubhouse," said Gabe Kapler.
"Even at the outset of the season when he wasn't as productive as he has been recently, he was still a really good baseball player for us. He got on base consistently and did the job of seeing pitches and setting the tone for the rest of the lineup. He's a weapon for us because he can play center field and left field, is a very aggressive baserunner and through the entire season he has unquestionably been one of our better players. So it is a loss."
"It's an opportunity for Adam Haseley to show us how ready he is to help us and we think he is ready. It's an opportunity for Jay Bruce to get regular reps. We think he is very well equipped to helping us win right now," explains Kapler.
"Adam is going to have a chance to play regularly. He's proven at the minor league level he is ready for this. It's not a finished product there, is still work to be done. (Bryce Harper) is not an option in center field."
"As for who would take over the top spot in lineup," Kapler continued, "We are going to let this sink in a little bit. We have some options."
"Bryce Harper has hit leadoff in the past, Cesar Hernandez has been a very successful leadoff hitter in the past and Scott (Kingery) has been so good that he should be a consideration against some pitching as well."
"Right when I did it I knew something wasn't right," McCutchen added. "But I tried to stay optimistic through it because there were some things that were similar when I had done it before, but there were some things that weren't. One being swelling, the other being able to walk off the field with a little bit of help, but not much."
"So I was optimistic with that. But I also knew there was a chance it could be something more," he said, "anticipation is always the hardest thing. Now that I got the news today I can be a little more at peace about it."
Sources:
"Phillies' McCutchen has torn ACL, out for season", espn.com, June 4, 2019.
"Andrew McCutchen #22", mlb.com, June 4, 2019.
Posted by
DavidGreen