Introduction
On Monday, November 14th, 2022 the Chicago Cubs announced that they are releasing their veteran defensive superstar outfielder Jason Heyward during the current 2022 - 2023 MLB offseason. Throughout Heyward's big - league baseball career he has won a World Series as well as 5 - Gold Glove Awards.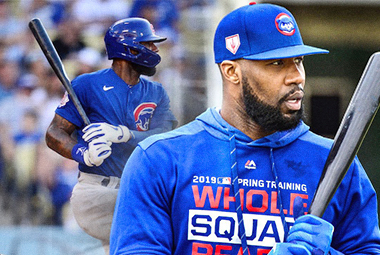 The Chicago Cubs Rebuilding Phase
This move for the Chicago Cubs front office was a long time coming. Heyward was a great leader and defensive specialist for several years with the Chicago Cubs, but it is obvious that Heyward is not part of the Chicago Cubs current rebuilding for the future process that they are engulfed in at the moment. Plus, he never really could produce at the plate the way in which the Chicago Cubs had hoped when they signed Jason to an 8 - year $184 million contract back on December 15th, 2015.
Releasing Heyward will free up a lot of money they were spending on his contract in order to make room for the Chicago Cubs to acquire young and exciting MLB players in the hopes that the north - siders can turn things around in the windy city.
The Chicago Cubs President of Baseball Operations, Jed Hoyer, had said way back last August that Heyward would not be returning to the Chicago Cubs for the 2023 MLB season. I assume that due to his contract they were no interested suitors around Major League Baseball that would want to trade for Heyward so the Chicago Cubs decided just to simply release him.
Jason Heyward
The now 33 - year - old Heyward had just 1 - MLB season remaining on his $184 million, 8 - year deal that Jason signed with the Chicago Cubs prior to the 2016 Major League Baseball season. Heyward batted for an average of .245 with 62 - home runs over the 7 - seasons that he played with the Chicago Cubs.
Jason was well known around the north - side of Chicago for famously rallying his teammates with an inspirational speech during a rain delay in Game - 7 of the 2016 MLB World Series which was played in Cleveland, Ohio against the Cleveland Indians. The Chicago Cubs went on to win 8 to 7 in that decisive World Series Game - 7 in 10 innings which ended a championship drought that dated way back to the year of 1908.
He did not have a great year last season as he hit a dismal .204 with just 1 - home run and 10 - RBIs over the course of his 137 - at - bats. Heyward was dealing with right knee inflammation over the past year or so, and he did not play anymore after June 24th, 2022.
Baseball Career Achievements, Honors, & Awards
MLB All - Star https://wizardofvegas.com/articles/al-wins-2022-mlb-all-star-game/ Selection (2010)
World Series Champion (2016)
5 - Time Gold Glove Award Winner (2012, 2014, 2015, 2016, 2017)
Wilson Defensive Player of the Year Award Winner (2014)
3 - Time Fielding Bible Award Winner (2012, 2014, 2015)
Sources:
"Cubs release five - time Gold Glove outfielder Jason Heyward", espn.com, Monday, November 14, 2022.
"Jason Heyward", baseball-reference.com, Thursday, November 17, 2022.
Posted by
DavidGreen