Introduction
On Sunday, October 31st, 2021 the New Orleans Saints' veteran starting quarterback, Jameis Winston, suffered a severe knee injury during their game against the Tampa Bay Buccaneers. The New Orleans Saints ended up winning that game vs. the Tampa Bay Buccaneers with a final score of 36 to 27.
Throughout approximately the first half of the 2021 – 2022 NFL regular season the New Orleans Saints have compiled an overall record of 5 and 2 in their first seven games so far this year. The Tampa Bay Buccaneers dropped down to 6 and 2 on the season following this tough loss for them against a very good NFC divisional opponent in the New Orleans Saints. Presently the New Orleans Saints are sitting in 2nd place in the NFC South division right behind the Tampa Bay Buccaneers, and they are in front of the 3rd place Carolina Panthers as well as the 4th place Atlanta Falcons.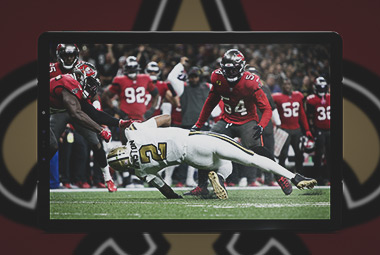 The Injury to Jameis Winston
Winston endured the injury to his left knee on a play involving a scramble early on in the 2nd quarter of their game last Sunday when Jameis was aggressively pulled down from behind on an illegal horse collar tackle by the former LSU star and NFL Pro Bowl caliber linebacker, Devin White, who was flagged on the play for the horse collar penalty.
An MRI revealed that the New Orleans Saints standout controversial veteran starting quarterback, Winston, suffered a torn ACL and he also has some other damage to his MCL as well. This severe knee injury will obviously require surgery to repair all of the internal damage to Winston's left knee, and Jameis will definitely have to miss the remainder of the 2021 – 2022 season of the National Football League.
Prior to his devastating injury to his left knee knocking Winston out of the football game, Jameis looked absolutely determined to do whatever it took for his football team to secure a victory against their newly aggravated divisional rivalry with the Tampa Bay Buccaneers. Winston threw for 56 - passing yards as well as tossing a 14 - yard touchdown pass to his wide receiver Tre'Quan Smith.
He also was able to avoid defenders by scrambling for 40 - rushing yards just before he was hurt during the second quarter of play last weekend. The head coach of the New Orleans Saints, Sean Payton, proudly honored Winston after the football game by giving him the honorary game ball which he definitely deserved for his performance versus the Tampa Bay Buccaneers on the past Sunday afternoon.
Replacing Jameis Winston at the Starting Quarterback Position
Winston's back – up quarterback for last week's game was Trevor Siemian. Trevor did one hell of a great job filling in for the injured star QB, and Siemian helped finish what Jameis had started by leading the New Orleans Saints to a solid and impressive victory vs. the Super Bowl LV champion Tampa Bay Buccaneers on Sunday, October 31st, 2021.
Siemian is presently 13 and 12 overall as a starter in the National Football League throughout his 7 – season NFL career. Trevor has not won an NFL game since 2017 when he was playing with the Denver Broncos of the AFC West division so this win had to feel mighty good for him. When Siemian entered with the contest the game was tied 7 to 7, and Trevor finished it by completed 16 of his 29 total passes which was good for 159 – passing yards as well as 1 touchdown and no turnovers whatsoever.
The 31 – year – old Taysom Hill would be the most likely be Coach Payton's best option to replace Jameis Winston for their upcoming road game match – up against the Atlanta Falcons and possibly for rest of the 2021 – 2022 NFL season as well assuming that Hill is healthy. Although, Taysom has been sidelined after suffering a concussion during the New Orleans Saints' week 5 win against the Washington Football Team. Hill is a great utility player for the Saints as he can line up pretty much anywhere on the field for the New Orleans' offensive and make nice productive plays.
My guess is that both Hill and Siemian will continue to get playing time throughout the rest of the 2021 – 2022 NFL season as long as both of those players remain healthy. Payton definitely knows how to utilize both of their styles of play at the quarterback position and they will be used differently in different match – ups as they both get chances to help the New Orleans Saints win and hopefully for them make a deep NFL postseason run as well.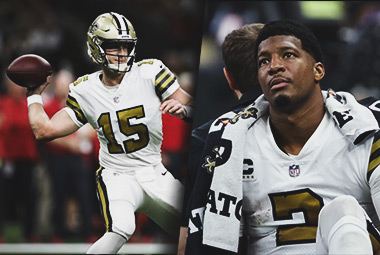 Media Statements
"He's doing well. He's progressing. He's on schedule. And all that's good," the New Orleans Saints' head coach Sean Payton said of QB Taysom Hill's recovery. "We're gonna look closely at what's best for our team in this game. And as the week progresses, we'll see how we want to play it out. And we'll be ready to play Sunday. We'll grind away at the plan, pay attention to the information we're getting from the training room, all of that, and be ready to go."
Payton goes on to discuss Trevor Siemian by stating, "Man, he did a good job. There were a number of plays where he's got a free rusher and he gets the ball out on time. I thought he played with poise and made good decisions. It's what you want someone to do that's coming into the game really without a lot of work, and I thought he handled the situation well. The tape was good for him."
"We definitely were encouraged (by Winston's performance this season). We felt like, man, we've seen the arm strength, the leadership, all those things. We talk about all the time, 'They're gonna evaluate you on your record.' And, shoot, he was 4 - 2. It wasn't always perfect, but absolutely (we were getting what we hoped). Someone that had become a vital part to what we were doing. I don't think that happens on grass. I know right now the data says a player is 28 % more likely to have a player injured when we play on artificial surfaces, and I think this was one of those cases," Payton expressed.
Jameis Winston's Football Career Achievements, Honors, & Awards
NFL
NFL Pro Bowl Selection (2015)
NFL Passing Yards Leader (2019)
PFWA All - Rookie Team (2015)
Pepsi NFL Rookie of the Year (2015)
NCAA - College Football
BCS National Champion (2013)
Heisman Trophy Award (2013)
Walter Camp Award (2013)
Manning Award (2013)
Davey O'Brien Award (2013)
AP College Player of the Year (2013)
Sporting News College Player of the Year (2013)
ACC Athlete of the Year (2014)
ACC Player of the Year (2013)
ACC Rookie of the Year (2013)
ACC Offensive Rookie of the Year (2013)
Consensus All - American (2013)
USA Today High School All - American (2011)
Sources:
"New Orleans Saints quarterback Jameis Winston has torn ACL, head coach Sean Payton confirms", Mike Triplett, espn.com, November 1, 2021.
"Sean Payton fears New Orleans Saints QB Jameis Winston suffered 'significant' knee injury", Mike Triplett, espn.com, October 31, 2021.
"Saints overcome Winston injury, top Buccaneers 36 - 27", espn.com, October 31, 2021.
"Jameis Winston", pro-football-reference.com, November 3, 2021.
"NFL Standings 2021", espn.com, November 3, 2021.
Posted by
DavidGreen