Introduction
On Sunday, October 10th, 2021 the Kansas City Chiefs highly – competitive and young starting running back, Clyde Edwards – Helaire, sprained the MCL in his left knee during a heavily contested match – up against the Buffalo Bills. According to sources, Edwards - Helaire will be out of the Kansas City Chiefs' line - up for at least "a few weeks" while he allows his sprained left knee to heal and recover from this recently sustained injury last Sunday. At the moment Clyde is the Kansas City Chiefs' leading rusher with 304 rushing yards through the first 5 games this year.
The Buffalo Bills ended up eventually spanking the Kansas City Chiefs on that nationally televised Sunday Night Football Game from Arrowhead Stadium located in Kansas City, Missouri with a final score of 38 to 20 in favor of the AFC dominating Buffalo Bills. To add insult to injury, the Kansas City Chiefs also witnessed their superstar speed – demon wide receiver, Tyreek Hill, suffer what seems to be a minor knee injury during this SNF game as well. Although Hill is not expected to miss any NFL game time due this minor knee injury that he endured in week 5, this does seem to result in the Kansas City Chiefs' stock plummeting quite a bit.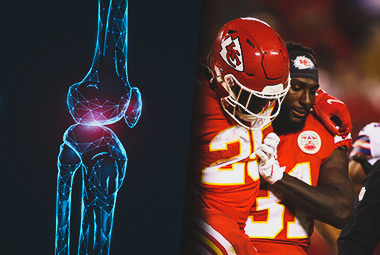 The Injury to Clyde Edwards - Helaire
The heavily - sprained left MCL that Clyde suffered, occurred during last Sunday night's game vs. the Buffalo Bills when his Kansas City Chiefs needed him most. Edwards - Helaire had to be helped off of the turf by his teammates following a nasty tackle that he endured on a screen pass with just 8 minutes and 8 seconds left in the 3 in the third quarter. He was forced to finish the game with just 13 - yards on 7 rushes and 1 catch for 11 - yards after back - to - back 100 - yard rushing performances. The Kansas City Chiefs were already down big to the Buffalo Bills when this injury happened, and this latest set – back seems to summarize the Kansas City Chiefs' 2021 – 2022 NFL regular season so far this year.
Sunday night's loss to the Buffalo Bills dropped the Kansas City Chiefs to a pathetic (for them) overall record of 2 and 3 on the young season 2021 – 2022 season of the National Football League. Currently the Kansas City Chiefs are in last place in their AFC West division, and they are obviously not playing up to their Super Bowl Standards as of now. The Kansas City Chiefs' starting franchise quarterback, Patrick Mahomes, will be the first person to tell you that the Chiefs need to make some adjustments and start playing higher – quality football if they want to turn this season around before it is too late.
Replacing Clyde Edwards – Helaire at the Running Back Position
Although it is very difficult to replace a star skill position player on an NFL roster, the Kansas City Chiefs will be looking to replace Clyde Edwards – Helaire with their veterans running backs Darrel Williams and Jerick McKinnon who are presently the Kansas City Chiefs back – up running backs this season. Williams has previously rushed for 99 - yards and 2 touchdowns as well as catching 7 passes good for a total of 45 – yards so far this year.
Jerick McKinnon has just 1 carry for 2 - yards and 3 receptions for only 27 - yards. Hopefully for the Kansas City Chiefs McKinnon and Williams will step up in the absence of Edwards – Helaire over the course of the upcoming few weeks as it is a long and grueling now 17 – game NFL regular season, and a lot can change in terms of the standings in a short period of time.
Football Career Achievement, Honors, and Awards
The highly – talented and powerful running back that played for the Louisiana State University Tigers during his 3 – years of NCAA college football as well as his 2 – year campaign in the National Football League with the Kansas City Chiefs has racked up some impressive numbers anytime he was given the chance to run the rock. Edwards – Helaire's football career achievements, honors, and awards include becoming a College Football Playoff champion with LSU back in 2019, and being named to the First - Team All - SEC back in 2019 as well. Clyde has also quickly gained the respect and honor of a solid and successful veteran NFL team, such as the Kansas City Chiefs, who have named Edwards – Helaire as their primary starting running back within his first year or so of playing pro ball in the National Football League.
Sources:
"MCL sprain to sideline Kansas City Chiefs RB Clyde Edwards-Helaire 'a few weeks,' source says", Adam Teicher, espn.com, October 11, 2021.
"Allen, Bills beat Chiefs 38-20 in AFC title game rematch", espn.com, October 11, 2021.
"Clyde Edwards - Helaire", pro-football-reference.com, October 11, 2021.
Posted by
DavidGreen