Introduction
On Tuesday, April 11th, 2023 the Chicago White Sox announced that their sweet swinging star shortstop, Tim Anderson, will have to sit out and miss approximately 2 to 4 - weeks due to a left knee sprain. Although this is an unfortunate injury for the Chicago White Sox who have started the 2023 MLB season with a rough record of 5 and 8, but at least the injury to Tim Anderson is not severe and it is very early on in the season.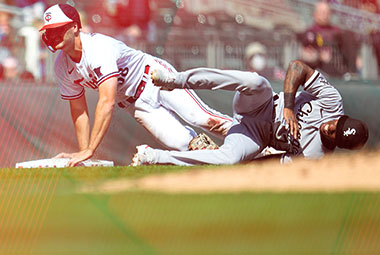 The Injury
Tim endured this minor injury during a collision close to 3rd - base on last Monday's Chicago White Sox win over the Minnesota Twins. The 2 - time MLB All - Star representative was playing the field when the injury occurred as he was trying to tag out the Minnesota Twins baserunner, Matt Wallner, who just so happened to slide into Anderson's legs while attempting to make it safe into 3rd - base safe.
Tim went down for several minutes before finally getting back up, and he ultimately stayed in the game at that point. Eventually Anderson was replaced at short stop during the following inning by Romy González.
Replacement for Tim Anderson
The Chicago White Sox wisely decided to place Anderson on the 10 - day injured list (IL) on Tuesday, April 11th, 2023, and the Chicago White Sox called up their infielder, Lenyn Sosa, from their Triple - A Charlotte affiliate in a corresponding move to take the place of Anderson while he recovers from his sprained left knee.
It is tough to replace such an outstanding ball player and one of the Chicago White Sox captains / team leaders, but luckily for Anderson and the Chicago White Sox he should only be out of their starting line - up for around 3 - weeks.
The 29 - year - old Anderson, was presently carrying a batting average of .298 while he played in every game so far during the young 2023 Major League Baseball season. Just about a month ago, Tim was a participant of the star - loaded roster for Team U. S. A., who managed to finish in 2nd - place in the 2023 World Baseball Classic.
Anderson's Baseball Career Achievements, Honors, & Awards
2 - Time MLB All - Star Selection (2021, 2022)
Silver Slugger Award Winner (2020)
American League Batting Champion (2019)
Sources:
"White Sox star Tim Anderson out 2 - 4 weeks with knee sprain", espn.com, April 11, 2023.
"Tim Anderson", baseball-reference.com, April 13, 2023.
Posted by
DavidGreen