Introduction
On Monday, February 8th, 2021 the legendary head coach of the Cleveland Browns, the Kansas City Chiefs, the Washington Redskins, and the San Diego Chargers, Marty Schottenheimer, has passed away at the age of 77 years old. He also played in the National Football League from 1965 to 1970 for both the Buffalo Bills and the Boston Patriots.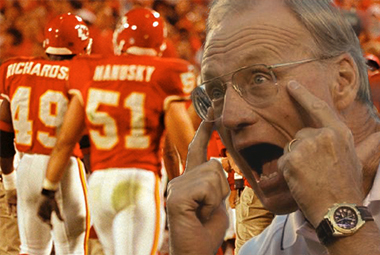 Schottenheimer peacefully passed away last Monday night in Charlotte, North Carolina according to his family and a former Kansas City Chiefs publicist, Bob Moore. Back in 2014 Marty was diagnosed with Alzheimer's disease. He was transitioned to a hospice on Saturday, January 30th, 2021.
The Brand of Football he Endorsed
The historic as well as successful head coach of the Browns, Chiefs, Redskins, and Chargers had instilled a particular brand of football which became known as "Martyball." This conservative style of play could be summarized as smashmouth football which consisted of a physical attack of a robust running game and a rough and tough solid defense. Schottenheimer consistently used the mantra of "One play at a time" in which he would be known to yell at his players prior to the initial kickoff of the game in their team huddle.
Coaching Record and Win Percentages
Marty is currently the eighth winningest head coach of all time in the National Football League. He was able to rack up an astonishing 200 career NFL regular season wins and 5 career NFL playoff victories. He lost 126 career NFL regular season games as well as recording 1 tie, and Schottenheimer unfortunately lost 13 career NFL postseason games. His win percentage for regular season games was .613 while his win percentage for playoff games was .278. His overall career win percentage including both regular season and postseason games came out to .596.
List of NFL Head Coaches with 200 Career Regular Season Wins
| COACH | WINS |
| --- | --- |
| Don Shula * | 328 |
| George Halas * | 318 |
| Bill Belichick | 280 |
| Tom Landry * | 250 |
| Curly Lambeau * | 226 |
| Andy Reid | 221 |
| Marty Schottenheimer | 200 |
* Denotes Pro Football Hall of Famer
So Close to Super Bowl Berth
Coach Schottenheimer has come extremely close to making it to a Super Bowl appearance on multiple occasions. Throughout the course of his head coaching career in the National Football League Marty's teams have made the NFL playoffs 13 times, they have won their division 8 times, and they have gotten all the way to the elusive AFC Championship game 3 times. Sadly, two of those three AFC title match ups have resulted in devastating loses for Schottenheimer and his Cleveland Browns' teams that he was in charge of in the mid to late 1980's.
"The Drive"
John Elway led his Denver Broncos down the field 98 yards in 15 plays against Schottenheimer's Cleveland Browns in order to tie the game on a 5 yard touchdown pass to Mark Jackson with only 37 seconds of game time remaining in regulation at the tail end of the 1986 AFC Championship game. The Denver Broncos ended up winning this highly contested NFL playoff game in overtime on a 33 yard field goal by Rich Karlis. This game became known as simply "The Drive". The Denver Broncos then advanced to Super Bowl XXI only to lose to the New York Giants with a final score of 39 to 20.
"The Fumble"
The following NFL season in the 1987 AFC title game featuring Marty's Cleveland Browns against the Denver Broncos once again came down to the wire, but this time from Mile High Stadium located in Denver, Colorado. This huge game with Super Bowl implications became known as "The Fumble" due to the fact that the Brown's running back Earnest Byner fumbled the football on the Denver Broncos' own 3 yard line with just one minute and 12 seconds left in the game.
At that time the Cleveland Browns were trailing the Denver Broncos 38 to 31. The Broncos took an intentional safety and held on to win this hard fought battle 38 to 33. The Denver Broncos then went on to play in Super Bowl XXII, and they got crushed again this time by the Washington Redskins. The final score of Super Bowl XXII ended up being 42 to 10 in favor of the Washington Redskins led by quarterback Doug Williams who ended up winning the Super Bowl XXII Most Valuable Player Award.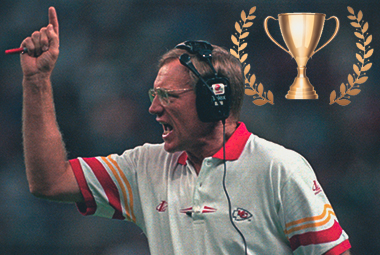 Schottenheimer's NFL Career History
As a player Marty played as a linebacker for the Buffalo Bills from 1965 to 1968. He then moved on to play linebacker for the Boston Patriots from 1969 to 1970. Schottenheimer retired from playing in the National Football League in 1971. He then moved on to the coaching phase of his NFL career in the mid 1970's.
The New York Giants hired Schottenheimer as their linebackers coach from 1975 to 1976. The New York Giants eventually promoted him to their defensive coordinator in 1977. From 1978 to 1979 Marty was the linebackers coach for the Detroit Lions. After his time in Detroit the Cleveland Browns hired Schottenheimer to be their defensive coordinator from 1980 to 1984, and then he was promoted to his first head coaching job in the NFL with the Cleveland Browns where he lasted from 1984 to 1988.
The Kansas City Chiefs brought in Schottenheimer to be their head coach from 1989 to 1998. In 2001 Marty was hired as the head coach of the Washington Redskins for just one season. Finally, coach Schottenheimer got his last chance as a head coach with the San Diego Chargers from 2002 to 2006.
Growing up watching football I always remembered Schottenheimer as a fiery coach who brought a lot of toughness and energy to the teams that he coached. His players seemed to really enjoying working hard for him, and they definitely bought in to his system and style of playing football. He was wildly successful during the regular season in the National Football League, but unfortunately for Marty he struggled in the NFL playoffs. Schottenheimer was a coaching legend, and he will be greatly missed by everyone in the professional football community as well as many others throughout the world.
Sources:
"Former NFL coach Marty Schottenheimer, top 10 in all-time wins, dies at 77", espn.com, February 9, 2021.
"Marty Schottenheimer", wikipedia.org, February 9, 2021.
Posted by
DavidGreen