Introduction
The Kansas City Chiefs' superstar offensive threat, Travis Kelce, has become the first tight end in the history of the NFL to record five seasons with at least 1,000 yards. Kelce accomplished this amazing feat on Sunday, December 6th, 2020 during the Kansas City Chiefs' 22 to 16 victory over the Denver Broncos. Travis ended up finishing this game with eight receptions totaling 136 receiving yards as well as a touchdown.
The NFL record was broken in the second quarter of the Kansas City Chiefs' last game against the Denver Broncos when Patrick Mahomes hit one of his favorite targets in Kelce with a 19-yard pass putting him over 1,000 yards for the 2020 – 2021 NFL season. This marks his fifth season in which he has racked up over 1,000 receiving yards. Previously Travis was tied at four seasons of 1,000 plus yards with some of the NFL's greatest tight ends of all time such as Tony Gonzalez, Rob Gronkowski, and Jason Witten.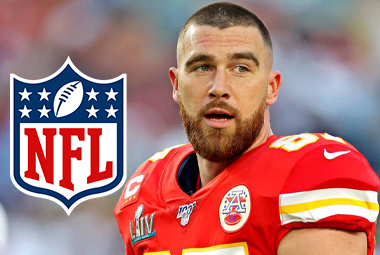 Football Background
Kelce was born in Westlake, Ohio, and he attended Cleveland Heights High School located in Cleveland Heights, Ohio where he excelled as a three sport athlete playing football, basketball, and baseball. At this point Travis was the high school football team's quarterback, and he played the position exceptionally well.
The two-star recruit decided to accept a scholarship from the University of Cincinnati over his other options including the University of Akron, Eastern Michigan University, and Miami of Ohio University. At Cincinnati he played both quarterback out of the wildcat formation as well as tight end for the Bearcats. During his three seasons of college football Kelce played in 35 games where he caught 59 passes for 875 yards and 10 touchdowns. Travis was named to the First Team All Big East in 2012, and he was honored as the winner of the College Football Performance Awards Tight End of the Year.
Professional Football Career
The superstar tight end was selected by the Kansas City Chiefs with the 63rd overall pick in the third round of the 2013 NFL draft. Throughout his time playing in the National Football League Travis has pulled in 589 receptions for 7,579 yards, and he has caught 45 touchdown passes in the regular season. In the NFL playoffs Kelce has grabbed 52 passes for 632 yards as well as recording 6 important touchdowns.
Travis is a Super Bowl champion (LIV), and he is a five-time NFL Pro Bowl selection (2015, 2016, 2017, 2018, 2019). Kelce was named to the NFL's First Team All Pro four times (2016, 2017, 2018, 2019). He was also honored by making the NFL 2010's All Decade Team too. This past NFL offseason Kelce inked a four year $57.25 million contract extension including $28 million of guaranteed money. He will continue to be one of the best tight ends in NFL over the course of his illustrious professional football career, and he will most likely win more Super Bowls as he strives to go down as one of the best NFL tight ends of all time.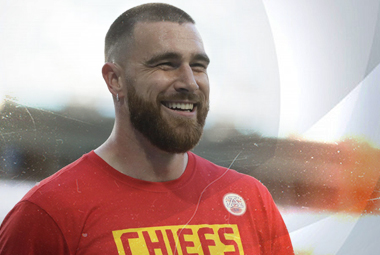 Media Statements
"It's something cool to hang your hat on when the career is over, I would assume," Travis Kelce explained. "Right now, I'm just focused on the task at hand. Gonna enjoy this one for a night with the family. Then, from there, just focus on Miami."
"That's quite an accomplishment. Nobody enjoys a game or works harder than Kelce, so it's great to see this happen to him, and he loves playing the game," says the Kansas City Chiefs head coach Andy Reid. "Those kind of guys, you love to coach, and we're blessed to have a few of those that love the game. I'm proud of Kelce for the time and effort he puts in."
"He and [Mahomes] have a great relationship, and that's important to get these kind of things done," Reid exclaimed. "Every QB needs a go-to guy, and ours is fortunate to have a couple, but [No.] 87 is a big one for him."
Sources:
"Kansas City Chiefs' Travis Kelce first TE with five 1,000-yard seasons", Adam Teicher, espn.com, December 6, 2020.
"Travis Kelce", pro-football-reference.com, December 7, 2020.
"Kansas City Chiefs Franchise Encyclopedia", pro-football-reference.com, December 7, 2020.
Posted by
DavidGreen