Introduction
On Friday, July 1st, 2022 the Chicago Bulls and their superstar shooting guard / small forward, Zach LaVine, agree to terms on a new 5 - year max contract extension worth up to approximately $215 million.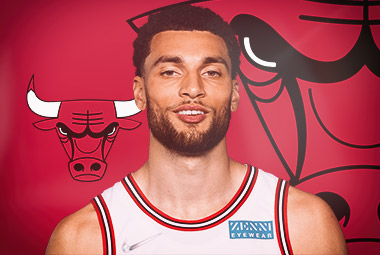 Contract Details
LaVine's new 5 - year max contract extension with the Chicago Bulls is valued at around $215,159,700 includes the $215,159,700 in total guaranteed money, and Zach will now average $43,031,940 per season of the National Basketball Association through the 2026 - 2027 NBA season. LaVine will once again become an unrestricted free agent in 2027 when at that point he will be 32 years old.
Zach LaVine's Basketball Background
The now 6 foot, 5 inch and 200-pound shooting guard / small forward playing in the National Basketball Association was originally from the suburbs of Seattle, Washington as he was born in Renton, WA. Zach attended Bothell High School which is in Bothell, Washington. LaVine committed to and ultimately enrolled at the University of California Los Angeles (UCLA) to play basketball for the Bruins.
Following LaVine's freshman year of the 2013 - 2014 NCAA men's college basketball season he was already demonstrating his ability to play basketball professionally. Zach ended up being a one and done college basketball player as he decided to forego his last three years of eligibility, and eventually he declared for the 2014 NBA draft after playing his freshman year of collegiate ball at UCLA with the Bruins.
Professional Basketball Career
LaVine was selected by the Minnesota Timberwolves with the 13th overall pick in the first round of the 2014 NBA draft. Zach played on a horrible team in Minnesota with the Timberwolves from 2014 to 2017.
On June 22nd, 2017 LaVine was traded from the Minnesota Timberwolves along with Kris Dunn as well as the rights to Lauri Markkanen who was the 7th - overall selection in the 2017 NBA draft, to the Chicago Bulls in exchange for NBA All - Star Jimmy Butler and the rights to Justin Patton who was the 16th - overall drafted player in the 2017 NBA draft.
Zach has now played with the Chicago Bulls from 2017 up until the present, and he has developed in to one of the NBA's premier scorers who can get buckets in a variety of different ways. He is an outstanding shooter as he pops and drains a lot of three - point shots, and he has the high - flying ability to drive and take the ball hard to hole.
Over the course of LaVine's 8 - year career in the National Basketball Association he has averaged 19.8 points per game, 3.9 rebounds per game, 3.9 assists per game, 0.9 steals per game, and 0.3 blocks per game. Look for him to increase those career statistics over the upcoming several season of playing pro ball in the NBA as he can really light up the score board these days especially now that he has developed quite the deadly 3 - point shot to his arsenal.
As long as Zach LaVine can manage to stay healthy, he is one of the best scoring threats in the NBA, and with the help of the Chicago Bulls other best player in DeMar DeRozan the Bulls can hopefully turn their franchise back into a winning organization who can contend for an NBA title. At the moment they are just a player or two away from being dangerous once again.
Zach LaVine's Basketball Career Achievements, Honors, & Awards
2 - Time NBA All - Star Selection (2021, 2022)
NBA All - Rookie Second Team (2015)
2 - Time NBA Slam Dunk Contest Champion (2015, 2016)
Pac - 12 All - Freshman Team (2014)
First - Team Parade All - American (2013)
Associated Press Washington Player of the Year (2013)
Washington Mr. Basketball (2013)
Sources:
"Chicago Bulls, Zach LaVine agree to 5 - year, $215M max contract extension", espn.com, July 1, 2022.
"Zach LaVine", basketball-reference.com, July 3, 2022.
"Zach LaVine", spotrac.com, July 3, 2022.
Posted by
DavidGreen