Introduction
The Mirage is an MGM property located on the west side of the Las Vegas Strip, near Treasure Island. It is a fun and upscale casino that seems to be geared towards wealthy young people.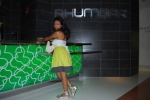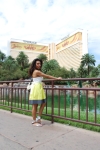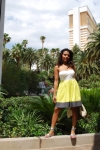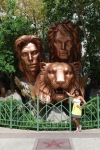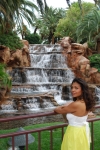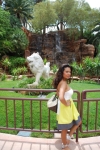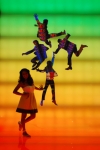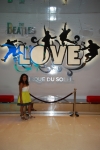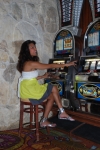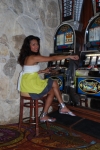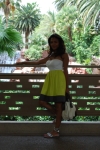 Casino
According to the Nevada Gaming Control Board,the Mirage has 111 table games and approximately 2,000 slot machines.
Blackjack
According to the According to the Current Blackjack Newsletter, the Mirage has 6 tables of 6:5 "blackjack" and 53 tables of 3:2 blackjack ranging from 2 to 8 decks, with minimum bets of $5 or $25 (though some may be higher during weekends).
Roulette
Both double-zero and single-zero wheels are available at the Mirage.
Craps
The craps tables at Mirage offer 3-4-5x odds, full-pay hop bets (15:1 and 30:1), and full-pay field bets (3:1 for 12).
Other Table Games
Here are some of the other table games available at Mirage:
Baccarat
Mini-Baccarat
Let It Ride
Pai Gow
Pai Gow Poker
Three Card Poker
Ultimate Texas Hold'em
Pai Gow, Pai Gow Poker, and Baccarat can all be found in the Baccarat Lounge, which is located across from the high limit slots area.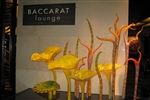 Video Poker
According to vpFREE2, the best video poker games at Mirage are:
9/6 Jacks or Better (99.54%)
9/4/4 Bonus Deuces Wild (99.45%)
8/5 Bonus Poker (99.17%)
9/7/5 Double Bonus (99.11%)
There are 37 machines with 9/6 Jacks, some for denominations as low as $2. Most other games are for $5 and higher. The games are scattered in and around the high limit room, the high limit bar, and near the players club.
Slot tickets expire after a paltry 30 days.
Sports Book
The sports book has 59 non-smoking cubicles. Its lounge has two levels - 20 seats on the main floor and 45 on the raised floor. There are 20 medium-sized screens, 1 large, and 1 huge. Race and sports tickets expire after 120 days.
Poker
The poker room at Mirage has about 25 tables (all non-smoking). The rake is 10% of each pot up to $4 for most games, although the rake structure varies depending on the stakes being played.
Player's Club / Cashier
Both the player's club and the cashier have free-for-all (McDonald's-style) lines.
The Mirage is part of the MGM/Mirage Player's Club which serves most MGM-owned properties. After playing Pai Gow with an average bet of $50 for about 6 hours, one night of my two-night stay was comped when I asked upon checkout.
Hotel Room
My hotel room at Mirage was spacious, but the bathroom seemed disproportionately small. It had a shower/tub combo, unlike Mandalay Bay. The dimensions of the room were 13' by 27'. A large flat-screen TV and mini-bar were available.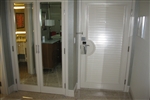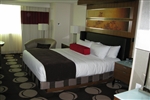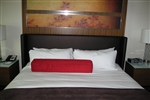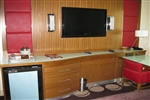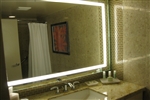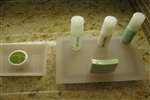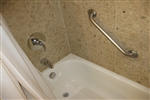 Pool
The regular pool at the Mirage is large and features waterfalls and other scenery. There is also a European pool called Bare for topless sunbathing and swimming.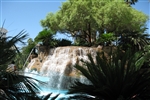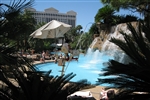 Food
The buffet is named Cravings, and in my opinion is one of the better buffets in Vegas, both food-wise and cost-wise. It has many food stations that surround the seating areas. The buffet prices were $13.95 for breakfast, $19.99 for lunch, and $24.95 for dinner.
Overview
I really liked the Mirage and all of the sights it has to offer. Some areas have a Beatles theme, such as the box office and Beatles Revolution bar (pictured below). Other areas have a tropical theme. Behind the hotel registration desk is an enormous fish tank with lots of fish of various sizes. You almost feel bad for the fish because they keep running into each other, but it adds a nice touch.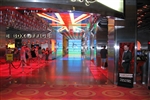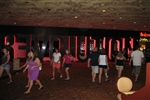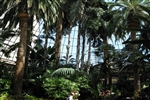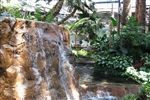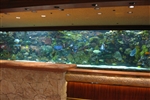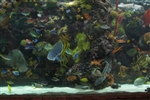 There is a free tram that runs between the Mirage and nearby Treasure Island.
Contact Information
Address: 3400 Las Vegas Blvd. South, Las Vegas, NV 89109
Phone: 702-791-7111
Web site: themirage.com
Links
Acknowledgement
The Wizard would like to thank Karina for her modeling services and J.B. for the review.
Contact Information
Address: 3400 Las Vegas Boulevard South, Las Vegas, NV 89109
Phone: 702-791-7111
Web site: mirage.com
Resort and Parking Fees
| | |
| --- | --- |
| Resort fee | $13.50 |
| Parking fee | Free |
Games at Mirage
| Blackjack | Location | Decks | Min | Max | Soft 17 | DA | DAS | RSA | Surr | Tables | CSM | Party Pit | 6/5 BJ | Video | H. Edge |
| --- | --- | --- | --- | --- | --- | --- | --- | --- | --- | --- | --- | --- | --- | --- | --- |
| Blackjack | Strip | 6 | 5 | 1100 | H | Yes | Yes | No | Yes | 2 | - | No | Even | Yes | 2.82051 |
| Blackjack | Strip | 6 | 10 | 2000 | H | Yes | Yes | No | No | 19 | Yes | No | Yes | No | 1.99842 |
| Blackjack | Strip | 2 | 25 | 10000 | H | Yes | Yes | Yes | No | 4 | No | No | No | No | 0.40374 |
| Blackjack | Strip | 6 | 25 | 5000 | H | Yes | Yes | Yes | Yes | 8 | No | No | No | No | 0.48263 |
| Blackjack | Strip | 2 | 100 | 5000 | S | Yes | Yes | No | No | 4 | No | No | No | No | 0.25532 |
| Blackjack | Strip | 6 | 100 | 5000 | S | Yes | Yes | Yes | Yes | 4 | No | No | No | No | 0.28507 |
| Baccarat | # of Tables | Min Bet | Max Bet |
| --- | --- | --- | --- |
| Baccarat | 10 | 100 | 15000 |
| Craps | # of Tables | Min Bet | Max Bet | Odds | Field12 | Video |
| --- | --- | --- | --- | --- | --- | --- |
| Craps | 6 | 10 | 5000 | 3-4-5 x | Triple | No |
| Craps | 1 | 5 | 500 | 2 x | Double | Yes |
| Roulette | # of Tables | Min Bet | Max Bet | Rules | Video |
| --- | --- | --- | --- | --- | --- |
| Roulette | 6 | 10 | 200 | 00 | No |
| Roulette | 2 | 100 | 1000 | Euro | No |
| Roulette | 1 | 3 | 3000 | 00 | Yes |
| Video Keno | Rank | Avg Return | Grade |
| --- | --- | --- | --- |
| Video Keno | 51 | 89.79% | C- |