Introduction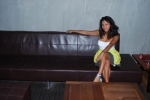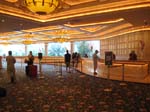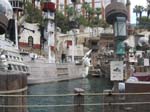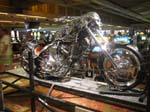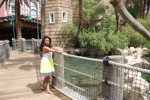 Treasure Island opened in 1993 under the direction of Steve Wynn and his Mirage Resorts and at a cost of $450 million. According to Wikipedia, the original plan was to build a second tower for Wynn's Mirage resort, but the project ultimately evolved into a separate property with its own theme — a pirate theme.
In 2000, Treasure Island, along with Wynn's other Las Vegas Mirage Resorts properties, was sold to MGM, and the conglomerate MGM Mirage was born.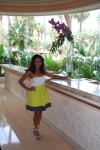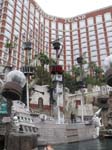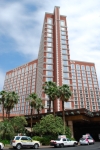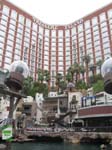 For it's first 10 years, Treasure Island tried to lure in families with their pirate theme. In 2003, though, they turned their attention toward adults. The property was renamed TI, and the well-known skull and crossbones sign at the front entrance was replaced with a more contemporary and flashy design. The pirate battle in Buccaneer Bay (renamed Siren's Cove) was revamped to appeal to adults.
In March 2009, ownership of Treasure Island/TI once again changed hands. Phil Ruffin, who had previously owned The New Frontier and ended up selling that property to Donald Trump, bought the resort for $775 million. I stayed at TI in July 2009, and while the MGM Mirage sale to K Hotels and Ruffin was complete, the switchover wasn't quite done.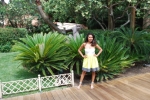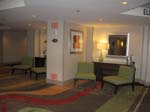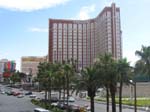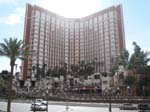 Gambling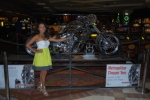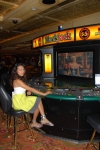 According to the K Resorts page on Treasure Island, the 95,000 square foot casino boasts 2,158 slot and video poker machines, along with an array of table games: blackjack, craps, baccarat, roulette, pai gow poker, Caribbean Stud, Casino War, Spanish 21, Three Card Poker, and Let it Ride.
Poker
The poker room, which is tucked away from the rest of the casino near the self-park and the pool, is pretty small. It is home to 8 nonsmoking tables. I passed by it several times during my stay, and I never saw more than 4 tables in use.
Player's Club
During my July visit to the player club window, I was issued an MGM Mirage player card. I was told they would phase those cards out over the next month or so, and at some point in August Treasure Island would have its own card. Apparently, I'll have to go through the application process again at that time, but my MGM Mirage player card will continue to be good at MGM Mirage properties.
I had to negotiate the Wendy's-style line twice at the player club…once to pick up my card (I filled out an application online) and once to find out why my card wasn't working. My first wait was minimal, less than 5 minutes. I was in line for over 15 minutes the second time, however.
Because I signed up for a card, and because I disclosed my email address, I was given $10 of free play.
Player Club members earn 1 point for every $1.50 played on reel slots and 1 point for every $3.00 played on video poker.
Hotel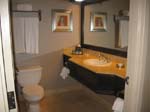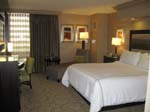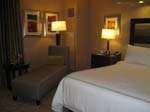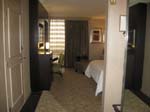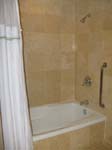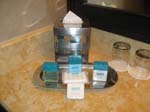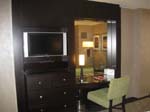 Wikipedia indicates there are 2,665 rooms and 220 suites at Treasure Island. I reserved a non-smoking Deluxe room with one king bed over the Internet at a rate of $99 per night. As of July 1, 2009, Nevada's room tax rate went from 9% to 12%. I stayed on July 2, so I got to pay the higher tax. There were no additional charges, however (i.e. no resort fee like you find at some properties in Vegas). A Deluxe room is described as follows: "Offer floor-to-ceiling windows with various views of Siren's Cove, or sunset over the Spring Mountain range." I was pining for a strip view, which runs another $20 and is described like this: "Located on our higher floors with floor-to-ceiling windows offering breathtaking views of the famed Las Vegas Strip as well as the Tropical Lagoon and the Volcano at The Mirage." I didn't want to spend the $20, though, so I smiled and flirted a little during check-in, and the kind male clerk smiled back and gave me a free upgrade.
Man was that flirting worth it. I have to believe the views from the top floors of Treasure Island's West Wing (I was on the 30th floor) are among the best in Las Vegas for a standard, non-suite room. It's perfectly placed above The Mirage's Lagoon, so there are no tall buildings in your immediate line of sight. Plus, Treasure Island is located right at the bend in Las Vegas Blvd, meaning you can see all the way down the strip (looking south). The view was, in a word, fabulous, and now that I've seen it, it was totally worth the extra $20.
I was pleased with what was inside my room, too. Remodeled recently, TI is aiming for a contemporary elegance in their rooms, and I think they've achieved it. Earth-toned walls, floor coverings and furnishings lend themselves to relaxation, and the marble bathroom has a subtle Zen-quality about it. There is not even a hint of a pirate theme. The room is somewhat on the small side at around 400 square feet. My room had one king bed and a chaise and it felt a little snug but definitely comfortable. I have to believe the rooms with 2 queen beds feel somewhat tighter.
Speaking of beds, I was very happy with mine at TI. They proudly announce on a bedside table card that you'll be experiencing an Elite Sensational pillow top mattress. It, combined with a luxuriously soft set of brilliantly white sheets, a thick, down (I think) comforter and four fluffy king-sized pillows, offered me a wonderful night's sleep. They did the bed right.
Other furnishings in the room included a desk and chair, as well as the aforementioned chaise and a side table and 2 very large bedside tables. There are plenty of drawers to stash your clothes and other belongings. The room was well lit with a combination of in-ceiling canned lights and lamps.
Hanging on the wall in front of the bed was a 32" flat screen TV. A bedside clock radio offered MP3 and iPod docking, and Internet (both wired and wireless) was available in the room. Surfing the Web is going to cost you, however. Two hours comes in at $7.99, four hours runs you $9.99, and 24 hours bills at $14.99. While we're talking extra costs, any local or toll free out-going call with your room phone will run you $2.00 for the first 30 minutes.
The bathroom was moderate in size. It offered a large vanity with a lighted make-up mirror and a tempting soaking tub/shower combo. The water pressure in the shower was nice and strong, which is something I always look for. Another thing I always look for is a hair dryer – I hate lugging mine around when I travel. Panic set in when I didn't spot one in the bathroom. A little exploration, though, lead me to the closet where I found a hair dryer resting on the top shelf. Also in the closet, I found an ironing board, iron, safe and luggage rack.
The lighting in the bathroom was pretty dim, and that turned me off. I would've liked more wattage while I spruced myself up for an evening out. The dimness was very much appreciated, however, when I faced the mirror with bloodshot eyes and bed head the next morning!
The most notable thing NOT in my room was a mini bar. There wasn't a "$5.00-if-you-open-it" bottle of water either. Beverages and snacks are vended on each floor, however, and there are ice machines on each floor, too.
Restaurants
Treasure Island breaks their restaurant offerings down into upscale dining, casual dining and other eateries.
Their upscale dining includes: Social House (Asian), The Steakhouse (American) and Isla Mexican Kitchen (Mexican). I ate at Isla several years ago, and I remember thoroughly enjoying the meal. The Queso Fundido appetizer and the Mojito cocktail specifically stick out in my mind as very, very good. It was probably the best Mojito (okay, the best two mojitos) I've ever had.
During this visit, I went to two of the casual dining establishments: The Buffet and The Coffee Shop.
The Buffet at TI
I had dinner at The Buffet, and I felt it was so-so. When I was seated, the hostess made a point of identifying where the salad station and the pasta station were. Apparently that is their focus, their special thing. I figured I should try both.
I started at the salad station and requested a Cobb Salad. The worker made it fresh, right in front of me. For the most part, the salad was good. The vegetables were crisp and fresh, the bleu cheese was tangy, and the Italian dressing was tasty. The baco' bits were an unexpected and undesired imposter, however. I was craving real bacon, and I was heartily disappointed. Before heading to the pasta station, I wandered over to the Asian foods and helped myself to some sushi. I found the fish to be very good, but I didn't love the rice it was resting on. It was gloppy and undercooked.
The pasta came next. The best part about The Buffet's pasta station is you're guaranteed to get a piping hot plate of food – that's often hard to come by at a buffet. I asked for spaghetti with pomodoro sauce, so the cook dumped some already cooked noodles into some already boiling water to heat it up while he tossed some sauce around in a scorching hot sauté pan. For dramatic effect, before he ladled the sauce into the pan, he poured in some olive oil and lit it on fire via the gas burner. My dish tasted okay. It's not the kind of sauce you'll crave one night when you can't fall asleep, but it was satisfying.
I also tried their pizza, which was pretty good, and I had an eggroll and a Chinese dumpling that were all right.
My last stop was the dessert bar, which was actually kind of hard to find. While the rest of the food is lined up against the back wall, the desserts are way up front, in a corner. I selected a chocolate covered macaroon (yum!) and a maple frosted mini donut. Apparently they are cranking out fresh donuts all day long at TI's buffet. It was perfectly sweet, soft and wonderful. I wish I'd stuffed my purse full of them.
So I didn't eat from the American or the Mexican stations. The American area offered a mix of vegetable dishes and BBQ meats. The Mexican had some very sad looking tamales, burritos, etc. I sat quite near to the food, and I didn't notice anyone taking food from that particular area.
Prices for the buffet:
Breakfast Monday – Friday, 7:00 – 11:00 am: $13
Brunch Saturday – Sunday, 7:00 am – 4:00 pm: $17 ($3 more for champagne)
Lunch Monday – Friday, 11:00 am – 4:00 pm: $16
Dinner Monday – Thursday, 4:00 – 10:00 pm: $21
Dinner Friday – Sunday, 4:00 – 10:30 pm: $26
The Coffee Shop
The next morning, I had my breakfast at TI's Coffee Shop. The place was nearly empty, which was surprising for a Friday morning at 7:30 am. I took a seat at the counter, in the back of the restaurant. I ordered a cinnamon roll, a bowl of berries, and a cup of coffee from a very gregarious, very talkative waitress. My food came quickly, and it was quite good. The berries were perfectly ripe and fresh, and the cinnamon roll was soft, warm and decadently gooey. I didn't care for the coffee, though; it was a little on the strong side. That strength probably appeals to the hung-over masses, but I wasn't into it. I also wasn't all that into the prices. With a tip, I paid $13 for a pretty small breakfast. I'm coming to expect high prices in strip casino restaurants these days, though, even at the coffee shops that used to be famous for cheap eats.
Here are the prices of some other menu items:
Veggie Omelet = $12.00
Rueben Sandwich = $12.75
Spaghetti and Meatballs = $15.00
The other casual dining options at TI include:
Pizzaria Francesco (Italian)
Kahunaville (Caribbean)
Cantor's Deli (Sandwiches)
Pho (Vietnamese)
When I checked into the hotel, I received a few coupons (my only coupons) to Kahunaville. They were for one discounted breakfast, one discounted lunch, and 2 for 1 drinks at the restaurant's bar.
The other eateries within Treasure Island are Baskin Robbins and Starbucks, both located near the self-park and the pool.
Pool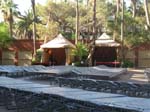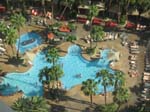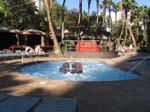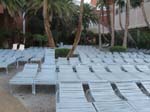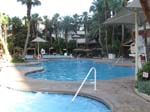 Oh how I love a cool pool on a 100+ degree day. The Pool at Treasure Island was recently renovated, and the end result is a small-sized (by Strip standards) pool with a bench all the way around, a 25-person hot tub with fountain like jets in the middle, and a whole lot of deck space for lounge chairs. It's an attractive area, but it is mostly hard surfaces. There are islands of green to make it feel somewhat tropical, and as a plus, the palms spread about in the pool area are mature, so they provide a fair amount of shade.
The pool is separated from a busy access road leading to TI's main entrance by a sturdy sound wall. Between that wall and the eclectic mix (everything from country to rock) of music they pump through some cleverly hidden speakers, you have no idea there is traffic nearby.
Private cabanas are available for rent, and they have a lot of them. On the day I visited, not many were in use. The fee for a cabana is $200 Monday through Thursday or $250 Friday through Sunday, and they come with a personal host, LCD TV, refrigerator, ceiling fan and deluxe lounge chairs.
The lounge chairs for the masses are set up close together, almost one on top of another. They cram a lot of chairs into a relatively small space. The chairs appeared old, and they are definitely showing their age. The hotel-provided pool towels have also seen better days. It is probably time for TI to update both. A nice touch, though, is they offer free swim vests for kids visiting the pool. My guess is they still have them around from when the property was targeting families. As the vests wear out, I suspect they won't replace them.
Entertainment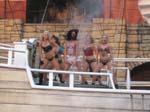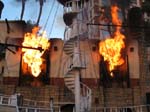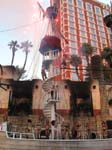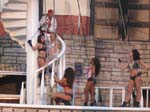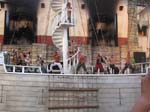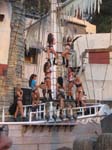 Mystère: It's been a couple years since I've seen Mystère, but I've seen it twice. It's the kind of show you can see over and over and always notice something new. Mystère is the longest running Cirque du Soliel show in Las Vegas, and it is a classic Cirque offering that focuses on mind-blowing acrobatics, creative costumes and exquisite imagery. The show moves quickly, and it brings all your senses alive. It is seemingly the least expensive of the strip's Cirque shows, and they often have pretty good deals running. General admission tickets start at $60, and the show takes stage Saturday – Wednesday at 7:00 and 9:30. They are dark on Thursday and Friday.
Sirens of TI: Sirens of TI is Treasure Island's free show. It happens nightly, 7 days a week, and it is located outdoors by the strip entrance to the casino. The evening show commences at 7:00, 8:30 and 10:00 year round and at 5:30 in the winter and 11:30 in the summer. In bad weather, the show does not go on. I went to the 7:00 pm show during my visit. Because I was a guest of the hotel, I was able to get into the VIP viewing area. Keep in mind, there are no seats for this show – you're going to have to stand and you're going to be outdoors, VIP or not. I got there early, around 6:40, and there was already a big crowd eagerly waiting for the entertainment to start. Originally, Treasure Island used this "stage" to put on a sea battle between a ship of pirates and ship of British seamen. It was a family-friendly, high-flying adventure, and it was just as popular as this new version that showcases a band of seductive females Sirens luring a ship of male pirates via song and sexy dance. The new plot is highly contrived – the pirate/British seamen battle was certainly more believable. But, I can't deny the Sirens drew me in. The dancing was both provocative and athletic, and the music was exciting and catchy. The show's designers managed to work in some fireworks and explosions, too. Everything gets better when stuff is blown up, right? On TI's website, they indicate parental guidance is suggested for Sirens of TI, but I saw a whole lot of youngsters in the crowd during the 7:00 pm show. I doubt any of them were scarred for life, but perhaps some parents had to answer some uncomfortable questions later that evening.
Clubs and Lounges: Treasure Island boasts an array of clubs/lounges. The only one that didn't appeal to me is Christian Audigier (I'm probably too old and too unhip to fit in anyway). I could see myself, though, enjoying a cocktail and a bit of live music at Mist Bar & Lounge, throwing back a margarita at Isla Tequila Bar, or getting a little crazy at Kahunaville's Party Bar while I watched the flair bartenders do their thing. During my visit, I settled in for a lovely glass of Merlot at Breeze Bar. It's a casual place located in the center of the casino. It was fun and relaxing to hang out in a cushy chair with my wine and watch the action of the casino.
Bowling: No
Cinema: No
Bingo: No
Shopping: There are some shopping outlets on TI's property, like The Christian Audigier Store, Mystère Store, Sirens Cove Shoppe and TI Collections, but the serious shopping is across the street at Fashion Show Mall. There is a pedestrian bridge from TI (near the sports book) to Fashion Show.
Golf: TI's website lists 3 courses within 9 miles.
Spa: Wet is TI's spa and salon.
Childcare: No
Wedding Chapel: Yes
Odds and Ends
Since TI's opening, there has been a tram running between Mirage and Treasure Island. Even with the recent sale of TI and its split from Mirage, I have to assume they'll keep the tram in operation.
If you need to get some laundry done, the only option at TI is the expensive in-room laundry service; they do not offer coin-operated laundry facilities.
The property's TV information channel was advertising March Madness happenings. It was July. It's probably time for them to update the info.
My Conclusions
Overall, I was very satisfied with my TI experience. The staff was generally friendly and attentive. The only exception was the woman who checked me out seemed more interested in eavesdropping on the conversation her supervisor was having with an upset guest than with efficiently and genially handling her business with me. I can forgive, though, especially since the guy checking me in was very friendly (and exceedingly generous with the room upgrade he passed my way). Also, the lines for checking in and out moved quickly – took me less than 5 minutes to get to the head of the check-in line and less than 1 minute to get to the counter so I could check out.
I think this property is a good choice for a variety of Las Vegas visitors, from a group of guys enjoying a bachelor party to a family looking for excitement to a couple desiring a memorable getaway. Its central location is a big plus.
These are my suggestions for improvement:
Put some bottled water in the rooms, even if you feel the need to charge $5.00 each for those bottles. This is a desert after all.
Add more light fixtures to the bathroom, or at least increase the wattage of the bulbs you have in there already.
For the love of real food, replace the baco' bits on the Buffet's salad station with some true bacon. Fake bacon is not an acceptable way to cut costs.
It's time (probably past time) to replace the towels and the chaises at the pool.
Stay on top of the information on your TV Info channel. Outdated advertisements are unprofessional.
Location
The photo below was taken from the Treasure Island parking garage, looking south.

Photo courtesy of Eric Chiarolanzio. Click on image for original (1583K).
In the heart of the action, TI is located on the corner of Spring Mountain and Las Vegas Blvd. Casinos/resorts nearby include: Mirage, Venetian and Palazzo, and Wynn and Encore. Fashion Show Mall is one if Treasure Island's next-door neighbors.
Getting There
If you're driving into town or rent a car at the airport, make your way to I-15. Exit I-15 at Spring Mountain and head east. You'll see the TI on the right.
If you arrive by plane, you shouldn't have trouble finding a shuttle or a taxi to take you to Treasure Island.
Links
Acknowledgement
The Wizard would like to thank K.M. for this review and Karina for modeling in some of the pictures.
Contact Information
Address: 3300 Las Vegas Boulevard South, Las Vegas, NV 89109
Phone: 702-894-7111
Web site: treasureisland.com
Resort and Parking Fees
| | |
| --- | --- |
| Resort fee | $13.50 |
| Parking fee | Free |
Games at Treasure Island
| Blackjack | Location | Decks | Min | Max | Soft 17 | DA | DAS | RSA | Surr | Tables | CSM | Party Pit | 6/5 BJ | Video | H. Edge |
| --- | --- | --- | --- | --- | --- | --- | --- | --- | --- | --- | --- | --- | --- | --- | --- |
| Blackjack | Strip | 2 | 10 | 3000 | H | Yes | Yes | No | No | 10 | No | No | No | No | 0.45688 |
| Blackjack | Strip | 6 | 10 | 2000 | H | Yes | Yes | Yes | Yes | 10 | Yes | No | No | No | 0.45953 |
| Blackjack | Strip | 6 | 10 | 2000 | H | Yes | Yes | Yes | Yes | 10 | No | No | No | No | 0.48263 |
| Blackjack | Strip | 1 | 10 | 1000 | H | Yes | No | No | No | 5 | No | No | Yes | No | 1.69824 |
| Blackjack | Strip | 2 | 25 | 5000 | S | Yes | Yes | No | No | 3 | No | No | No | No | 0.25532 |
| Blackjack | Strip | 6 | 25 | 5000 | S | Yes | Yes | Yes | Yes | 3 | No | No | No | No | 0.28507 |
| Baccarat | # of Tables | Min Bet | Max Bet |
| --- | --- | --- | --- |
| Baccarat | 3 | 25 | 15000 |
| Craps | # of Tables | Min Bet | Max Bet | Odds | Field12 | Video |
| --- | --- | --- | --- | --- | --- | --- |
| Craps | 4 | 10 | 2000 | 3-4-5 x | Triple | No |
| Craps | 1 | 1 | 100 | 2 x | Double | Yes |
| Roulette | # of Tables | Min Bet | Max Bet | Rules | Video |
| --- | --- | --- | --- | --- | --- |
| Roulette | 5 | 10 | 200 | 00 | No |
| Video Keno | Rank | Avg Return | Grade |
| --- | --- | --- | --- |
| Video Keno | 37 | 91.04% | B- |