Introduction
To rent a car or to not rent a car, that is the question. For the most part, tourists in Las Vegas do not need a rental car. Here are the exceptions as I see them:
Rent a car if you are going to be staying in one of the neighborhood casinos (those that are a long distance from the Strip).
Rent a car if you have plans to drive yourself to areas like Zion National Park or the Grand Canyon's south rim.
Rent a car if you're going to be going all over town to sample golf courses or something similar.
If you're going to stay in a room on the strip, though, and do most of your sightseeing either on the strip or via professional tour, there is really no reason for you to rent a vehicle. You can get around on foot, by taxi, by bus, by shuttle and by monorail easily enough. This is also true if you are staying at a Downtown Casino/Hotel.
Getting Around on Foot
Over the years, the resort corridor of Las Vegas (i.e. the strip between Stratosphere and Mandalay Bay) has become more and more pedestrian friendly. Footbridges are the most obvious and most notable improvements. The busy corners of Las Vegas Blvd. and Tropicana, Flamingo and Spring Mountain all now sport these fabulous conveyances. Before the days of the pedestrian bridges, there was utter gridlock on the sidewalks and the streets. Getting around was a nightmare, especially on a busy Friday or Saturday night. Now, vehicle traffic moves (relatively) freely while the walkers ride escalators and cross on overhead walkways.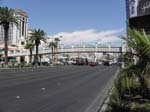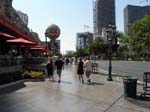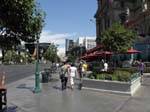 There are still some crosswalk type crossings you'll have to negotiate along the way, though, like at Sahara and the Las Vegas Blvd. and in the heart of the strip between Paris, Las Vegas and Bellagio. Do the drivers a favor, and pay attention to the walk and don't walk signs when using the crosswalks. And use the crosswalks. Jaywalking is just in bad taste.
So it is possible to walk from Wynn to Mandalay Bay, but know what you're getting into before you embark on such an adventure. Distances in Vegas are deceiving, especially in the heat of summer. While you can probably see Mandalay Bay from your Wynn tower room, that doesn't mean it's walking distance. In fact, it's about 3 miles. Walking that far in 100+ degree temps can be miserable. Of course, along the way you can venture into the casinos and cool off. If you're going to do it, take your time, drink lots of water, and wear comfortable shoes. Consider walking one direction and taking a taxi, The Deuce bus or the Las Vegas Monorail back.
Getting Around by Bus and Monorail
In October 2005, the Regional Transportation Commission of Southern Nevada (RTC) introduced The Deuce to the Las Vegas Strip. The double-decker, environmentally friendly bus has been moving tourists up and down Las Vegas Blvd. since. It stops at nearly every casino/resort on Las Vegas Blvd. between its northern terminus downtown and it southern terminus at about the 215 beltway. If you're staying downtown and want to get to the strip, the Deuce is your most economical option. A one-way ride will run you $3.00, or you can buy a 24-hour pass for $7.00. A taxi is going to be much more than that. Of course, it's not necessarily going to be a quick ride from downtown to the strip on The Deuce. You're on a bus, so there are frequent stops. Plus, if traffic gets backed up, you're stuck in it.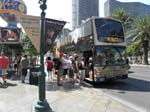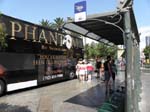 The Deuce is a good option for getting from casino to casino on the strip, too. The costs are the same, and again, it's cheaper than a cab. Plus, I think it's more convenient than the Monorail. From what I've noticed, the Monorail stations are always in the back of the casinos. You may have to walk as much as ½ a mile to get to the station. The buses are, conveniently, right on Las Vegas Blvd. Also, the Monorail runs on the east side of the strip, so the properties to the west of Las Vegas Blvd. aren't directly serviced by it. So, for example, if you are looking to get from Treasure Island to New York New York, you're going to have to take a pedestrian bridge across the strip, walk south to Harrah's, negotiate your way through Harrah's property to find the station, ride the Monorail, and then get off at MGM Grand and walk through that property and back across the street. And it'll cost you more to ride the Monorail than The Deuce – a single ride Monorail ticket is $4.00, a one-day pass is $13.00, and three-day pass is $18.00.
The Monorail does have its advantages, though. I would use it to move between the Las Vegas Convention Center and my hotel (if my hotel had a station). I would also consider it on a busy night. As mentioned earlier, The Deuce is at the mercy of Las Vegas Blvd. traffic. The Monorail moves at 50 mph above the traffic. Another apparent advantage is the Monorail's website shows some free shuttles you can access with your paid Monorail ticket. The shuttles run you to the Rio, Sam's Town and Hard Rock. This seems useful and cost-effective to me, especially to Sam's Town, since that particular property is a long ways from the strip.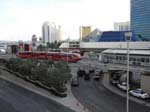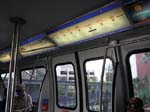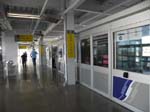 I've heard rumors that the Monorail will be expanded to service McCarran International Airport, and I think that is a great idea. Being able to get from the airport to the strip without having to take a cab or shuttle could prove incredibly useful and eco-friendly. Apparently this expansion project is in the planning stages. I, for one, sure hope it comes to fruition.
Cabs
In the meantime, one of the more popular ways to get from the airport to the strip is via cab. Right outside baggage claim is the cabstand line. Unfortunately, most of the time it's a long line. During the busiest hours at the airport, like late evening running toward midnight, you might find yourself waiting an hour or more for a cab.
The "drop," or initial fee when you get into the cab and the meter starts, for all taxis in Las Vegas is $3.30. An additional $1.80 is added if your starting point is McCarran International Airport. From there, you're charged $0.20 per 1/12 mile traveled and/or $30.00 per hour of waiting. By the way, if the vehicle is going less than 8-12 mph, the waiting rate kicks in automatically. So, if you're stuck in traffic, your fare is going to keep going up. The Nevada Taxicab Authority Website offers more details, as well as a chart approximating the minimum fares from the airport to popular valley destinations. By law, cabs in Las Vegas can take only 5 passengers, and this includes children and babies. Large groups will have to split up.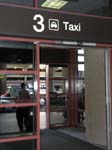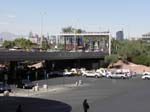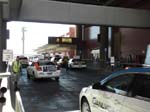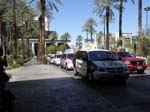 The most important thing you need to know about riding a cab in Las Vegas is that you cannot hail a taxi from the street. The way to secure a ride is at a cabstand, and those are usually easily found at the main entrances of casinos/resorts, malls, etc. The bigger the casino, the longer the taxi waiting line seems to be. On Friday and Saturday nights, you may find yourself 60 or more people deep on line. A trick is to go to a smaller property, as you'll likely get your cab quicker and make it to your show or dinner reservation on time.
Also, know that you'll probably have to pay your fare and tip in cash, as most Las Vegas cabs do not accept credit cards.
Something to be aware of when riding in a cab in Las Vegas is potential long hauling, especially from the airport. A 2004 Las Vegas Review Journal story discusses the problem. In short, cab drivers were caught taking tourists the long way from McCarran to the strip properties. The long way takes you through a tunnel and onto the highway. The short way takes you on surface streets to Tropicana Avenue and then to Las Vegas Blvd. If you see UNLV's Thomas and Mack Arena, your driver has done the right thing. Keep in mind, however, the long-haul route may be more miles (and therefore more expensive), but it often takes less time, since you are on highways rather than surface streets. If you want to get to your hotel quick, it may be worth it to you to spend a few extra bucks.
Another scam to be aware of is cab drivers directing you to certain businesses so they can get a kickback. This is particularly prevalent when it comes to strip clubs. A 2009 Las Vegas Review Journal story talks about the issue. It seems the clubs are paying off cab (and limo) drivers, as well as hotel doormen, to send clients their way. So be careful when you ask for the driver's opinion on which club to patron. His advice may not be objective.
Airport Shuttles
Another option for getting from the airport to your hotel is via airport shuttle. There are several companies offering this service, so you may want to price around a little. In general, it's going to cost you about $6.50 per person, each way, to get to a strip property and a couple bucks more to get to and from downtown. You may be able to save a dollar or two by purchasing a round trip ticket.
The airport shuttles are located near baggage claim at McCarran. For your return trip, you'll probably want to call a couple hours before you want to be picked up from your hotel.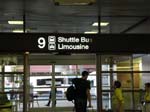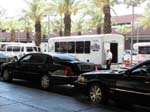 Free Shuttles and Trams
There are an impressive number of free shuttles and trams around Las Vegas. In many cases, the free shuttles run between sister properties and are the casinos' way of encouraging visitors to come to their off-strip properties. An example is the shuttle that runs between Rio and Harrah's. Even though Rio looks close, it's a long walk, and I'm sure the shuttle option means more people make their way to Rio's gaming tables, slots, restaurants and shops. And, more people probably decide to stay at Rio knowing they'll be able to take a free ride to the strip. You do not need to be a guest of either hotel to take advantage of this service.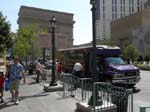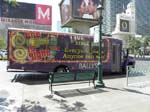 Here's a list of free shuttles I'm aware of (links to the property's websites, in some cases, offer more details):
Rio to Harrah's and Rio to Paris/Bally's
Hard Rock to Caesar's Forum Shops and Fashion Show Mall
Sam's Town to points on the strip and downtown
Orleans to Gold Coast and the strip
Palms to Fashion Show Mall, Caesar's Forum Shops and Miracle Mile Shops at Planet Hollywood
Silverton to Forum Shops, Town Square and Las Vegas Outlet Center
There are 2 free trams on the strip, too. One runs between Treasure Island and Mirage, and the other connects Excalibur, Luxor and Mandalay Bay. With the second, know that the south running tram goes directly from Excalibur to Mandalay Bay without a stop at Luxor. Coming north, there are stops at all three properties.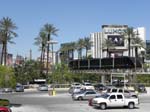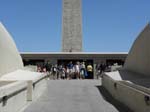 Rental Cars
Previously, most of the rental car companies had counters inside the airport. As of 2007, however, all the rental car companies are located in the Rent-a-Car Center. The center is offsite, requiring a shuttle bus ride. The good news is the free shuttles are easy to find (exit doors 10 and 11 at McCarran's baggage claim), and the ride itself is only about 10 minutes. But be ready to schlep your bags onto the shuttle and to tip your driver.
From what I've heard, the Rent-a-Car Center is huge and easy to use. If you haven't made a reservation for a vehicle, you can shop the different counters for a good deal. The lines, apparently, can get long, so if you have a relationship with a certain rental company and have a reserved vehicle, use their express check-in service.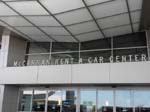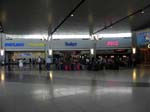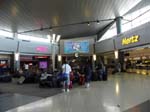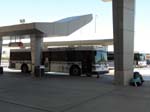 After you complete your paperwork, you head to an enormous garage that houses all the different companies' cars. Search yours out, load in your belongings, and you are on your way. You should find it easy to exit the center and get to the strip and downtown – there are plenty of directional signs pointing you the right way.
Parking in Las Vegas is generally very easy and almost always free. Every major strip property has a large, reasonably secure self-parking garage. Some garages, usually at the larger properties, have security guards looking you over as you enter. This started after 9/11, and it doesn't look like it's going away anytime soon. Plus, most casinos seem to have guards on bicycles making patrols. Also usually free is valet parking, though you really should tip when you pick your car back up. Consider slipping the valet a little green when you leave your car if you want it to be parked close.
Since there is less land available downtown, the casinos there charge for parking. However, in most cases you can still get free parking. At the Golden Nugget, for example, you'll want to take your parking ticket in with you and get it validated (stamped) at the casino cage. At The Vegas Club, you'll need to pay your $5.00 on the way in, but if you take your receipt to the casino cage, they'll give you a crisp $5.00 bill.
I have a couple pieces of advice for using casino parking garages. 1). Figure out where the elevator is before you select your parking spot. You could otherwise end up walking a very long ways. 2). If you are going to be hopping from casino to casino with your car, try to park on the same level every time. I aim for level 3 at every garage I enter. In some cases, the self-park doesn't start until a level higher than 3, so in those situations, I will go to level 7. It took me forgetting which floor I was parked on a couple times before I put this little plan to action.
Driving in Las Vegas is pretty straightforward. The streets are mostly set up on a grid, and the highways are easily accessible from areas like the strip. Construction is pretty much always ongoing in this rapidly growing town, though. Be ready for traffic jams due to construction, as well as tie-ups during rush hour. And if you value your time, don't try to drive on Las Vegas Blvd. Especially in the later hours of the day, the road is more like a parking lot than a thoroughfare – a parking lot with scantily clad female co-eds hanging out limo windows and sunroofs and noticeably drunk male co-eds darting about the vehicles so they can get across the road. Use a map to help you find alternative north/south roads like Dean Martin Rd., Frank Sinatra Dr., Paradise Rd., Maryland Pkwy and Koval Ln.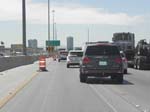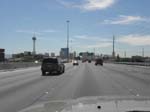 One last suggestion, if you are spending most of your vacation on the strip but need a rental car for a day or two so you can go off and see some areas around Las Vegas, consider renting a car out of your hotel just for those days rather than having one around all week. The larger properties usually have on-site, big-name rental agencies.
Limousines and Car Services
If you like to be well taken care of, there are several companies in Las Vegas that provide Limousine rentals and car services. Shop around to find a competitive rate. I believe every casino has limos and cars available to high rollers, too.
Tour Vehicles
If you want to see more of Vegas than the strip but you don't want to bother with a rental car, taking a guided tour is the way to go. There are a multitude of companies offering an array of trips. You can take in natural areas like Red Rock Canyon and Death Valley, experience magnificent Hoover Dam, shuttle to famous Las Vegas landmarks, or just cruise up and down the strip on a tour. And your professional guide will be there to give you the details and keep you entertained with interesting stories. You can also pick the size of your tour, from a large bus to a cozy jeep. Tours can be set up online, through travel agencies and via the concierge at your hotel.