Will Truly, "Free," Drinks Become a Thing of the Past?
In addition to death and taxes, there is actually one more, 'Sure thing in life,' and that is that, if you are playing machines or a table game in Las Vegas, Nevada, you will be offered free drinks while playing. In fairness, it was never quite absolutely a sure thing as many casinos (and this is mostly true of bartop games) have required a minimum bet amount in order to obtain the free drinks. Of course, that amount varies from casino to casino.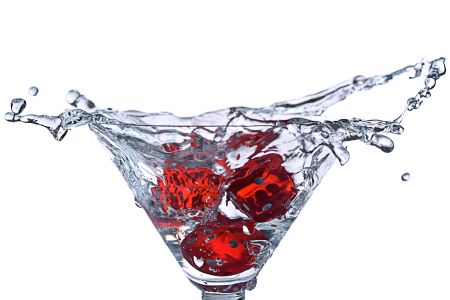 In a sense, though, the free drinks are never actually free...unless one is playing a positive machine and getting free drinks, then theoretically, that person is actually getting paid for drinking the casino's booze. Generally speaking, though, with the free drinks comes the expectation that the player is actively playing the machine. In that sense, the drinks are not free as the casino is providing the drinks with the knowledge that the house edge on the games will (generally) result in the casino making the cost of the drinks back and then some.
Even on the floor, some cocktail waitresses at certain casinos will suggest that a player need to be betting more if the player wishes for the drinks to continue to be free.
The point is, the drinks are not actually supposed to actually be free.
Vital Vegas has recently reported:
http://vitalvegas.com/mirage-las-vegas-tests-comped-drink-voucher-system-everything-is-ruined/
That the MIrage is testing a comped drink voucher system that will disseminate vouchers for drinks based, in some way, on an individual's play. The Vital Vegas Article noted that the drinks seemed to come faster to players playing higher denominations, so one might assume that the system is based on coin-in.
There is no question that free drinks for playing is a staple of Las Vegas, but if this system gets enough casinos on board, could it spell the end for free drinks as we know them? An even more important question might be: Is this a patently ridiculous thing to have?
Unfortunately, I don't know the answer to that question. However, I can think of a few possible perspectives on the matter from both the side of the player and the side of the casino. Hopefully, we can continue the discussion in the comments!
Player Perspective
I'm going to go ahead and start off with the perspective of the player, mainly because I want everyone to be able to read at least 50% of the Article before they begin hating me.
The first thing that comes to mind is that this is a blatant bean-counter measure. Free drinks for playing has long been an honored tradition in Las Vegas, and for there to be any other stipulations attached to that is deplorable. Not only that, but if all of the casinos in Vegas were to switch to this format, it is going to take away some of the incentive that players have for going to Vegas to begin with.
The other problem with the system is that it is nonsensical to have to wait for a free drink while playing the games. We all know that the cash prices demanded at many Vegas bars are completely absurd, so the casino is essentially limiting the player to paying an obscene amount of money for a drink, or alternatively, "Going dry."
That's it. I'm sorry. That's all I've got for the player's side of the argument.
Casino Perspective
I am about to take any respect and popularity I have ever garnered as a poster and a writer here and flush it down the toilet...
Unfortunately, from the standpoint of the casinos, I have to admit that this decision makes complete and total sense, but only if enough casinos (i.e. The Strip) get on board.
As mentioned before, getting free drinks for playing is a nicety provided by the casino based on the expectation that the casino is making the cost of the booze back, and then some. A system such as this will simply enable the casinos to base the free drink output on, what I would guess, is total coin-in. I mean, it's actually possible that they could base it on the EV of a particular game, but I think straight coin-in is a simpler way to do it. It may differentiate between Video Poker and Video Keno, though.
The result is that the House is simply attempting to make a quantitative judgment on what was (theoretically) a subjective judgment call by Management/Waitress/Bartender. In other words, the casino can be absolutely positive that they are getting whatever Expected Win (or total coin-in, whichever) for every drink they give out. As a result of the fact that the player must play to generate whatever the qualifier is, then people aren't going to continuously get free drinks for hanging out at the bar and playing a hand every once in a while.
Furthermore, cocktail waitresses and bartenders can be fallible in this regard. What I mean is that, with generous tipping, the bartender/waitress might stop paying attention to how much, or even IF, the player is playing. I've had this happen during my excursions to bars in Vegas, probably more often than not.
Don't misunderstand, that is a decidedly positive scenario for the bartender or waitress, keep the drinks coming and the player will keep the tips coming, but the casino is not making any money off of that! That would be like a restaurant giving out free food provided the diners tip the waitress very generously!
The other thing is that it keeps players from deliberately abusing the system, via slow-play, at least to an extent. Granted, a player could theoretically cash out his ticket and pop $20 in at a different bar within the casino and attempt to hop from bar to bar without actually having to, 'Earn,' any drinks...but at least that's an extra hurdle.
In addition to that, it might either be possible or become possible for a casino to use an individual's players club card to determine how many drinks he/she has been getting for free and off-setting that from other comps. For example, it might not take a substantial ADT for a player to generate a few free room and food offers, but once the casino can determine that the player also had ten or more free drinks during that time, the casino might be inclined to rein in those other offers a little bit.
It all goes back to the fact that the casino's expectation is that the player is there playing steadily and is there to gamble. The only difference is that the technology now exists for the casino to be able to ensure that such is the case.
Conclusion
Don't get me wrong, when I feel like just having a few drinks, I am certainly going to miss playing Caveman Keno, a nickel at a time and getting three or four drinks in that hour for doing so...an hour in which I play, maybe, 200 draws. With that said, though, I could certainly understand why the casino would not want to trade me three or four drinks for an Expected Loss of $1.00.
I think that the comp drink system being tried at The Mirage might be something that we see at a good many casinos within the next few years, or if not, something remotely similar. Really, for any cost-cutting measure, popular or not, the biggest thing that matters is whether or not your competitors are also doing it. If all of the other Strip properties are eager to get on board, then I could see something like this spreading pretty rapidly.
How many Strip casinos still offer 3:2 Blackjack on their lowest minimum tables compared to 6:5 Blackjack?
Granted, I don't think 6:5 Blackjack even deserves to be called Blackjack and is a fundamentally unfair game while, in comparison, I think the comped drinks system is mostly fair. My point, however, is that most of the other Strip casinos were not compelled to offer low-limit 3:2 Blackjack to differentiate themselves from those who only offer 6:5 at low limits. The Strip casinos have already differentiated themselves simply by being The Strip casinos and the destination of choice for visitors to Las Vegas.
Besides, the kind of customer that The Strip casinos would be going for is not too particularly concerned about whether or not she has to earn her drinks in a quantitatively objective way...she could probably afford to pay cash, anyway.
At the end of the day, the players most harmed by this are the low-rollers, and The Strip casinos have enacted other measures to make it increasingly clear that they don't care what the low-rollers want.
Just don't let this system spread to Downtown, please?
Posted by
Mission146