Background
My wife and I got engaged in 2010, shortly after I finished law school.
We spent around six months mulling over a date and venue. We are from South Florida, and there plenty of beautiful, beachfront places to get married in the area.
My bride-to-be and mother-law-to-be visited a variety of venues in Fort Lauderdale. The bride did not like any of them: either their rules were too rigid, their minimums or rental fees too high, their variety lacking, or their prices just insane (the one that got me was the beach hotel with the menu that charged $5.00 per soda ... no free refills ... plus 21% gratuity).
I half-jokingly suggested Vegas to her. We had recently gone on a weekend jaunt, and she had a good time. I did not expect her to enthusiastically agree! We planned a trip for January, 2011 -- exactly six months before our wedding date, and started to research.
This would (obviously) have to be a destination wedding, and we would have people flying in from a variety of states.
Choosing a destination wedding enabled us to save costs, as not only would the long-distance decrease the number of people able to attend, but the per-person and venue costs in Vegas were much lower as well.
There are two main ways to get married in Vegas: at a hotel with a chapel, or an an independent chapel.
Both options provide a ton of flexibility!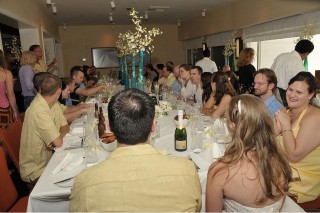 One of the great things about a Vegas wedding is that the ceremonies tend to be all-inclusive. For instance, items such as photography, limo, wedding license, flowers, and hotel room tend to be included in most packages.
The other great thing is that almost every chapel has a variety of pricing options: most have a ceremony as little as $200 or $300, on up to $2000, or more, with many choices in between.
The independent chapels are mostly in a strip between the stratosphere and downtown Las Vegas, though there are outliers, such as the Little Church of the West, which is near the Mandalay Bay end of the strip.
These are geared more toward local and last-minute weddings -- and they offer a variety of themes, from the ornate Chapel of the Flowers, at least one drive-up chapel, to several Elvis themed affairs.
The second option are the hotel-based chapels. Nearly every hotel in Vegas has a wedding chapel, or other kind of wedding venue (NYNY was a notable exception.,, among others).
Some interesting wedding options include a ceremony during a gondola ride at the Venetian, or at the top of the Stratosphere. Both of these can only accommodate a limited number of people.
Because we had recently gone to Vegas, we had a good idea of the venues we wanted to look at during our planning trip. These were the Little Church of the West, Chapel of the Flowers ("Little Chapel"), Paris, and Tropicana.
We really liked the Chapel of the Flowers : they had great all-inclusive ceremony packages. It has beautiful grounds (though there is an unsightly 7-11 just south, partially obscured by their sign). The problem we had (and this applied to all of the independent chapels) is that with the number of guests we had, arranging for transportation to or from whichever hotel we would be based at could be a nightmare -- and may involve a bus, or forcing a substantial amount of people to cab it to and from the chapel. Furthermore, it was looking like our list of restaurants was mutually exclusive of our list of potential hotels, thus complicating transportation.
Ultimately, we decided it would have to be at a hotel, so we did not tour the Little Church of the West, which is where the Wizard got married.
We toured the Tropicana the same day we saw the Chapel of the Flowers. My wife-to-be was smitten. She told me she didn't need to look anywhere else, and she cancelled our tour of Paris for the next day. Tropicana's chapel is called the Island Wedding Chapel and is in a small thatch-style building (with A/C) in the central courtyard, above and to the side of the pool area. It is quite unique, and some might even say the inside is a bit tacky, but we really loved it.
The Tropicana, having recently come off a substantial renovation, was eager to please us for the wedding. We put a deposit down that day. The next deliberation was where to have a reception. Almost every hotel in Las Vegas offers two types of receptions: the sit-down dinner at the restaurant (often in a private room) or a banquet-style room where a DJ can be accommodated. We wanted the former, because neither of us are too keen on dancing, and because we felt that restaurant food would be better than banquet food.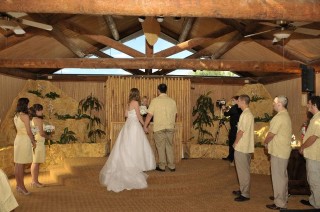 They have three restaurants. We looked at all of them. Biscayne has a semi-private room in the back of the restaurant that was the perfect size for our group.
This is when I truly realized we made the right decision as far as venue. Most beachside hotels in Florida have food minimums of at least $125 per person. Similarly expensive, ceremony minimums are at least $2000. This is all without photography or cake. There are of course a million rules about cancellations, minimums, and fees. Biscayne had no minimum, no deposit, and no fees.
We also booked a rehearsal dinner at Il Fornaio at NYNY, walking distance to the Trop. They have a private room behind the kitchen. This was great as well.
The Cememony
We chose a ceremony package that was approximately $1300.00. This included the following (note: I haven't checked prices since):
Use of the Island Chapel on the day of the wedding
Use of the bridal suite on the day of the wedding
Use of a wedding planner, who escorted us every step of the way
A 90-minute limo ride (traditionally used to go downtown to get the license- we picked ours up on our recon trip, so the Tropicana let me wife-to-be use this 90 minutes during her bachelorette party two days before the wedding)
Bouquet for the bride and her maid of honor (men wore Hawaiian shirts. I waived the boutteneres, and the Tropicana allowed that value to go toward bouquets for the rest of the bridesmaids).
A bottle of champagne and plate of chocolate strawberries, delivered to the room that night
A videographer and DVD of the wedding
A photographer and photo album of the wedding, including about 30 minutes of photographs after the ceremony
A custom wedding cake. They let me wife send in pictures of her dream cake, as well as her preferred flavors, and they made everything to her specs. It was big enough to feed all of our guests, and then some.
One night in a suite.
The Tropicana, and most other venues, offer both tuxedo and dress rentals. The only thing that wasn't included was the fee for the minister and hair/makeup services for the bride. Thankfully, one of my mother's best friends is a retired Clark County judge, so she did the officiating for us!
An interesting note about the suite: we had reserved a regular room for the first two nights, which the Tropicana upgraded when we arrived to a very nice club suite!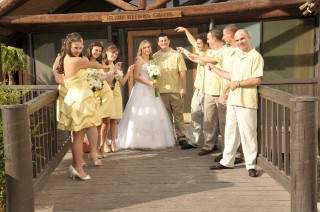 The night of the wedding we had reserved a suite, which the Tropicana upgraded to the 1000 square foot Grand Palm suite. It had a sauna, steam room, giant shower, guest bathroom, dining room, living room, wetbar, and Jacuzzi!
The ceremony went off without a hitch, and it was a great time. We had approximately 60 guests from 7 states (5 were local to Vegas, including the officiant!). We received great feedback from them about the ceremony and hotel.
Post-Ceremony
After the ceremony, our wedding planner took our guests to the Ambhar Lounge, a small bar off the casino, while my wife and I took some more pictures around the casino.
For an additional $700, I purchased a photo package that gave us a DVD all of the full-res ceremony pictures, and an additional hour of reception photography with accompanying pictures and copyrights. I considered this a great deal.
The Reception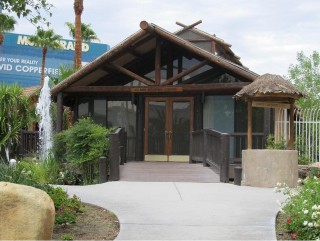 After we were back from the photographs, everyone proceeded to the restaurant. Though there was a slight mixup as to the menu, the $48 per person rate was an exceptional deal and included one drink per person, choice of two steaks, pasta, fish, or chicken, and soup/salad. The wedding cake was included. There was no minimum amount required, no deposit necessary, and we did not need to give a final count until the day before.
The restaurant was not too loud, and the service was great. The food was phenomenal, and I dare to say it's the best wedding food I've had.
Post-Reception
My wife wanted to partake in a few more traditional wedding activities, like the throwing of the bouquet and the garter. We decided to invite everyone to our suite, which I discussed above. About 40 of the guests came, with plenty of room to spare, and we had an after-party in the hotel suite, which lasted a few hours. Afterwards, we hit the casino floor with everyone that was still up.
As an aside: the room had this ridiculous mobile bartender machine that dispenses cocktails. All of the drinks tasted like gas. A few people didn't mind, and cleared the thing out. At check-out, the clerk told me even though it was supposed to be $300, they never charge for it, and took it off the bill. They also cleared off all of other room charges and resort fees, as a wedding gift.
Nine hours later, we were en-route to Hawaii!
Long story short, I think flexibility is the strongest selling point of actually having a Vegas wedding. In terms of guests, the area offers something for everyone, though flights in the summer from Florida are dreadfully expensive.
We had the time of our lives!