Introduction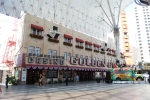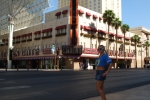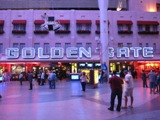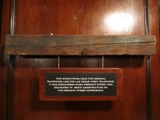 If the Golden Gate is not the oldest standing hotel/casino in Las Vegas, I don't know what is. First known as the Hotel Nevada, the building dates back to 1906. In 1931, it became the Sal Sagev (read each word backwards) and finally it took on its current name, the Golden Gate, in 1955.
Today, the Golden Gate does a good job of retaining its historical charm. Antique slots are found in many corners, and pictures of old San Francisco adorn the walls. If you enjoy reminiscing about "old Las Vegas," the Golden Gate is the closest you will find to what it was like.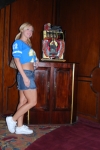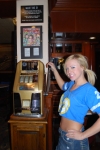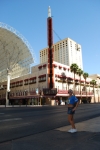 Here is some Golden Gate trivia:
When phone service reached Las Vegas, the Golden Gate was assigned phone number 1.
For years the Golden Gate was famous for it's 99¢ shrimp cocktail, often called the best deal in Las Vegas. Unfortunately, all good things must come to an end, and the price was raised to $1.99 in 2009.
Helen Hunt played a change lady who worked at the Golden Gate in the movie Pay it Forward. For my younger readers, before today's bill validators and redemption tickets, employees (usually women) would walk around selling rolls of coins to play the slots.
Location
The Golden Gate is located at the west end of the "Fremont Street Experience," at the southeast corner of Fremont and Main Streets, the intersection of the two major streets when Las Vegas was a small dusty railroad stop. It is across Fremont from the Las Vegas Club and opposite Main from the Plaza.
Parking
South of the casino on Main Street, there is a small, valet-only lot, which is free with validation.
The Hotel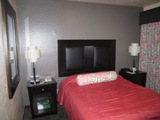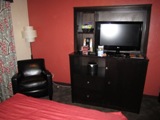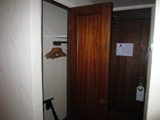 The Golden Gate is one of the smallest hotel-casinos in Las Vegas, at just four stories and 106 rooms. The hotel registration is the old-fashioned kind, with a mailbox for each room. When I checked in, not only was there nobody in line, but nobody at the counter. However, somebody noticed me and quickly got me checked in. I stayed there Oct 4-6, 2011. The rate for each night was $31, plus Nevada room tax of 13%. Comparatively speaking, hotel rooms do not get much cheaper in Vegas. Those same nights cost almost $500 each at the Encore.
As these pictures show, the rooms are small. Old hotels usually do have small rooms, so the Golden Gate is forgiven for that. The furnishings were fairly new. My biggest complaint about my room was the mattress was extremely soft. I have back issues, so as a preventative measure, I slept on the floor. The thermostat also didn't seem to work properly; no matter what I did, the room seemed cold.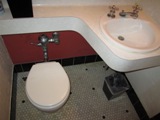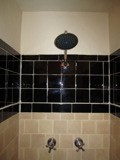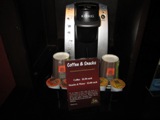 The bathroom was small and basic. The best part was the doorless shower. It was nicely tiled and the showerhead was wide with a strong flow. The room features a moden Keurig coffe maker, but a sign indicated that usage of it cost $1.50. The television was the nice flat screen type. No iron nor safe.
Pool
No pool.
Entertainment
Other than the dancing dealers, there is none. If gambling is not your thing, but looking at pretty women is, then there are one or two more at a bar just outside the building.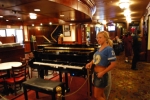 Near the shrimp bar they used to have a grand piano, shown above, with very talented pianists. Sadly, it was removed, evidently to add some more table games.
Restaurants
You have two choices at the Golden Gate, the shrimp bar and DuPar's.
Shrimp Bar & Deli
This more of a cafeteria-style snack bar, where you grab a tray, and ask the attendants for whatever you want. The menu is pretty simple. I think the following covers all of it:
Sandwich (several different kinds): $7.99
Soup: $3.49
"Original" shrimp cocktail: $1.99
"Big" shrimp cocktail: $3.99
Slice of pie: $2.99
Soda, coffee, tea, bottled water: $1.99
Fresh-squeezed orange juice: $2.99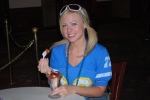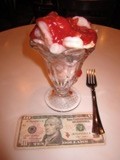 The shrimp cocktail deserves a closer inspection. As I mentioned in the introduction, for years the Golden Gate was famous for their $0.99 shrimp cocktail. From 1986 to 2009 I ate many of them. Unlike many Vegas shrimp cocktails, they don't use a skinny glass half filled with lettuce. The Golden Gate shrimp cocktails have always been 100% shrimp, with a little cocktail sauce on top. In the pictures above Lisa has the "classic" version, and the one with the $10 is the "Big" version.
Towards the end they started to skimp on the shrimp and used the tiny kind, about the size of peanut, and I quit eating them. However, eventually they raised the price to $1.99 while simultaneously increasing the size of the shrimp as well. The extra dollar is worth it. The shrimp in the "original" size are about the size of grape. For an extra two dollars, they use larger shrimp, as shown in the picture above. Overall, I would say that the shrimp cocktails are reasonably priced. The taste is nothing special. No longer is it worth going out of your way for, but if you're at the Golden Gate, you may as well partake in this long-standing Vegas tradition.
DuPar's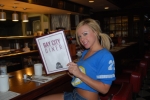 DuPar's was known as the Bay City Diner until recently. The picture above was before the changeover. I think sometime in 2011 they became a franchise of DuPar's. The original DuPar's is a famous diner in Los Angeles, especially famed for their pancakes (aka hot cakes). I've never been to the one in LA, but the Vegas pancakes are huge, fluffy on the inside, and crisp on the outside. I don't want to build them up too high, but pancakes just don't get much better.
In my opinion, the quality of the food at DuPar's is equally as good as from the old Bay City Diner. Either way, I've been coming for years. It is one of my favorite eating spots in Vegas. Good, hearty, no-nonsense food at a reasonable price. You don't get that much in Vegas anymore. The service is always friendly and fast, as a diner should be. I've been eating there since about '86 and not much has changed in that time. Here is a sampling of the menu:
Denver omelete: $10.50
Donut: $1.95
Hot cakes: $5.50 "short stack" of 2, $7.75 "Vegas stack" of 3.
Soup: $5.50
Garden salad: $4.75
Cheeseburger: $9.95
Coffee, soda, tea: $2.85
Chicken pot pie: $10.95
Fish & chips: $11.95
Prime rib: $9.95 for 8 oz., $14.99 for 14 oz.
Shopping
There are some essential things for sale behind the counter at the registration desk.
Casino
During the day, the Golden Gate casino is quiet and slow. At 8:00 AM, the number of table game players could easily be zero. During the day, the dealers are your usual mix of people, dressed in black pants and white shirts. However, at 6 PM they leave and are replaced by attractive young women in black burlesque outfits. On a rotational basis, they also dance on platforms inside the pit. Not surprisingly, by 8:00 PM the table game area will be packed and the energy level very high.
The Golden Gate is not the only casino to bring out the attractive ladies at night to deal. However, the Golden Gate does it the best downtown. For one thing, it isn't just a token "Pleasure Pit," but the entire pit is manned by pretty gals, except craps. Much more importantly, they don't give the player horrible rules and/or high minimum bets like the other casinos do. Rather, the Golden Gate keeps their rules the same during Pleasure Pit hours, 3-2 blackjack, with most tables at a $5 minimum. The other casinos pay 6-5 only on a blackjack, increasing the house edge by 1.36%, or increase the minimums to at least $15. As far as I know the only other casino where you can find 3-2 blackjack in a Pleasure Pit atmosphere is Hooters.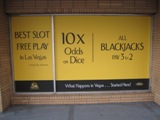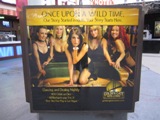 Vegas casinos are very touchy about photography, so I didn't take any pictures of the ladies directly. However, the poster above shows some of them. I think I recognized the two on the ends in the picture during my stay. Of course, they chose the more attractive ones for this poster, but it gives you a fairly good idea of what to expect. Some of the dealers not shown had more tattoos than I care for (I care for none). In terms of personality, about half were friendly and provided for a fun game. The other half just stood there and dealt and acted like you were bothering them if you asked a question.
Here are some comments about the particular games available.
Blackjack
There are ten blackjack tables, with the following rules:
Six decks
Dealer hits on soft 17
Double after split — YES
Surrender — YES
Re-split aces — NO
Continuous shuffler on most games
Limits — The continuous shufflers were $5 - $2,500. The one shoe game had a $10 minimum
According to my blackjack house edge calculator, the house edge under these rules is 0.55% with basic strategy.
Craps
Two craps tables with 10x odds and $3 minimum.
Other Table Games
One each of the following:
Roulette (double zero)
Three Card Poker
Let it Ride
Texas Hold 'Em Bonus
Poker
None.
Sports Betting
There used to be a Leroy's franchise, but they took it out. Now they have a Leroy's sports betting terminal, about the size of a cash advance machine.
Slots
Slot players earn 1 "Club 1906" point for every $1 bet. 100 points is worth $1 in free play, making the free play rate 1%. I believe this to be the best free play rate in town. Points may also be spent on various different slot club gifts, like t-shirts and playing cards, at rates about equal to what they would cost in a store.
Of course, I don't know much about how loose the Golden Gate sets their slots. In my 2001 Vegas slot machine survey, the Golden Gate did not do so well, coming in 51st out of 70 casinos in the survey. If that is too dated for you, I always say you can generally tell how loose a casino sets its slots by how loose they set their video poker, which is easily quantifiable.
Video Poker
The Golden Gate does not have much video poker, about a dozen Game King machines as well as bartop games. The video poker is, in a word, stingy. The best game is 9-6 Double Double Bonus at a return of 98.98%. The best quarter game is 8-5 Triple Bonus Poker Plus at 98.73%, and the best nickel game is 7-5 Triple Bonus Poker Plus at 97.67%.
Golden Gate 5¢ Video Poker
Game
Pay Table
Return
Bonus Poker
6-5-2
96.87%
Double Bonus
9-6
96.38%
Double Double Bonus
9-5
97.87%
Deuces Wild
20-12
97.58%
Bonus Poker Deluxe
8-5
97.40%
Aces Bonus Poker
6-5
97.11%
Triple Bonus Poker Plus
7-5
97.67%
Golden Gate 25¢ Video Poker
Game
Pay Table
Return
Bonus Poker
8-5-1
94.18%
Double Bonus
8-5
94.19%
Double Double Bonus
8-5
96.79%
Deuces Wild
20-10
95.96%
Bonus Poker Deluxe
8-6
98.49%
Aces Bonus Poker
7-5
98.26%
Triple Bonus Poker Plus
8-5
98.73%
Golden Gate $1 Video Poker
Game
Pay Table
Return
Bonus Poker
8-5-1
94.18%
Double Bonus
8-5
94.19%
Double Double Bonus
9-6
98.98%
Deuces Wild
20-10
95.96%
Bonus Poker Deluxe
8-6
98.49%
Aces Bonus Poker
7-5
98.26%
Triple Bonus Poker Plus
8-5
98.73%
It takes $4 to earn a point, making the free play rate 0.25% for video poker, which is better than most places. Still, it is one thing to brag about a liberal slot program, but if the games are tight it defeats the purpose.
Cocktail Service
The cocktail service can be slow during peak times. Most of the waitresses look like they have worked at the Golden Gate for years, and they probably have. However, that can be a good thing. You lose the eye candy, but older women seem to understand the notion of good customer service better than young, pretty ones.
My Own Gambling
I played about two hours of blackjack during the Pleasure Pit hours. If you like beautiful women then there is no reason to play at any other time. Usually I bet two hands of $10. Overall I lost a little, as would be expected.
When I asked for a copy of my player card, they said I wasn't in their system. This did not surprise me, because I had not played there in several years. Since I got to start over, I was eligible for a new player promotion for $5 in free play for earning 20 points. To do that I would have to run $80 through the machines. The double double bonus game I played had a return of 98.98%, so my expected loss on that play was 82¢. So I ran through my 16 hands at $5 each in no time and then returned to the player club booth and easily redeemed my free play. Overall, I had a net profit of $10 on the experience.
Usually in my reviews I like to tell a hopefully amusing anecdote that happened during my stay. I was there during a convention I was busy with, so didn't have much time to play. So the following story is the best I can do.
As is common with me, I like to give the cocktail waitresses an extra trip if they answer a trivia question correctly. To put them in a good mood and get things going, I always start with an easy one. In this case I asked "Who was Popeye's girlfriend?" The waitress, a nice lady of about 60, got a huge smile and said "Olive Oyl of course?! Who doesn't know that?" To that I responded, I will bet you another dollar that the dealer doesn't know. The waitress never confirmed the bet but said "Of course she'll know, everybody does, go ahead and ask her." So I asked the cute young Asian dealer in front of me. As I suspected, she had no idea. In fact she had to ask who Popeye was. The cocktail waitress was beside herself that anyone could live in this country and not know about Popeye and Olive Oyl.
She was going on about it so much that I didn't want the dealer to feel badly so I said to the waitress, "Okay, since you're so smart about Popeye trivia, what was the baby's name?" She knew. Who liked hamburgers? She knew. Who was Popeye's enemy? She said "Blutus," which is an amusing juxtaposition of the names Bluto and Brutus, the two by which said enemy has gone by, so I had to give her that one. What was the name of Popeye's pet who could turn invisible? Dead silence. Not only did she not know, she had never even heard of said creature.
I was about to tell her. However, before I had the chance, the blonde well-endowed dealer at the next table said, completely unsolicited, "Eugene the Jeep." I was shocked. This is the type of question that would be too hard for the final question on Who Wants to be a Millionaire. I hate to stereotype, but in the unlikely event anybody would know that, it would probably be somebody old enough to be a grandparent. I hate to bring up the issue of what she looked like, but let's be honest, the women who make it onto Jeopardy usually don't look like bathing suit models. The men neither, for that matter.
Anyway, I was so impressed I switched to her table and attempted to ask her more trivia. However, she would have none of it. I got the total cold shoulder. Perhaps she was insulted that I expressed shock that she knew. Maybe I could have been a little more sensitive. Live and learn.
Comps
Sorry, I don't know how generous they are. I didn't play long enough to warrant getting anything, and I hate to ask if I'm likely to be refused.
Lines
If you don't like standing in lines you should be happy with the Golden Gate. Never once did I stand in a line, nor can I recall standing in a line during previous visits. The Golden Gate is so small that usually only one person is manning any given place where a line might form, and one person is plenty.
The Future
The Golden Gate is planning to do renovations and an expanstion.
Conclusion
The Golden Gate is a one of a kind place in Las Vegas. In a city where nothing lasts long, the Golden Gate is a welcome exception. Chances are you'll either enjoy its antique charm or find it dinky and old. Special props go out to DuPar's Diner and the 3-2 blackjack during Pleasure Pit hours.
Basically, if you're on an economy budget, and don't mind things on a smaller scale, I think the Golden Gate would make a fine choice of a place to stay.
Links
Acknowledgement
The Wizard would like to thank Lisa for modeling in the pictures.
Contact Information
Address: 1 Fremont Street, Las Vegas, NV 89101
Phone: 702-385-1906
Web site: goldengatecasino.com
Resort and Parking Fees
| | |
| --- | --- |
| Resort fee | $13.50 |
| Parking fee | Free |
Games at Golden Gate
| Blackjack | Location | Decks | Min | Max | Soft 17 | DA | DAS | RSA | Surr | Tables | CSM | Party Pit | 6/5 BJ | Video | H. Edge |
| --- | --- | --- | --- | --- | --- | --- | --- | --- | --- | --- | --- | --- | --- | --- | --- |
| Blackjack | Downtown | 6 | 5 | 2500 | H | Yes | Yes | No | No | 13 | Yes | Yes | No | No | 0.61563 |
| Craps | # of Tables | Min Bet | Max Bet | Odds | Field12 | Video |
| --- | --- | --- | --- | --- | --- | --- |
| Craps | 2 | 5 | 2500 | 10 x | Triple | No |
| Roulette | # of Tables | Min Bet | Max Bet | Rules | Video |
| --- | --- | --- | --- | --- | --- |
| Roulette | 2 | 5 | 200 | 00 | No |
| Video Keno | Rank | Avg Return | Grade |
| --- | --- | --- | --- |
| Video Keno | 14 | 92.20% | B+ |