Las Vegas Club No More
The Vegas icon known as the Las Vegas Club, located on the corner of Fremont & Main Streets closed its doors just a couple of days ago. To understand how long this casino has been around, let's consider that it is the first Las Vegas casino to have a neon sign (another Vegas staple in and of itself) which was the case in 1931, one year after the casino opened.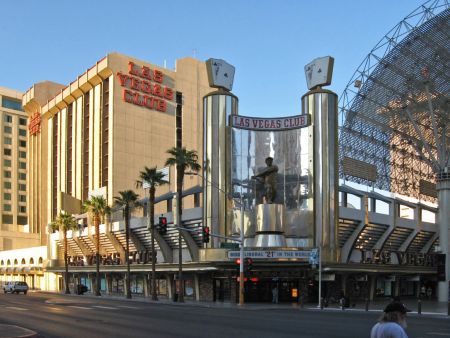 While the Las Vegas Club itself has a long history, the history of Tamares Group's ownership is the relevant portion. Tamares purchased forty acres of Downtown property, which included the Las Vegas Club, The Western, Gold Spike and The Plaza (the only casino involved in this deal that Tamares Group still owns) in 2004 from Jackie Gaughan for 82 million dollars, though the deal was agreed to in principle two years prior. The Western and the Gold Spike were later sold by Tamares Group, and neither location currently operates as a casino.
Tamares Group never really knew what to do with Las Vegas Club. Plans were bounced all over the place such as turning the then-operating hotel into a combination condo-hotel, but that never materialized. Six years later, they closed the hotel completely, although the casino continued to operate. Tamares Group considered renovating the hotel, but again, that never came to fruition. Finally, in May of 2015, Tamares Group considered opening a pharmacy on the eastern side of the casino, but there was quite a bit of backlash from interests who would not want pre-packaged bottles of liquor to be sold on Fremont Street, and that plan was eventually abandoned.

The ultimate result of what I think was a lack of direction is that the Las Vegas Club has basically sat, with its hundreds of unused hotel rooms, and essentially resembled a place waiting to die. The place was a popular AP haunt, though, offering a good few Video Poker games that were positive right off the top and even, for a long time, able to earn points on the Royal Rewards Players Club. (A Players Club program shared by the Las Vegas Club and Plaza Casino)
I'm not even sure exactly what the casino resembled at the end of it all. If I had to compare it to anything, it might have looked like one of those flea markets that are occasionally held in the building of a closed retail store, only with not quite as much lighting. In any case, there can be no doubt that it was nothing more than a shadow of its former self.
In fact, the last time I was there I had been talking to a gentleman that had come in a few minutes after me who remarked, "I just needed to get away from the noise and the crowd for a minute." Obviously, 'quiet' and 'barren' are not two adjectives with which casinos seek to describe themselves, but apparently, he relative solitude and peacefulness of the property is what attracted this particular gentleman.
Interestingly enough, the Stevens brothers have been trying to buy it for the last five years!

Fortunately, we are out with the old and in with the new as seasoned casino operators, Derek and Greg Stevens (owners of The D and Golden Gate) have purchased the Las Vegas Club property for forty million dollars. The Stevens intend to completely shut down the hotel and casino for non-specified demolition and renovation plans as they've not even had the opportunity to do a proper walk-through and review of the property at this time.
One thing that is for certain, though, is that while the property may remain the, "Las Vegas Club," is no more as the rights to use the moniker were not included in the deal. Furthermore, and interestingly, ownership of the gaming devices themselves did not change hands in the deal, either.
Converting older operations into thriving properties is not an unseen challenge for the Stevens, though, who first stepped into the Golden Gate Casino in 2008 with a 50% share of the property that gradually increased to their full ownership in a deal that was completed a few short months ago. While that property was only known as the Golden Gate since the mid-fifties, the hotel was built as the Hotel Nevada in the 1900's and became a casino in 1931, opening as the Sal Sagev.
An investment of twelve million dollars in renovations in 2012 combined with cutting edge marketing tactics (read: half-naked women) transformed the tired property into the thriving Downtown casino that scores of patrons enjoy today.
The brothers Stevens are also not unfamiliar with the process of re-branding casinos. They purchased what was then Fitzgerald's Casino in late-2011, pumped 22 million dollars into renovations, and then used more cutting edge marketing tactics (read: more half-naked women) and turned Downtown's tallest building into another thriving casino.
So, what's in store for the Las Vegas Club other than some half-naked women? Who knows? These guys are unpredictable, but it seems that everything they touch becomes a success.
The main aspect of The D that I enjoy is the second floor called, "Vintage Vegas," which features a more old-timey theme, old coin-dropper machines and a mix of rock music with a mix of old-timey show tunes. With that being said, I could honestly see the brothers re-working that floor of The D into something even more hip and appealing to a younger crowd. If that has to happen, I think it would be a cool idea to theme the former Las Vegas Club in an Old Vegas way and maybe have something equivalent to The D's Vintage Vegas as the entire casino.
It would be terrific! Dealers, attendants and cocktail waitresses alike could all dress in some mash-up of 50's-70's garb, the rooms could be re-designed to incorporate elements of Old Vegas, and the entire floor could be done in that style. Of course, along with coin-droppers, newer slots would have to be added to the gaming floor as well, but the theme would be largely the focal point throughout.
Despite all of my protests to the contrary (you were right, TeddyS) it seems that Las Vegas casinos need to have some kind of theme to keep people interested. This is apparent given that SLS might be toast by the end of the year and Downtown Grand is, apparently, putting itself on the market.
What could possibly be better than an entire casino that is a true taste of what Old Vegas was all about?
I don't know, but the one thing I am sure of is that if there is a better idea out there, then the Stevens brothers will figure out what that better idea is and do that instead.
Posted by
Mission146