Introduction
Full disclosure — I hate shopping. Like most men, I'm simply perplexed why women seem to enjoy the process. So I am not the best candidate to write a review of a shopping mall. In fact, I am going to take the lazy way out and mostly let the pictures speak for themselves.
Downtown Summerlin is located in Summerlin, which is on the west side of Las Vegas. It is between Sahara Boulevard and the Red Rock casino north and south and Pavillion Center Drive and the 215 Beltway east and west. If you're coming from the 215, take the Sahara exit. If taking the surface streets head west on Sahara. From the intersection of Sahara and the Strip it will take about 30 minutes to get there.
Physically, Downtown Summerlin is laid out in small blocks at the center, among the smaller stores. Unlike most outdoor shopping centers I've seen like this, driving and parking is allowed along the streets. This area is surrounded by large parking lots and larger stores.
The feel of Downtown Summerlin seems to cater to younger women. LOTS of clothing stores and the vast majority cater to women, although one could say that about most shopping centers. There didn't seem to be much for us men. Here is a list of the shops at time of this review, a week after the public opening.
Downtown Summerlin
Stores
Restaurants
Entertainment
Aerosoles
Andiron Steak and Sea
My Wireless, AT&T Authorized Retailer
American Eagle Outfitters
Bonanno's New York Pizzeria
Regal Cinemas 5
Art of Shaving, The
California Pizza Kitchen
Sprint
Art of Vision by Amel, The
Capriotti's Sandwich Shop
T-Mobile
b.young
CRAVE Restaurant
Bath & Body Works
Crazy Pita
BCBG Max Azria
Earl of Sandwich
Bobby Wheat Gallery
Five Guys Burgers and Fries
Boot Barn
Gelato Messina
Boston Proper
Grape Street Café & Wine Bar
Brighton
It'Sugar
Buckle
Lazy Dog Restaurant and Bar
Build-A-Bear Workshop
Marketplace
Champs
Moe's Southwest Grill
Charming Nails
MTO Café
Chico's
Nekter Juice Bar
Clarks
Pancho's Mexican Restaurant
Dillard's
Panda Express
Envy
Pieology Pizzeria
Ethan Allen
Red Robin Gourmet Burgers and Brews
Everything But Water
Ribs and Burgers
Express
Rice Republic
Eyes & Optics
ROC Resto Lounge & Fashion
Forever 21
Sushi Loca
Francesca's
Teavana
GNC
Trader Joe's
Golfsmith
Trattoria Reggiano
GUESS
Wetzel's Pretzels
Hot Topic
Wolfgang Puck Bar & Grill
House of Hoops by Foot Locker
Wonderland Bakery
J. Jill
Zaba's Mexican Grill
L'Core Paris
Lane Bryant
LG Gallery, a MacKenzie-Child's Boutique
Lindbergh
L'Occitane
LOFT
LoveSac
lululemon athletica
Lush Fresh Handmade Cosmetics
Macy's
Michael Kors
New Balance
Nordstrom Rack
Off Broadway Shoe Warehouse
Old Navy
Pandora
Patel's Threading & Henna Art
Patty's Closet
Perfumania
PINK by Victoria's Secret
Posare Salon
Scene Shoes
Sephora
Signature Nails
Skechers
Sleep Number
Soma Intimates
Sport Clips
Sports Authority
Sports Town USA
Sunglass Hut
Sur La Table
Sweet Bubble Bath Confections
Teavana
Tiger Lily Floral
Torrid
The Toy Box
True Religion
ULTA Beauty
UPS Store
US Polo
Victoria's Secret
White House | Black Market
Zumiez
Please don't write to me when this table becomes outdated. It is meant to show what was there in October, 2014. You can get the list of the current occupants at downtownsummerlin.com/directory.
That is about all I can think of to say. I'll let the pictures do the rest of the talking. Click on any image for a larger version.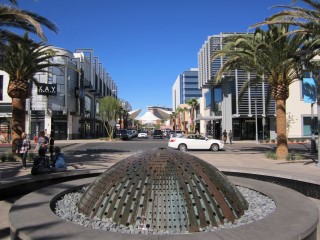 This is looking down the main street, with Dillard's behind me. That tall brown building in the background is the Red Rock hotel/casino.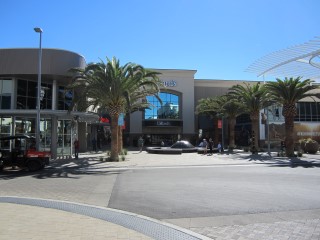 Looking the other way, towards Dillard's. Those are nice canary palm trees.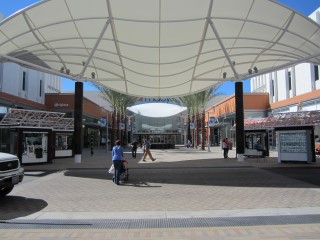 At least there will be some shade in the summer. That is Macy's in the background.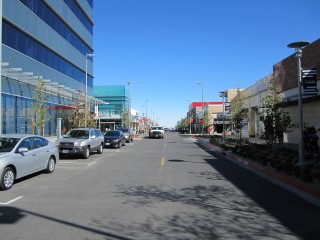 One of the side streets.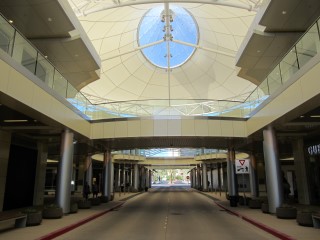 This is under the pointy structure you can see looking at Downtown Summerlin from a distance. Not many tenants have moved into this section at the time of this writing.
Wolfgang Puck and the California Pizza Kitchen -- two of my favorites! They didn't seem to be open yet.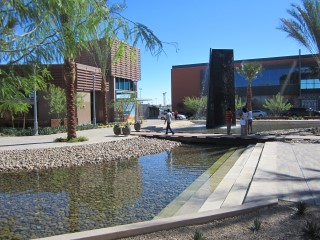 This is called the "Dining Arroyo." Arroyo is Spanish for stream, just FYI. Is it just me, or is anybody else annoyed by this unnecessary mixing of English and Spanish?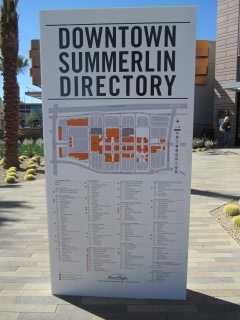 Here is the directory. Speaking of pet peeves, the map is missing a "you are here" arrow.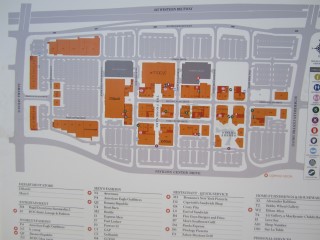 Close up of the map.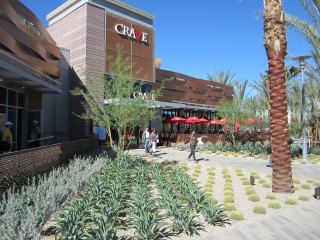 Another restaurant by the "Dining Arroyo."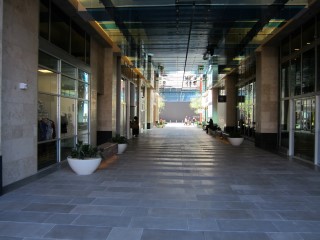 Pedestrian passage between two streets.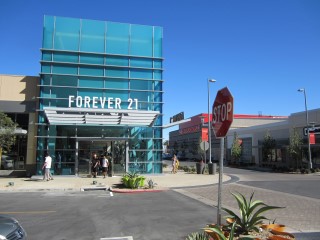 My 17-year-old daughter will be happy to know there is a Forever 21 here. That is the movie theater with the red roof.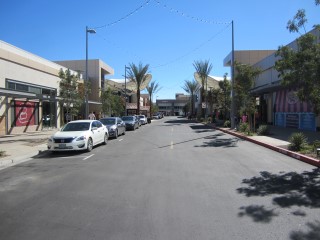 A street parallel to the main street.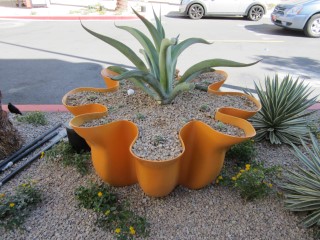 I like that planter.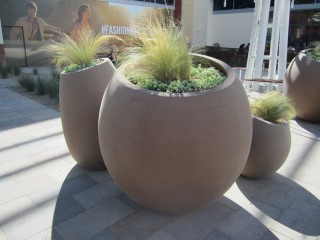 These too.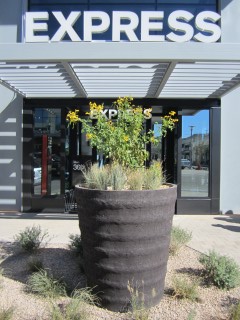 I applaud the use of desert vegetation. If I weren't a hypocrite, I would rip out my Las Vegas lawn and put in such landscaping myself.
External Links