Introduction
Binion's is located on Fremont Street in downtown Las Vegas. Many old school gamblers still call it The Horseshoe. That is because it was once known as Binion's Horseshoe. Benny Binion, a former mob boss from Texas, founded the casino on the former property of the Eldorado Club and Apache Hotel. Binion's Horseshoe became famous for taking the highest limit bets in the first carpet joint casino in Las Vegas.
Binion's Horseshoe was the first casino to offer comps to gamblers. It was not just high rollers that received free perks. Even small time gamblers managed to eat for free when giving action to Benny Binion's downtown casino.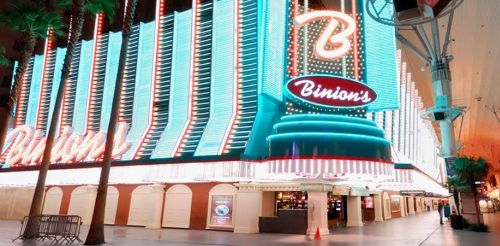 Binion died in 1989. His family ran the casino until 2004. A labor dispute and a lack of payments into employee benefits forced a seizure of the casino's cash behind the cage in January 2004. The casino was sold to Harrah's Entertainment, now known as Caesars Entertainment, in March 2004. Harrah's took the Horseshoe name and the World Series of Poker. Harrah's sold the property and the Binion's name to MTR Gaming. In 2008, TLC Casino Enterprises acquired Binion's. TLC is the parent company of 4Queens and to this day still holds the Binion's Casino property.
Binion's does not operate a hotel. Its hotel closed on December 14, 2009. The dilapidated tower is in need of electrical and plumbing improvements. It cannot reopen until these repairs are made. There are no plans to remodel the hotel at Binion's at this time. The hotel at 4Queens is used to host gamblers at Binion's.
World Series of Poker
Binion's Horseshoe launched the World Series of Poker. The series started out as a small invite-only event in 1970. The winner was Johnny Moss, elected by other players at the table. The No Limit Texas Hold'em tournament started the next year. The World Series of Poker rights were acquired by Harrah's Entertainment in 2004. That was the last year that the full series was held at Binion's. In 2005, the final two days of the $10,000 Main Event were held at Binion's. All other WSOP tournaments since then have been held at Rio.
Gambling at Binion's
Benny Binion would not be proud of what happened to the gambling at Binion's since his family lost control of the property. All shoe blackjack games pay 6-5 on a natural. The limits have been dropped to some of the lowest in Las Vegas, even by downtown standards. The only 3-2 blackjack game is single deck where players may only double on 10 and 11. The minimum bet is $10 or $15 during slow periods of the week. Weekend players will find a $25 minimum bet for this game. There are only two tables of 3-2 Single Deck Blackjack at Binion's. All other blackjack tables are eight-deck 6-5 games.
Craps offers five times odds where the Field pays triple on 12. Other table games include High Card Flush, Pai Gow Poker, Let it Ride, Crazy4Poker, Three Card Poker, and Double Zero Roulette. The minimum bet is $5 for all of these games, except $3 for Crazy4Poker and $10 for Pai Gow Poker. Some games are spread by party pit girls dressed in cowgirl outfits.
Video poker at Binion's is about average. VPFree2 shows 8/5 Bonus Poker and 9/7/5 Double Bonus Poker as the best games. These are available in $.25, $.50, and $1 denominations.
Binion's spreads a 10-table poker room. The main games are $1/$2 No Limit Texas Hold'em and $3/$6 Limit Hold'em. The no limit game has no cap on the buyin. There is a 20-table tournament area in the neighborhood of the old hotel front desk in the rear of the property. It is used for the $10,000 guaranteed Saturday tournament and for the summer Binion's Classic series.
William Hill operates the sports book at Binion's. It is a small room in the back of the casino. Deposits and withdrawals for mobile betting are accepted there.
Restaurants
Binion's offers four dining options. The café is open 24 hours a day. It serves the expected fare for a Las Vegas café, including breakfast, sandwiches, salads, and burgers. The deli offers a variety of hot and cold sandwiches from noon to 8:30pm daily. Benny's Smokin' BBQ and Brews offers ribs and chicken from 4pm to 11pm daily.
The Top of Binion's Steakhouse is the shining star of the property. It is located on the 24th floor and offers a wide variety of steak and similar options. Guests may take the glass elevator from Fremont Street or the interior one. All steaks are broiled due to the location on the top floor of the former hotel. Grills are not allowed due to safety concerns.
Entertainment
Binion's does not offer any shows. The best entertainment is probably the party pit girls.
Parking
Binion's once allowed guests to receive a free three hours of parking. That is no longer the case. There is an hourly parking fee. Guests can get parking validated, but it is not easy to flag down a slot attendant. Table game players should present their parking ticket when buying into a table.
My Conclusion
The gambling at Binion's, much like the casino, has seen better days. There are far better places to play blackjack and most other games in downtown Las Vegas.