At What Point Should a Casino Ask Questions?
Former Cleveland Browns Wide Receiver Reggie Rucker is facing charges for using hundreds of thousands of dollars from his non-profit agencies (that he repeatedly claimed were not paying him in order to solicit donations) to pay off gambling debts and other personal expenses...but mostly gambling debts and casino ATM withdrawals.
In normal circumstances, I would suggest that the casinos are in no way accountable for these fraudulent transactions because they have no way of knowing that the funds are coming from a non-profit organization. That's because, under normal circumstances, I would assume a fraudster would not directly tell the casinos that the funds are coming from a non-profit organization!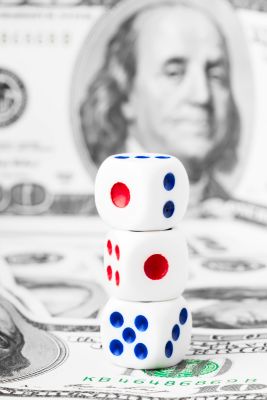 On the first of what would be multiple occasions, Reggie Rucker explained that he was attempting to solicit funds from a foundation, and forwarded the E-Mail from the foundation to the casino as proof he had the funds along with the following messages:
"This is my non-profit and they were a little behind getting me my money...Can they work with me on this?"
AND:
"As you can see from this correspondence, [Foundation 1] threw me a curve! I won't have this money in my hands until March 2nd or 3rd...These things sometimes get delayed like this because of the amount of money..."
The casino(s) in question (there were multiple similar occurrences) are held so blameless, in fact, that the Criminal Complaint does not even specify the name of the casinos in question. Granted, if he were officially paid by any of his NPO's, then Reggie Rucker would certainly not be the first person to ever be so compensated, but then the verbiage one would expect is, "I'm waiting to get paid," rather than specifying that it is a non-profit organization.
However, it is possible that the employee doing the collecting for the casino might not have been in any way suspicious of the legitimacy of Mr. Rucker's source of funds, but it is difficult for me to act on that assumption. I believe it is the more likely case that the casino employee WAS suspicious, but then ultimately decided that it would be better for him/her not to concern himself/herself with that, and rather just to do his/her job and get the employer paid on that marker.
With respect to monies, casinos do have certain obligations. For instance, they are required to fill out W2-G's for winnings of certain amounts and under certain conditions, included in this responsibility is the responsibility to deduct taxes from the winnings should the customer so choose or if same is otherwise legally required. Casinos are also obligated to fill out Currency Transaction Reports in certain situations, as well.
Just to be clear, I'm not taking the position that the casino currently HAS a legal obligation to report any suspicions about the funds used to pay off markers to an authority of any kind, I'm simply suggesting that the casinos SHOULD have that responsibility. I'm also suggesting, in an ideal world in which one can make a moral decision without fear of termination, that it would be better if the casino employee (assuming the employee was suspicious) could divulge those suspicions to an agency of some sort without fear of reprimand from his/her employer.
Who Are the Victims?
Everyone is a victim.
The sources of the donations to Mr. Rucker's NPO's are as varied as banks, hospitals and even the Cuyahoga County Sheriff's Department. That may initially seem like businesses and government entities, but those businesses make money off of their customers and the Sheriff's Department is presumably financed with public tax dollars. Further, everyone who works for the NPO or made donations under the belief that Mr. Rucker was not compensated (as it turns out, an obscene amount without their knowledge) by the NPO, was also straight up bilked.
For those of you interested in reading the criminal complaint, it can be found at the bottom of the Article to which I linked above. What bothers me the most about this entire thing is that it doesn't read like the story of a compulsive gambler who got in over his head and could, in some sense, almost be viewed as a victim...it reads like a guy who loved to gamble and thought the gravy train was never going to stop rolling.
It is difficult to know what other sources of money Mr. Rucker had his hands in, and perhaps that information will never come to light. The one thing that I do know is that at least one Las Vegas casino (and perhaps more) knew that markers were being paid directly by way of monies donated to a Non-Profit Organization and were not legally (or, apparently morally) required to do anything about it.
These illegal and fraudulent transactions that went on well into the year 2015 could have been investigated and stopped back in 2013 if the casino had been required to report what I think anyone would suggest was a very suspicious E-Mail. That the casino was not required to do so is a shame, and that the casino did not report these E-Mails, even absent of a legal obligation, is almost equally shameful. In my view, all parties involved are victimized by the casino almost equally to the extent that they were victimized by Rucker.
***I would also get into why I don't think an organization that subsists on tax revenue (The Sheriff's Department) should be making any donations to any NPO under any circumstances, (taxation without representation) but we'd be getting a little too far away from a gambling-related topic to have that discussion.
Posted by
Mission146